Dan Bilzerian, Doug Polk Spar Over Social Media Playboy's Wealth Accumulation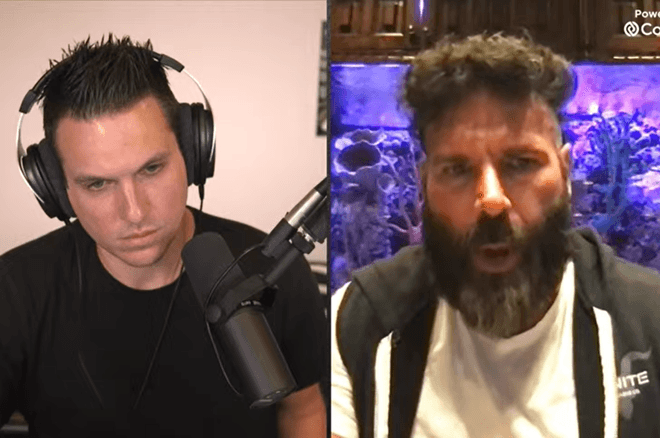 Dan Bilzerian appeared on Doug Polk's podcast Wednesday afternoon, and the conversation was often contentious, especially when the Upswing Poker founder grilled the Instagram icon over how he really made his money.
Bilzerian's wealth accumulation has long been a debated subject. The GGPoker ambassador claims he didn't receive a trust fund from his father, Paul Bilzerian, until age 35, years after he became wealthy. He continues to stick to the story that the millions he's stacked up have come from poker, but Polk doesn't seem to buy it.
Paul Bilzerian is a wealthy former corporate takeover specialist who spent time in jail in the 1980s for financial crimes. Upon his release, he owed the government millions of dollars, money that has never been retrieved. Many have speculated the money was given to his son, although Dan Bilzerian denies those claims.
During the two-hour interview, which you can view on YouTube, Polk and Bilzerian discuss this very topic ad nauseam.
Where Did Dan Bilzerian Make His Money?
Bilzerian took offense to some previous Polk YouTube videos in which the three-time World Series of Poker (WSOP) bracelet winner hinted that Bilzerian may have earned a bulk of his wealth from a trust fund or money handed over from his father.
The main topic of discussion was on Bilzerian's wealth accumulation. Did he make his money from poker? How much money did he make playing poker online? And how did he get started playing at such high stakes? Those were questions Polk sought answers to.
Bilzerian claims he built his bankroll up by first playing online, then taking his money to grind mid-stakes games at Bellagio, and then private games against billionaires. Polk asked him multiple times to prove his online poker success, and Bilzerian continually responded by mentioning that he made $400,000 one month years ago on Bodog.
Polk continued to push the issue, and asked him repeatedly where the rest of the money came from. One month of six-figure income is a far cry from the millions of dollars he accumulated.
"Your background is that you're saying you made all your money from poker, and so because of that, the story is important," Polk told Bilzerian in the interview. "When you have a story like you do with your dad, where your dad is very rich and successful and you're his son, then we're going to have some very credible facts as to the way you made your money, where you played, how you played, and if you said you played online and you won, then that stuff's easy to prove."
Bilzerian said the private games he played in were against billionaire fish, and that pros such as Andrew Robl, Antonio Esfandiari, and Jean-Robert Bellande could verify his claims. Polk conceded that it's likely the social media playboy made millions through poker, but he still questioned how Bilzerian initially built his bankroll, and he didn't seem to buy the responses.
About that $100 Million Heads-Up Match
The poker players debated the issue of Bilzerian's wealth for two hours. But they didn't address the other elephant in the room, and that is Bilzerian's supposed $100 million heads-up match against billionaire Alec Gores.
Back in October, PokerNews reported that Bilzerian was looking to play Gores, whom he claims he's won over $40 million against, in the first ever known nine-figure heads-up match. Whether or not that competition will ever take place is anyone's guess, but the wealthy gun-lover spoke with our Tiffany Michelle in November about it at a GGPoker party in during the WSOP.
Bilzerian said he wants to play the match and accused Gores of stalling. If the game eventually takes place and Bilzerian were to win, he'd finally have an opportunity to show the public that he can make millions of dollars playing poker even though, by his own admission, he isn't a great player.