Zisimopoulos Takes Down the Irish Poker Masters KO Main Event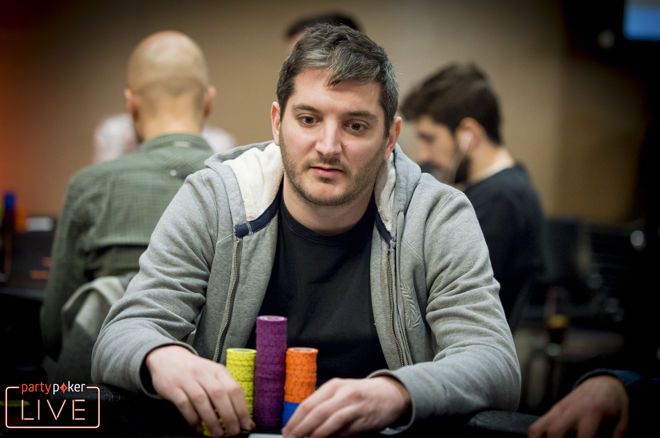 The Irish Poker Masters KO series concluded at partypoker on November 23 with the Main Event crowning its champion. Georgios Zisimopoulos is that champion after he outlasted 943 opponents in the €1,100 buy-in €1 million guaranteed PKO tournament.
Irish Poker Masters KO Main Event Final Table Results
| Place | Player | Country | Bounties | Prize | Total prize |
| --- | --- | --- | --- | --- | --- |
| 1 | Georgios Zisimopoulos | Malta | €63,199 | €65,700 | €128,899 |
| 2 | Joel Holmberg | Finland | €20,125 | €65,599 | €85,724 |
| 3 | Maxim Ivanov | Russia | €9,160 | €43,458 | €52,618 |
| 4 | Thomas Hueber | Austria | €9,726 | €28,170 | €37,896 |
| 5 | Tamas Adamszki | Hungary | €7,458 | €19,216 | €26,674 |
| 6 | Ivan Lehin | Ukraine | €12,321 | €14,801 | €27,122 |
| 7 | Pavlo Kolinkovskyi | Ukraine | €11,921 | €10,877 | €22,798 |
| 8 | Aleksejs Meless | Estonia | €6,515 | €8,638 | €15,153 |
| 9 | Glib Tremzin | Russia | €3,250 | €6,830 | €10,080 |
partypoker's Legends Club Gives Three Chances of Winning T$5,000
Nobody at the final table walked away with less than €10,000 thanks, in part, to the bounty element of this tournament. Russian pro Glib Tremzin was the first of the nine finalists to bust, making an ill-time check-raise all-in on an ace-high flop with ace-nine, only for the preflop aggressor Maxim Ivanov to snap him off with the dominating ace-king.
A standard hand soon after Tremzin's exit reduced the player count by one. Aleksejs Meless of Estonia open-shoved for eight big blinds with ace-jack but failed to get there against the ace-king of Thomas Hueber.
Start-of-Day Chip Leader Out in Seventh
Pavlo Kolinkovskyi was the chip leader when the final table shuffled up and dealt, but was could only muster a seventh-place finish. Kolinkovskyi moved all-in when first to act in the small blind with suited ace-nine. Fellow Ukrainian Ivan Lehin called the 15.5 big blind shove with ace-five; the five was in hearts. Four of the five communities came down in hearts, and Kolinkovskyi bowed out.
Lehin could not put his fellow countryman's chips to good use and exited in sixth-place soon after. Lehin made a move for his last 12 big blinds with queen-jack, Joel Holmberg called all-in on the button with king-queen of hearts, before Tamas Adamszki called with ace-king of spades. Adamszki looked to have busted two players when a king landed on the turn, but a queen on the river saw Holmberg triple up, and Lehin fall by the wayside.
partypoker Launches Super Daily Legends
Hueber Fails To Melt Snowmen
Hueber was another players who saw the river end his tournament life. Ivanov pushed all-in for a shade under 20 big blinds with pocket eights, and Hueber called for less with pocket jacks. The jacks remained good until an eight appeared on the river, improving Ivanov to a set of snowmen, and resigning Hueber to a fourth place finish.
Third place went to Ivanov after he limp-shoved in the small blind after Zisimopoulos raised preflop. Zisimopoulos called the jam with ace-ten of spades, which remained ahead of his opponent's ace-eight.
That hand saw the ball placed firmly in Zisimopoulos' court because his 122,144,590 stack dwarfed the 26,955,410 of Holmberg. The latter saw their stack whittled further until they jammed al-in for 4.5 big blinds with queen-five. Zisimopoulos called with ten-deuce, flopped a deuce, and became the Irish Poker Masters KO Main Event champion.
Start Your partypoker Career With Up to £40 of Free Play and a £400 Bonus
The Super Daily Legends tournaments are only available to partypoker players. If the new bustling schedule has you all hot under the collar, why not download partypoker via PokerNews? Doing so entitles you to a welcome bonus of £40 of free play and a £400 releasable bonus.
Create your free account and decide how much you want to deposit. Depositing at least £10 grants you £40 worth of tickets over the course of a week.
Day 1: 5x $1 SPINS tickets +1x $5.50 MTT ticket
Day 2: 1x $3 SPINS tickets +1x $3.30 MTT ticket
Day 3: 1x $3 SPINS tickets +2x $3.30 MTT ticket
Day 4: 4x $0.25 SPINS tickets +1x $5.50 MTT ticket
Day 5: 1x $5 SPINS tickets +1x $3.30 MTT ticket
Day 6: 5x $1 SPINS tickets +1x $5.50 MTT ticket
Your deposit is matched 100% up to a maximum of £400. This bonus releases into your playable account balance in 10% increments each time you accumulate 10% of the total loyalty points required to release the full amount. Currently, you need four-time the deposit bonus amount in loyalty points, which are earned at a rate of one point per $1 contributed to the cash game rake or paid in tournament fees.