Richard Horton Takes Down GUKPT Blackpool Main Event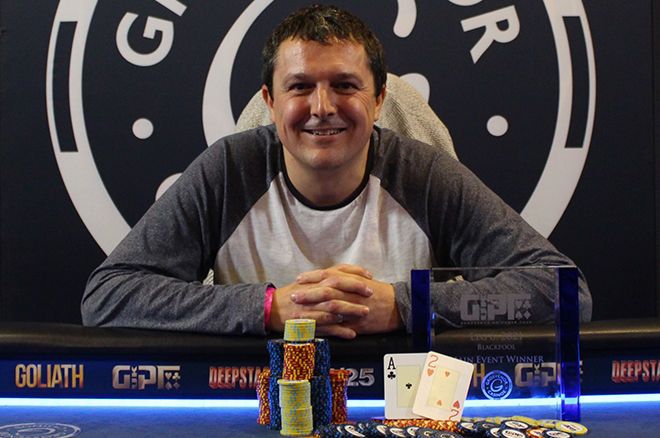 Table Of Contents
The penultimate stop on the 2021 Grosvenor UK Poker Tour (GUKPT) saw 533 players enter the £1,100 buy-in GUKPT Blackpool Main Event. Those entrants created a £586,300 prize pool, and Richard Horton outlasted them all.
Horton's victory came with an impressive £94,150 payday. It could have been a larger prize but Horton struck a deal when the tournament was four-handed. The deal left an additional £14,150 for the eventual champion, which Horton secured after defeating poker stalwart Paul Jackson heads-up.
2021 GUKPT Blackpool Main Event Final Table Results
| Place | Player | Prize |
| --- | --- | --- |
| 1 | Richard Horton | £94,150* |
| 2 | Paul Jackson | £80,000* |
| 3 | Ron Musson | £80,000* |
| 4 | Jamie O'Connor | £87,000* |
| 5 | Anthony Miles | £24,130 |
| 6 | William Henderson | £16,950 |
| 7 | Gar Chu | £13,500 |
| 8 | Phil Clarke | £10,630 |
| 9 | Chris Johnson | £9,190 |
*reflects a four-handed deal
Luke Evans Wins Huge GUKPT Blackpool Mini Main Event
Plenty of GUKPT regulars navigated their way into the top 54 finishing places where the prize pool was distributed. Recent GUKPT Luton champion David Docherty cashed in 48th place for $2,590. Michael Kane (47th - £2,590), Team Grosvenor's Jamie Nixon (36th - £2,930), Euan mcNicholas (31st - £3,160), Tom Hall (27th - £3,450), Waheed "Wadey" Ashraf (25th - £3,450), James Clarke (23rd - £3,730), and Rick Trigg (21st - £2,730) were among those who cashed in the Main Event.
All but one of the nine finalists returned home with a five-figure score safely in tow. Chris Johnson's ninth-place finish came with a £9,190 payout. Phil Clarke (£10,630), Gar Chu (£13,500), and William Henderson (£16,950) joined Johnson on the sidelines.
Fifth place and £24,130 went to Anthony Miles. His exit prompted the final four runners to lessen the pay jumps with a deal. Three of the final four agreed to take £80,000 with Jamie O'Connor locking in £87,000; the deal left £14,150 for the eventual champion.
O'Connor was the next out of the door, narrowly missing out on becoming a two-time GUKPT Main Event champion.
Jack Hardcastle Takes Down 2021 GUKPT Leeds Main Event
Ron Musson more than doubled his lifetime winnings when he crashed out in third. Musson finished third in this very tournament back in 2010 and won £29,500, which was his largest prize until this impressive score.
Heads-up pitted Horton against Jackson, and Horton got the job done. The final hand took place in the early hours of Monday morning and saw Jackson open to 500,000 with


. Horton looked down at [Ac

and called. The flop fell



, Jackson bet 200,000 and Horton instantly called after initially checking. The

turn gave Jackson outs to a flush. Horton checked, and Jackson fired a 475,000 bet, which Horton called. The

completed the board, and Horton checked for a third time. Jackson ripped in his 2,200,000 stack into the 2,400,000 pot, and Horton called. Jackson's triple barrel bluff into trip aces saw him exit in second-place, and Horton become the GUKPT Blackpool champion.
GUKPT Grand Final Main Event Runs December 2-5
The GUKPT Grand Final brings the curtain down on a hugely successful 2021 GUKPT season. it takes place at the Victoria Casino in London between November 18 and December 5, and everything points towards its Main Event being massive. Check out the full, bustling schedule below.
| Date | Time | Tournament | Buy-in |
| --- | --- | --- | --- |
| Thu 18 Nov | 12:00 p.m. | GUKPT Main Event Day 1A | £1,250 |
| | 9:00 p.m. | Cash Out Satellite – 5x £1,250 seats Gtd | £130 |
| Fri 19 Nov | 12:00 p.m. | GUKPT Main Event Day 1B | £1,250 |
| | 9:00 p.m. | GUKPT Main Event Day 1C Turbo | £1,250 |
| Sat 20 Nov | 12:00 p.m. | GUKPT Main Event Day 2 | |
| | 4:00 p.m. | Side Event | £320 |
| | 8:00 p.m. | Mini Main Event Online | £370 |
| | 9:00 p.m. | Midi Main Cash Out Satellite | £66 |
| Sun 21 Nov | 12:00 p.m. | GUKPT Main Event Day 3 | |
| | 3:00 p.m. | GUKPT Mini Main Event Day 1A | £370 |
| Mon 22 Nov | 3:00 p.m. | GUKPT Mini Main Event Day 1B | £370 |
| | 9:00 p.m. | Grand Final Cash Out Satellite | £215 |
| Tue 23 Nov | 12:00 p.m. | GUKPT Mini Main Day 1C Turbo | £400 |
| | 4:30 p.m. | Mini Main Event Day 2 | |
| Wed 24 Nov | 5:00 p.m. | Mini Main Event Day 3 | |
| | 6:00 p.m. | Omaha 4/5/6 | £250 |
| | 9:00 p.m. | Grand Final Cash Out Satellite | £215 |
| Thu 25 Nov | 12:00 p.m. | GUKPT Midi Main Event Day 1A | £560 |
| | 9:00 p.m. | High Roller Satellite | £285 |
| Fri 26 Nov | 12:00 p.m. | GUKPT Midi Main Event Day 1B | £560 |
| Sat 27 Nov | 1:00 p.m. | National Poker League Playoff | |
| | 9:00 p.m. | GUKPT Midi Main Event Day 1C Turbo | £560 |
| Sun 28 Nov | GUKPT Midi Main Event Day 2 | | |
| | 4:00 p.m. | GUKPT One Dayer | £500 |
| | 9:00 p.m. | Grand Final Cash Out Satellie | £215 |
| Mon 29 Nov | 6:00 p.m. | PLO 4/5/6 High Roller | £1,100 |
| | 9:00 p.m. | High Roller Satellite | £285 |
| Tue 30 Nov | 12:00 p.m. | High Roller Satellite | £285 |
| | 2:00 p.m. | Grand Final High Roller | £2,700 |
| | 6:00 p.m. | Seniors | £250 |
| Wed 1 Dec | 3:00 p.m. | Grand Final High Roller Day 2 | |
| | 6:00 p.m. | Bounty | £320 (£150 bounties) |
| | 9:00 p.m. | Grand Final Cash Out Satellite | £215 |
| Thu 2 Dec | 12:00 p.m. | GUKPT Grand Final Day 1A | £2,000 |
| | 9:00 p.m. | Grand Final Cash Out Satellite | £215 |
| Fri 3 Dec | 12:00 p.m. | GUKPT Grand Final Day 1B | £2,000 |
| | 9:00 p.m. | GUKPT Grand Final Day 1C Turbo | £2,000 |
| Sat 4 Dec | 12:00 p.m. | GUKPT Grand Final Main Event Day 2 | |
| | 2:00 p.m. | G400 | £400 |
| Sun 5 Dec | 12:00 p.m. GUKPT Grand Final Day 3 | | |
| | 2:00 p.m. | Last Call | £200 |