Ross Atkinson Claims Overall Goliath Online Chip Lead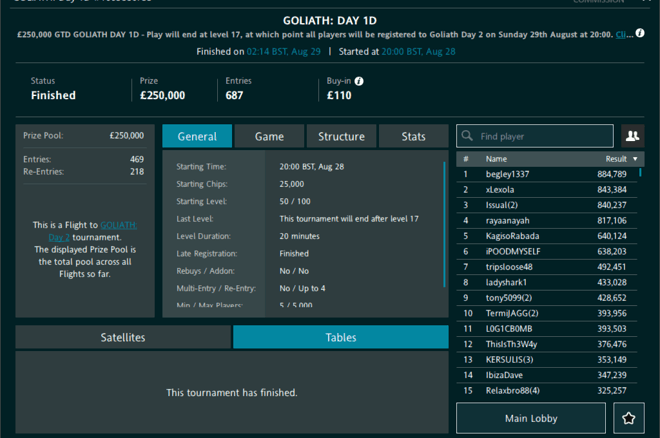 Remember how Day 1C of the 2021 Goliath Online was the busiest flight run at Grosvenor Poker? Well, Day 1D blew it out of the water. Some 687 Grosvenor Poker players sacrificed their Saturday night for the poker grind, and it worked out well for the 66 players who navigated their way through to Day 2 of this £250,000 guaranteed event.
The bumper Day 1D crowd takes the total attendance to 2,324 with the Day 1E turbo flight left to run. That flight, which shuffles up and deals at 2:00 p.m. BST on August 29, only needs to attract 176 entrants to ensure the ambitious £250,000 guarantee is hit.
2021 Goliath Online Day 1D Top 10 Chips Counts
| Place | Player | Chips |
| --- | --- | --- |
| 1 | Ross Atkinson | 884,789 |
| 2 | Alexander Austin | 843,384 |
| 3 | Issual | 840,237 |
| 4 | ryaanayah | 817,106 |
| 5 | KagisoRabada | 640,124 |
| 6 | iPOODMYSELF | 638,203 |
| 7 | tripsloose48 | 492,451 |
| 8 | ladyshark1 | 433,028 |
| 9 | Anthony Young | 428,652 |
| 10 | TermiJAGG | 393,956 |
Ross Atkinson's decision to buy into Day 1D bore fruit because he turned his 25,000 starting stack into 884,789 chips. That colossal stack is not only enough for the Day 1D chip lead, but to leads the 2021 Goliath Online overall.
Three other Day 1D players each bagged up more than 800,000 chips, and have done their chances of slaying this huge event no harm at all. Alexander Austin, a finalist in the 2018 UK Student Poker Championship Main Event, returns to the fray with 843,384 chips.
"Issual" (840,237) and "ryaanayah" (817,106) are the other two players with more than 800,000 betting tokens.
Plenty of GUKPT Regulars Progress to Day 2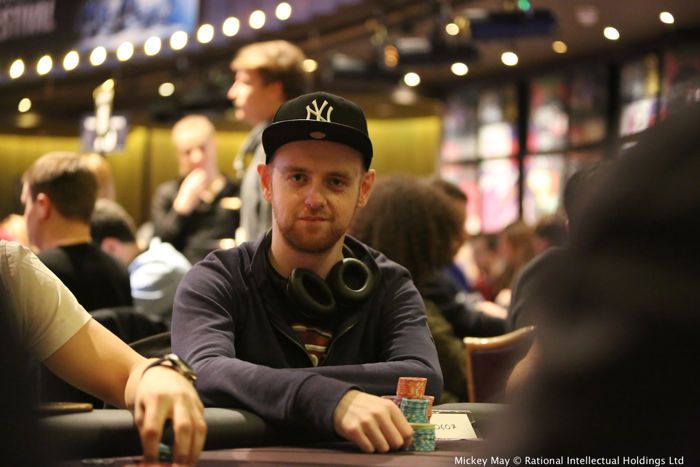 Day 1D was the Day 1 of choice for several players considered regulars on the GUKPT circuit.
There was little to separate David Docherty (393,503) and Paul McTaggart (374,476) in the end of day chip counts. Both Docherty and McTaggart are superb poker tournament players. You may recall McTaggart finished fourth in the recent GUKPT Manchester Main Event, which netted him £33,550.
Also through to Day 2 is David Gerald (301,013) who you may know as "Skullman." Gary Stevens (278,299), David Shellhorn (263,832), and the current leader in the National Poker League, Euan McNicholas (256,312) are a handful of others to look out for on Day 2.
[TWITTER=" https://twitter.com/SwiftSuccess8/status/1431796149678186496"] img=https://pbs.twimg.com/profile_images/1287883336107659264/x2cRUY-Y_normal.jpg nick=SwiftSuccess8 name=Katie Swift date=Sun Aug 29 01:49:38 +0000 2021 text=#Finally through to Day 2 of Goliath!# The power of satty seats!# If you still want to qualify, more satellites st… https://t.co/MJBgef1Ccn id=1431796149678186496 [/TWITTER]
There was a sigh of relief for Team Grosvenor's Katie Swift who managed to progress from Day 1D with a healthy 191,101 stack. Swift had been knocking on the door of a Day 2 spot, but could not quite get over the line until August 28. Swift bagged herself several £110 seats via the value-packed satellites at Grosvenor Poker, she can keep her spares for upcoming GUKPT games.
Final Flight Kicks Off at 2:00 p.m. BST on August 29
Only one 2021 Goliath Online flight remains and it comes with a turbo blind structure. Cards are in the air from 2:00 p.m. on August 29, and you play 17 levels. The blinds are turbocharged in order to ensure the Day 1E concludes in time for Day 2, which begins at 8:00 p.m. prompt.
The monster-sized £250,000 guarantee will be hit if 176 players buy into Day 1E.
| Date | Time | Flight | Day ends |
| --- | --- | --- | --- |
| Sun 29 Aug | 2:00 p.m. | GOLIATH: Day 1E (Turbo) | Level 17 |
| Sun 29 Aug | 8:00 p.m. | GOLIATH: Day 2 | 1:30 a.m. |
| Mon 30 Aug | 8:00 p.m. | GOLIATH: Day 3 | Play until finishes |