McNicholas On Chasing Down the GUKPT National League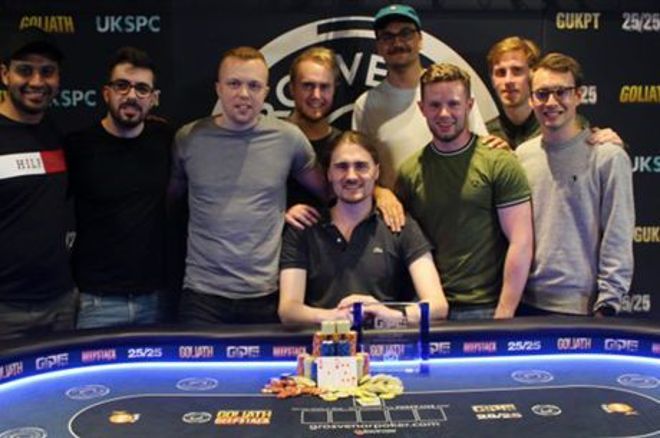 The first Main Event of the 2021 Grosvenor UK Poker Tour (GUKPT) season was won by a player who, with all due respect, PokerNews had not heard of before. Euan McNicholas came out on top of a 591-strong crowd to bank the £165,800 top prize.
Before this incredible victory, McNicholas had three live poker tournament cashes on his Hendon Mob page, totalling £985. PokerNews was intrigued about this mystery man, so we reached out to the GUKPT London champion to find out more.
"I am Euan McNicholas, originally from Swindon, but now living in London. I play poker full time, mainly playing online cash games."
That goes part way to explaining the lack of live tournament results!
McNicholas discovered poker when he was a university student. He and his friend Alex watched various Twitch streams together. He played poker on and off for a while before turning his attention to becoming a full-time professional poker player when the COVID-19 related lockdowns hit.
"I started playing full time at the start of the pandemic due to my job finishing because of lockdown. I used to be a kids outdoor activity instructor, climbing, kayaking, etc."
Euan McNicholas Wins GUKPT Main Event For £165,800
Breaking His Live Poker Festival Duck
Busy with work and the online cash game grind meant McNicholas did not have much time for live tournaments and had never played in a live tournament series outside of student events.
"This was my first ever live tournament series. I had only played student poker events before this. Grosvenor is running a promotion called The National Poker League, where they are giving out lots of prize money. These events started online during lockdown, but now restrictions have been lifted, they are moving live. At the start of the GUKPT London series, I was third in the league, so it made sense to play all the events and try chase down the leaderboard."
McNicholas got his live poker grind on and played in all the events on the GUKPT London schedule, including a £560 buy-in Midi Main Event, won by Michael Zhang, and a £2,200 High Roller. Unfortunately for him, McNicholas did not cash in any of them.
Building on a Strong Main Event Start
Determined not to leave the casino without some National League leaderboard points, McNicholas bought into the £1,350 Main Event on Day 1A. It turned out to be a fantastic decision because he ended his flight with 121,200 chips, enough for sixth-place.
Day 2 saw McNicholas boost his stack to 646,000, meaning he made the final day with a stack large enough for seven out of the 20 surviving players.
"I thought I played very well on both Day 1 and Day 2, but as is the case with tournament poker, there is always a certain element of run-good.
"Day 3 was a rocky ride. I was down to 150,000 (7.5 big blinds) with 16 players left, having done nothing wrong. I then won a few all-ins, and before I knew it, it was the final table. On the final table, I ran well in all-in pots, one being with ace-nine against Jack Hardcastle's pocket jacks, which was huge because I would have been out if I lost, and it also crippled Jack, who is a great player."
Full Seven-Leg 2021 GUKPT Schedule Released
Striking a Deal Never Crossed His Mind
McNicholas was confident throughout the tournament despite finding himself short-stacked at one stage. He was that confident of securing the victory that the thought of striking a deal never came into his mind, despite the difference between first and second-place prize money being more than £50,000.
"I always knew I could win if I just played well and kept focus. At no point did I want to deal. It's not often you get the chance to p[lay for this much money, so I wanted to make the most of the opportunity."
The GUKPT London champion has no immediate plans for his newfound wealth; instead, he is concentrating on winning the National League. he stands an excellent chance of doing so because he currently tops the leaderboard with 559.02 points, which puts him narrowly ahead of Ben Teague on 555.56 points, and with a bit of a cushion between himself and third-placed Christopher Johnson on 523.88.
Before McNicholas headed by to his favoured online cash games, he gave a shout-out to his poker friends who helped make his victory possible.
"I would like to add a massive thank you to my friends in poker. I owe them a lot, and without them, this wouldn't have happened. it was awesome to be able to share the experience with them on the rail."
With a £20,000 sponsorship package awaiting the winner of the National Poker League and events up to September awarding points, we will likely see McNicholas at the upcoming GUKPT Manchester festival at Bury New Road from August 5-15.