Marius Gierse Leads Tightly-Packed Super MILLION$ Final Table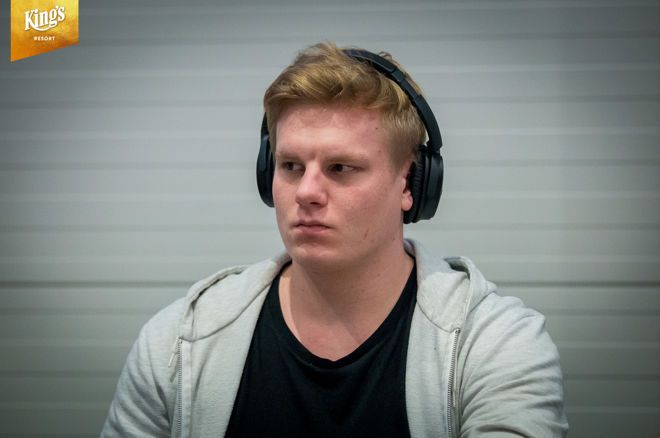 The seventh GGPoker Super MILLION$ tournament of Season 2 has reached its star-studded final table, and it is Marius Gierse who leads the nine finalists into battle at 6:00 p.m. BST on August 10. This week's final table is tightly packed, with none of the players returning with less than 26.6 big blinds, which should make for an interesting spectacle.
Super MILLION$ Season 2 Episode 7 Final Table
| Place | Player | Country | Chips | Big Blinds |
| --- | --- | --- | --- | --- |
| 1 | Marius Gierse | Austria | 2,769,428 | 79.1 |
| 2 | Nator | Mexico | 1,905,216 | 54.4 |
| 3 | Artur Martirosian | Russia | 1,830,559 | 52.3 |
| 4 | Daniel Smiljkovic | Austria | 1,587,232 | 45.3 |
| 5 | Thomas Muehloecker | Austria | 1,563,894 | 44.7 |
| 6 | niNohR | Austria | 1,229,954 | 35.1 |
| 7 | Daniel Dvoress | Canada | 1,220,134 | 34.9 |
| 8 | Andras Nemeth | Hungary | 962,271 | 27.5 |
| 9 | oiltrader | Canada | 931,312 | 26.6 |
Watch This Star-Studded Final Table Unfold
Who will win this week's Super MILLION$? Watch the final table action here!
Gierse sits down as the tournament's chip leader courtesy of his 2,769,428 stack, the equivalent of 79.1 big blinds when play resumes. This is the third Super MILLON$ final table on Gierse's resume. He finished second in September 2020 and eighth in December of the same year. Tonight could be Gierse's best chance of victory yet.
Mexico's "Nator" will have a say in where this week's Super MILLON$ title calls home. Nator is a high roller regular, one who reached the Super MILLON$ final table five times during Season 1. However, Nator never quite managed to get the job done with a brace of third place finishes the best he could muster. Nator sits down with 54.4 big blinds at the start of play tonight.
Third-place at the resumption of the final table is Russia's Artur Martirosian, who won this event back in August 2020 for $442,184. That impressive haul has helped Martirosian eclipse $16 million in earnings from GGPoker alone, making him one of the online poker site's biggest winners. The Russian star has 52.3 big blinds in his stack and has a legitimate chance of securing his second Super MILLION$ victory.
https://www.pokernews.com/news/2021/07/ten-wsop-main-event-seats-clubgg-39537.htm
Daniel Smiljkovic attempted to sell 30% of his action via the GGPoker in-built staking software, but only five players took him up on his offer. How everyone who did not invest is kicking themselves now that Smiljkovic has navigated his way to his first Super MILLION$ final table. His only previous cash in this tournament was an 18th place finish in April 2021, he needs sixth-place or higher to beat the $89,546 he collected that day.
Fifth-place at the restart is Thomas Muehloecker, who seems to hit the Super MILLION$ final table regularly. Muehloecker's last couple of final table appearances have ended much earlier than he would have liked, although he did reach them as the shortest or one of the shortest stacks. This week is different because Muehloecker takes his seat with 44.7 big blinds, enough for fifth place. The talented Austrian be a solid outside bet to become this event's champion.
There is a brand new name at this week's Super MILLION$ final, Austrian "niNohR." This is only the second time niNohR has bought into the Super MILLIONS$ and he is now at the final table with a shot at a $325,957 prize. The Austrian is in good form having won a $12,500 WSOP Main Event package via the WSOP Road to Vegas promotion at GGPoker.
ClubGG WSOP Main Event Stage 1 Satellites Are Underway!
Anyone who has followed the Super MILLION$ since its launch will have seen Daniel Dvoress in the money and at final tables on numerous occasions. Dvoress, the reigning $1,500 Millionaire Maker champion, reached seven final tables and cashed 11 times during Season 1. He also won the May 9 edition of the tournament, and is gunning for glory once again. Dvoress returns in seventh-place, but has a relatively healthy stack containing 34.9 big blinds.
Andras Nemeth has won almost everything there is to win in the online poker world, but a Super MILLION$ title eludes him. Eight cashes and one final table during Season 1 saw Nemeth win $261,798. The Hungarian has never finished higher than fifth, can he change that fact in this even?
Bringing up the rear, but by no means out of the running, is Canada's "oiltrader." They won a $1,050 satellite into this event and that $1,050 investment is now worth at least $45,100. Oiltrader may be the shortest stack when the dealer pitches the first cards, but their 931,312 stack is currently still worth 26.6 big blinds.