Fast Poker and Big Bounties in the PokerStars Bounty Builder Turbo Series May 23 - June 6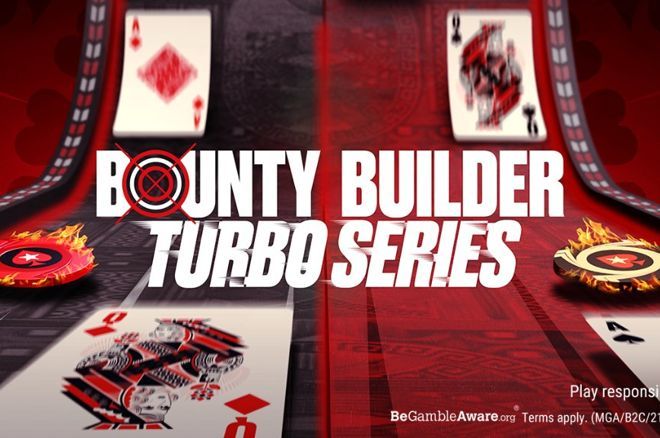 Bounty hunter fans around the globe can rejoice as the Bounty Builder Turbo Series on PokerStars will be held from May 23 to June 6. A total of 184 events grace the calendar across the two-week schedule with $25 million in prize money guaranteed to be paid out to the winners.
As the name would suspect, all events will be fast-paced and using the Progressive Knockout (PKO) format. Every event is at least a turbo, with 45 of them in the hyper-turbo format, promising a scintillating series for players to pad their bankrolls in a fan-favorite format.
$3M Guaranteed in Main Events
The biggest slice of the $25M in guarantees will be awarded during two Main Events on Sunday, May 30 kicking off at 1:05 p.m. ET. The $55 Low Main Event features a $1M guarantee, while its High counterpart will double the guaranteed money up for grabs in exchange for a $530 price tag. Further key events on the schedule include special editions of the Sunday Million, Sunday Storm, and Sunday High Roller.
Buy-ins are ranging from $5.50 all the way up to $5,200, and no fewer than 12 tournaments every day offer players of all bankrolls ample opportunity to get a shot at Bounty Builder success.
The first events are kicking off this Sunday with a special edition of the $109 Sunday Million with a $1M Gtd as the highlight. For more information, check out the complete schedule below.
PokerStars Bounty Builder Turbo Series Schedule
| Date | Time (ET) | Event |
| --- | --- | --- |
| Sun, 23 May | 8:30 am | Event #1: $109 NLHE, 8-Max, Sunday Kickoff SE, $100K Gtd |
| Sun, 23 May | 10:00 am | Event #2: $55 NLHE, 8-Max, Series Starter, $150K Gtd |
| Sun, 23 May | 11:30 am | Event #3: $215 NLHE, Heads-Up, Turbo, TKO, Zoom, $100K Gtd |
| Sun, 23 May | 1:05 pm | Event #4: $22 NLHE, Mini Sunday Million SE, $250K Gtd |
| Sun, 23 May | 1:05 pm | Event #5: $109 NLHE, Sunday Million SE, $1M Gtd |
| Sun, 23 May | 1:05 pm | Event #6: $1,050 NLHE, Sunday HR, $750K Gtd |
| Sun, 23 May | 2:15 pm | Event #7: $5,200 NLHE, 8-Max, High Roller, $500K Gtd |
| Sun, 23 May | 2:15 pm | Event #8: $215 NLO8, 6-Max, Hyper-Turbo, $75K Gtd |
| Sun, 23 May | 3:30 pm | Event #9: $22 NLHE, 8-Max, $125K Gtd |
| Sun, 23 May | 4:30 pm | Event #10: $109 NLHE, 6-Max, Big Short: 20BB, $75K Gtd |
| Sun, 23 May | 5:15 pm | Event #11: $530 NLHE, Sunday Cooldown SE, $250K Gtd |
| Sun, 23 May | 6:15 pm | Event #12: $55 NLHE, 6-Max, Hyper-Turbo, Mini Sunday Supersonic SE, $175K Gtd |
| Mon, 24 May | 10:00 am | Event #13: $22 NLHE, 6-Max, Hyper-Turbo, $35K Gtd |
| Mon, 24 May | 11:30 am | Event #14: $55 NLHE, 8-Max, Deep Stacks, $80K Gtd |
| Mon, 24 May | 12:15 pm | Event #15: $22 NLHE, Freezeout, $75K Gtd |
| Mon, 24 May | 1:05 pm | Event #16: $215 NLHE, 8-Max, Mini Bounty Builder HR SE, $200K Gtd |
| Mon, 24 May | 1:05 pm | Event #17: $55 NLHE, 8-Max, $200K Gtd |
| Mon, 24 May | 1:30 pm | Event #18: $22 PLO, 6-Max, $30K Gtd |
| Mon, 24 May | 2:15 pm | Event #19: $109 NLHE, 6-Max, Win the Button, $175K Gtd |
| Mon, 24 May | 3:30 pm | Event #20: $530 NLHE, 8-Max, Hyper-Turbo, $150K Gtd |
| Mon, 24 May | 4:30 pm | Event #21: $55 NLHE, 6-Max, Short: 15BB, $60K Gtd |
| Mon, 24 May | 5:15 pm | Event #22: $215 NLHE, 8-Max, Freezeout, $80K Gtd |
| Mon, 24 May | 6:15 pm | Event #23: $55 NLHE, 6-Max, Hyper-Turbo, Daily Supersonic SE, $85K Gtd |
| Mon, 24 May | 7:05 pm | Event #24: $22 NLHE, 6-Max, Hyper-Turbo, Fast Hyper, $20K Gtd |
| Tue, 25 May | 10:00 am | Event #25: $55 NLHE, 6-Max, $100K Gtd |
| Tue, 25 May | 11:30 am | Event #26: $109 NLHE, Heads-Up, Turbo, TKO, Zoom, $115K Gtd |
| Tue, 25 May | 12:15 pm | Event #27: $11 NLHE, 8-Max, Hyper-Turbo, $60K Gtd |
| Tue, 25 May | 1:05 pm | Event #28: $530 NLHE, 8-Max, Bounty Builder HR SE, $200K Gtd |
| Tue, 25 May | 1:05 pm | Event #29: $5.50 NLHE, 8-Max, $40K Gtd |
| Tue, 25 May | 1:30 pm | Event #30: $55 6+ Hold'em, 6-Max, $20K Gtd |
| Tue, 25 May | 2:15 pm | Event #31: $22 NLHE, $100K Gtd |
| Tue, 25 May | 3:30 pm | Event #32: $55 NLHE, 6-Max, $115K Gtd |
| Tue, 25 May | 4:30 pm | Event #33: $215 NLHE, 8-Max, Daily Cooldown SE, $125K Gtd |
| Tue, 25 May | 5:15 pm | Event #34: $22 NLHE, 8-Max, Hyper-Turbo, $100K Gtd |
| Tue, 25 May | 6:15 pm | Event #35: $109 NLHE, 8-Max, $80K Gtd |
| Tue, 25 May | 7:05 pm | Event #36: $22 NLHE, 6-Max, Hyper-Turbo, Short: 15BB, $25K Gtd |
| Wed, 26 May | 10:00 am | Event #37: $55 NLHE, 8-Max, Freezeout, $60K Gtd |
| Wed, 26 May | 11:30 am | Event #38: $22 NLHE, 6-Max, Hyper-Turbo, $100K Gtd |
| Wed, 26 May | 12:15 pm | Event #39: $55 NLHE, 6-Max, $125K Gtd |
| Wed, 26 May | 1:05 pm | Event #40: $109 NLHE, Freezeout, $150K Gtd |
| Wed, 26 May | 1:05 pm | Event #41: $22 NLHE, $150K Gtd |
| Wed, 26 May | 1:30 pm | Event #42: $22 NLO8, 6-Max, $20K Gtd |
| Wed, 26 May | 2:15 pm | Event #43: $215 NLHE, 8-Max, $200K Gtd |
| Wed, 26 May | 3:30 pm | Event #44: $22 NLHE, 6-Max, $80K Gtd |
| Wed, 26 May | 4:30 pm | Event #45: $109 NLHE, 8-Max, Daily Cooldown SE, $115K Gtd |
| Wed, 26 May | 5:15 pm | Event #46: $55 NLHE, 8-Max, Freezeout, $75K Gtd |
| Wed, 26 May | 6:15 pm | Event #47: $215 NLHE, 6-Max, Hyper-Turbo, Daily Supersonic SE, $80K Gtd |
| Wed, 26 May | 7:05 pm | Event #48: $55 NLHE, 6-Max, Hyper-Turbo, Short: 15BB, $30K Gtd |
| Thu, 27 May | 10:00 am | Event #49: $22 NLHE, 6-Max, $50K Gtd |
| Thu, 27 May | 11:30 am | Event #50: $109 NLHE, Heads-Up, Hyper-Turbo, TKO, Zoom, $100K Gtd |
| Thu, 27 May | 12:15 pm | Event #51: $215 NLHE, 8-Max, $75K Gtd |
| Thu, 27 May | 1:05 pm | Event #52: $55 NLHE, Mini Bounty Builder HR SE, $200K Gtd |
| Thu, 27 May | 1:05 pm | Event #53: $11 NLHE, $80K Gtd |
| Thu, 27 May | 1:30 pm | Event #54: $109 PLO, 6-Max, $50K Gtd |
| Thu, 27 May | 2:15 pm | Event #55: $1,050 NLHE, 8-Max, Thursday Thrill SE, $250K Gtd |
| Thu, 27 May | 3:30 pm | Event #56: $11 NLHE, 4-Max, $75K Gtd |
| Thu, 27 May | 4:30 pm | Event #57: $55 NLHE, 6-Max, Short: 15BB, $60K Gtd |
| Thu, 27 May | 5:15 pm | Event #58: $22 NLHE, Hyper-Turbo, $100K Gtd |
| Thu, 27 May | 6:15 pm | Event #59: $109 NLHE, 8-Max, $80K Gtd |
| Thu, 27 May | 7:05 pm | Event #60: $22 NLHE, 6-Max, Hyper-Turbo, Fast Hyper, $25K Gtd |
| Fri, 28 May | 10:00 am | Event #61: $109 NLHE, 8-Max, $100K Gtd |
| Fri, 28 May | 11:30 am | Event #62: $55 NLHE, Freezeout, $75K Gtd |
| Fri, 28 May | 12:15 pm | Event #63: $22 NLHE, 7-Max, $80K Gtd |
| Fri, 28 May | 1:05 pm | Event #64: $530 NLHE, 8-Max, Bounty Builder HR SE, $200K Gtd |
| Fri, 28 May | 1:05 pm | Event #65: $5.50 NLHE, 8-Max, $40K Gtd |
| Fri, 28 May | 1:30 pm | Event #66: $55 8-Game, $20K Gtd |
| Fri, 28 May | 2:15 pm | Event #67: $109 NLHE, 6-Max, Zoom, $125K Gtd |
| Fri, 28 May | 3:30 pm | Event #68: $55 NLHE, 8-Max, Hyper-Turbo, $125K Gtd |
| Fri, 28 May | 4:30 pm | Event #69: $11 NLHE, 8-Max, Freezeout, $50K Gtd |
| Fri, 28 May | 5:15 pm | Event #70: $109 NLHE, 6-Max, Hyper-Turbo, $80K Gtd |
| Fri, 28 May | 6:15 pm | Event #71: $55 NLHE, 8-Max, Fast Friday SE, $100K Gtd |
| Fri, 28 May | 7:05 pm | Event #72: $11 NLHE, 6-Max, Hyper-Turbo, Short: 15BB, $20K Gtd |
| Sat, 29 May | 10:00 am | Event #73: $22 NLHE, 6-Max, Hyper-Turbo, $50K Gtd |
| Sat, 29 May | 11:30 am | Event #74: $215 NLHE, Heads-Up, Turbo, TKO, Zoom, $60K Gtd |
| Sat, 29 May | 12:15 pm | Event #75: $55 NLHE, 8-Max, Freezeout, $60K Gtd |
| Sat, 29 May | 1:05 pm | Event #76: $109 NLHE, 8-Max, $250K Gtd |
| Sat, 29 May | 1:05 pm | Event #77: $11 NLHE, 8-Max, $80K Gtd |
| Sat, 29 May | 1:30 pm | Event #78: $22 PLO, 6-Max, $25K Gtd |
| Sat, 29 May | 2:15 pm | Event #79: $55 NLHE, 6-Max, $150K Gtd |
| Sat, 29 May | 3:30 pm | Event #80: $22 NLHE, $75K Gtd |
| Sat, 29 May | 4:30 pm | Event #81: $109 NLHE, 6-Max, Big Short: 20BB, $60K Gtd |
| Sat, 29 May | 5:15 pm | Event #82: $530 NLHE, 8-Max, Daily Cooldown SE, $125K Gtd |
| Sat, 29 May | 6:15 pm | Event #83: $11 NLHE, 8-Max, Hyper-Turbo, $40K Gtd |
| Sat, 29 May | 7:05 pm | Event #84: $55 NLHE, 6-Max, Hyper-Turbo, Fast Hyper, $25K Gtd |
| Sun, 30 May | 8:30 am | Event #85: $109 NLHE, 8-Max, Deep Stacks, $100K Gtd |
| Sun, 30 May | 10:00 am | Event #86: $22 NLHE, 6-Max, $125K Gtd |
| Sun, 30 May | 11:30 am | Event #87: $215 PLO, 6-Max, $75K Gtd |
| Sun, 30 May | 12:22 pm | Event #88: $22 NLHE, 8-Max, Double Deuce SE, $175K Gtd |
| Sun, 30 May | 1:05 pm | Event #89: $55 NLHE, 8-Max, Main Event - Low, $1M Gtd |
| Sun, 30 May | 1:05 pm | Event #90: $530 NLHE, 8-Max, Main Event - High, $2M Gtd |
| Sun, 30 May | 1:05 pm | Event #91: $5,200 NLHE, 8-Max, High Roller, $500K Gtd |
| Sun, 30 May | 2:15 pm | Event #92: $109 NLO8, 6-Max, Hyper-Turbo, $50K Gtd |
| Sun, 30 May | 3:30 pm | Event #93: $11 NLHE, Freezeout, $100K Gtd |
| Sun, 30 May | 4:30 pm | Event #94: $55 NLHE, 6-Max, Short: 15BB, $75K Gtd |
| Sun, 30 May | 5:15 pm | Event #95: $22 NLHE, 8-Max, Mini Sunday Cooldown SE, $125K Gtd |
| Sun, 30 May | 6:15 pm | Event #96: $215 NLHE, 6-Max, Hyper-Turbo, Sunday Supersonic SE, $250K Gtd |
| Sun, 30 May | 7:05 pm | Event #97: $22 NLHE, 6-Max, Hyper-Turbo, Fast Hyper, $40K Gtd |
| Mon, 31 May | 10:00 am | Event #98: $55 NLHE, 6-Max, Freezeout, $50K Gtd |
| Mon, 31 May | 11:30 am | Event #99: $22 NLHE, Freezeout, Deep Stacks, $75K Gtd |
| Mon, 31 May | 12:15 pm | Event #100: $109 NLHE, 8-Max, Hyper-Turbo, $100K Gtd |
| Mon, 31 May | 1:05 pm | Event #101: $215 NLHE, $200K Gtd |
| Mon, 31 May | 1:05 pm | Event #102: $5.50 NLHE, $40K Gtd |
| Mon, 31 May | 1:30 pm | Event #103: $55 NLO8, 6-Max, $40K Gtd |
| Mon, 31 May | 2:15 pm | Event #104: $11 NLHE, 8-Max, Total KO, $75K Gtd |
| Mon, 31 May | 3:30 pm | Event #105: $55 NLHE, 4-Max, $100K Gtd |
| Mon, 31 May | 4:30 pm | Event #106: $530 NLHE, 8-Max, Daily Cooldown SE, $175K Gtd |
| Mon, 31 May | 5:15 pm | Event #107: $109 NLHE, Hyper-Turbo, $100K Gtd |
| Mon, 31 May | 6:15 pm | Event #108: $55 NLHE, 6-Max, Hyper-Turbo, Daily Supersonic SE, $80K Gtd |
| Mon, 31 May | 7:05 pm | Event #109: $11 NLHE, 6-Max, Hyper-Turbo, Short: 15BB, $20K Gtd |
| Tue, 1 June | 10:00 am | Event #110: $109 NLHE, 4-Max, $60K Gtd |
| Tue, 1 June | 11:30 am | Event #111: $55 NLHE, Heads-Up, Turbo, TKO, Zoom, $80K Gtd |
| Tue, 1 June | 12:15 pm | Event #112: $215 NLHE, $80K Gtd |
| Tue, 1 June | 1:05 pm | Event #113: $22 NLHE, 8-Max, Freezeout, $100K Gtd |
| Tue, 1 June | 1:05 pm | Event #114: $1,050 NLHE, 8-Max, $200K Gtd |
| Tue, 1 June | 1:30 pm | Event #115: $109 HORSE, 8-Max, $25K Gtd |
| Tue, 1 June | 2:15 pm | Event #116: $530 NLHE, 8-Max, Super Tuesday SE, $200K Gtd |
| Tue, 1 June | 3:30 pm | Event #117: $109 NLHE, 6-Max, Shootout, $75K Gtd |
| Tue, 1 June | 4:30 pm | Event #118: $55 NLHE, 6-Max, Short: 15BB, $60K Gtd |
| Tue, 1 June | 5:15 pm | Event #119: $11 NLHE, 7-Max, Hyper-Turbo, $75K Gtd |
| Tue, 1 June | 6:15 pm | Event #120: $109 NLHE, 8-Max, $80K Gtd |
| Tue, 1 June | 7:05 pm | Event #121: $22 NLHE, 6-Max, Hyper-Turbo, Fast Hyper, $25K Gtd |
| Wed, 2 June | 10:00 am | Event #122: $22 NLHE, 7-Max, Hyper-Turbo, $50K Gtd |
| Wed, 2 June | 11:30 am | Event #123: $109 NLHE, 6-Max, $125K Gtd |
| Wed, 2 June | 12:15 pm | Event #124: $11 NLHE, 8-Max, Freezeout, $50K Gtd |
| Wed, 2 June | 1:05 pm | Event #125: $55 NLHE, Mini Bounty Builder HR SE, $200K Gtd |
| Wed, 2 June | 1:05 pm | Event #126: $5.50 NLHE, $35K Gtd |
| Wed, 2 June | 1:30 pm | Event #127: $22 PLO, 6-Max, $30K Gtd |
| Wed, 2 June | 2:15 pm | Event #128: $55 NLHE, 6-Max, Zoom, $100K Gtd |
| Wed, 2 June | 3:30 pm | Event #129: $215 NLHE, 8-Max, Freezeout, $100K Gtd |
| Wed, 2 June | 4:30 pm | Event #130: $109 NLHE, 6-Max, Big Short: 20BB, $75K Gtd |
| Wed, 2 June | 5:15 pm | Event #131: $530 NLHE, 8-Max, Daily Cooldown SE, $150K Gtd |
| Wed, 2 June | 6:15 pm | Event #132: $22 NLHE, 8-Max, Freezeout, $75K Gtd |
| Wed, 2 June | 7:05 pm | Event #133: $5.50 NLHE, 6-Max, Hyper-Turbo, Fast Hyper, $10K Gtd |
| Thu, 3 June | 10:00 am | Event #134: $11 NLHE, 8-Max, Freezeout, $50K Gtd |
| Thu, 3 June | 11:30 am | Event #135: $22 NLHE, Heads-Up, Turbo, TKO, Zoom, $60K Gtd |
| Thu, 3 June | 12:15 pm | Event #136: $55 NLHE, 6-Max, Win the Button, $100K Gtd |
| Thu, 3 June | 1:05 pm | Event #137: $1,050 NLHE, 8-Max, Thursday Thrill SE, $250K Gtd |
| Thu, 3 June | 1:05 pm | Event #138: $215 NLHE, 8-Max, Mini Thursday Thrill SE, $200K Gtd |
| Thu, 3 June | 1:30 pm | Event #139: $55 PLO8, 6-Max, Hyper-Turbo, $25K Gtd |
| Thu, 3 June | 2:15 pm | Event #140: $55 NLHE, $175K Gtd |
| Thu, 3 June | 3:30 pm | Event #141: $530 NLHE, 8-Max, Hyper-Turbo, $150K Gtd |
| Thu, 3 June | 4:30 pm | Event #142: $11 NLHE, 6-Max, Short: 15BB, $40K Gtd |
| Thu, 3 June | 5:15 pm | Event #143: $55 NLHE, Freezeout, $75K Gtd |
| Thu, 3 June | 6:15 pm | Event #144: $215 NLHE, 6-Max, Hyper-Turbo, Daily Supersonic SE, $80K Gtd |
| Thu, 3 June | 7:05 pm | Event #145: $55 NLHE, 6-Max, Hyper-Turbo, Fast Hyper, $35K Gtd |
| Fri, 4 June | 10:00 am | Event #146: $55 NLHE, Hyper-Turbo, Freezeout, $60K Gtd |
| Fri, 4 June | 11:30 am | Event #147: $215 NLHE, 8-Max, Deep Stacks, $100K Gtd |
| Fri, 4 June | 12:15 pm | Event #148: $22 NLHE, 6-Max, $80K Gtd |
| Fri, 4 June | 1:05 pm | Event #149: $109 NLHE, 8-Max, Friday Night Fight, $250K Gtd |
| Fri, 4 June | 1:05 pm | Event #150: $1,050 NLHE, 8-Max, Friday Night Fight HR, $200K Gtd |
| Fri, 4 June | 1:30 pm | Event #151: $109 5-Card PLO, 6-Max, $30K Gtd |
| Fri, 4 June | 2:15 pm | Event #152: $215 NLHE, 6-Max, $200K Gtd |
| Fri, 4 June | 3:30 pm | Event #153: $55 NLHE, Freezeout, $100K Gtd |
| Fri, 4 June | 4:30 pm | Event #154: $109 NLHE, 8-Max, Daily Cooldown SE, $115K Gtd |
| Fri, 4 June | 5:15 pm | Event #155: $11 NLHE, 6-Max, Hyper-Turbo, $75K Gtd |
| Fri, 4 June | 6:15 pm | Event #156: $55 NLHE, 8-Max, Fast Friday SE, $100K Gtd |
| Fri, 4 June | 7:05 pm | Event #157: $11 NLHE, 6-Max, Hyper-Turbo, Short: 15BB, $20K Gtd |
| Sat, 5 June | 10:00 am | Event #158: $22 NLHE, 6-Max, Freezeout, $50K Gtd |
| Sat, 5 June | 11:30 am | Event #159: $11 NLHE, Heads-Up, Turbo, TKO, Zoom, $60K Gtd |
| Sat, 5 June | 12:15 pm | Event #160: $55 NLHE, 8-Max, Hyper-Turbo, $80K Gtd |
| Sat, 5 June | 1:05 pm | Event #161: $215 NLHE, 8-Max, $200K Gtd |
| Sat, 5 June | 1:05 pm | Event #162: $5.50 NLHE, 8-Max, $40K Gtd |
| Sat, 5 June | 1:30 pm | Event #163: $109 NLO8, 6-Max, $35K Gtd |
| Sat, 5 June | 2:15 pm | Event #164: $55 NLHE, Total KO, $115K Gtd |
| Sat, 5 June | 3:30 pm | Event #165: $530 NLHE, 4-Max, $125K Gtd |
| Sat, 5 June | 4:30 pm | Event #166: $55 NLHE, 6-Max, Short: 15BB, $60K Gtd |
| Sat, 5 June | 5:15 pm | Event #167: $215 NLHE, 8-Max, Hyper-Turbo, $100K Gtd |
| Sat, 5 June | 6:15 pm | Event #168: $22 NLHE, 8-Max, Freezeout, $75K Gtd |
| Sat, 5 June | 7:05 pm | Event #169: $109 NLHE, 6-Max, Hyper-Turbo, Fast Hyper, $35K Gtd |
| Sun, 6 June | 8:30 am | Event #170: $55 NLHE, Deep Stacks, $150K Gtd |
| Sun, 6 June | 10:00 am | Event #171: $109 NLHE, 8-Max, Freezeout, $100K Gtd |
| Sun, 6 June | 11:30 am | Event #172: $215 NLHE, 8-Max, $200K Gtd |
| Sun, 6 June | 12:15 pm | Event #173: $22 NLHE, 6-Max, Hyper-Turbo, $100K Gtd |
| Sun, 6 June | 1:05 pm | Event #174: $11 NLHE, Sunday Storm SE, $175K Gtd |
| Sun, 6 June | 1:05 pm | Event #175: $109 NLHE, 8-Max, Sunday Million SE, $1M Gtd |
| Sun, 6 June | 1:05 pm | Event #176: $1,050 NLHE, 8-Max, Sunday HR SE, $600K Gtd |
| Sun, 6 June | 2:15 pm | Event #177: $109 PLO8, 6-Max, $50K Gtd |
| Sun, 6 June | 2:15 pm | Event #178: $5,200 NLHE, 8-Max, High Roller, $500K Gtd |
| Sun, 6 June | 3:30 pm | Event #179: $55 NLHE, 7-Max, $125K Gtd |
| Sun, 6 June | 4:30 pm | Event #180: $22 NLHE, 6-Max, Short: 15BB, $80K Gtd |
| Sun, 6 June | 5:30 pm | Event #181: $530 NLHE, 6-Max, Hyper-Turbo, Mini Sunday Supersonic SE, $200K Gtd |
| Sun, 6 June | 5:30 pm | Event #182: $55 NLHE, 6-Max, Hyper-Turbo, Sunday Supersonic SE, $150K Gtd |
| Sun, 6 June | 6:15 pm | Event #183: $22 NLHE, Freezeout, $80K Gtd |
| Sun, 6 June | 7:05 pm | Event #184: $109 NLHE, 6-Max, Hyper-Turbo, Fast Hyper, $50K Gtd |
Flutter PLC is a majority shareholder in PokerNews