Lex Not Live II Heads to PokerStars on May 18-23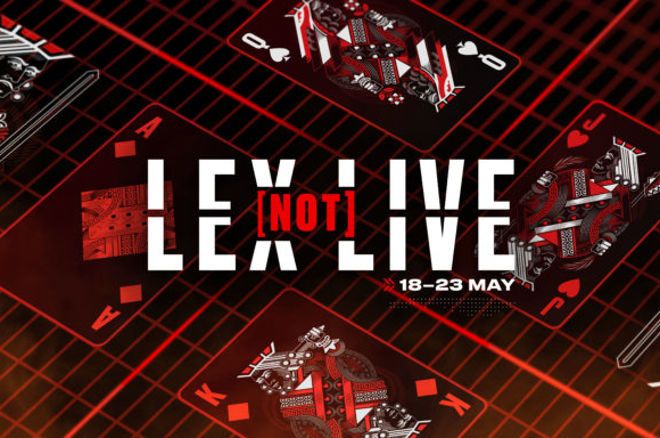 Table Of Contents
The Lex Not Live poker festival returns to PokerStars on May 18-23 to the delight to the thousands of Twitch fans of PokerStars Ambassador Lex Veldhuis.
The festival boasts 16 affordable events ranging from $11 to $55 buy-ins with more than $500,000 in guaranteed prizes. Of course, Veldhuis will provide his fans plenty of opportunities to win free tickets while making it a fun and memorable event for his community.
$200K Guaranteed Main Event
The highlight of the festival is easily the Lex Not Live Event #14: $33 NLHE [8-Max, Main Event], which boasts a generous $200,000 prize pool for just a $33 buy-in.
Veldhuis will not only be giving away tickets to this event on his stream to those that have their Twitch and PokerStars accounts linked together but also satellite tickets as well. For those not lucky with the giveaways, feeder tournaments are very affordable at just $1 to make sure this is an inclusive event to go along with the rest of the theme of the festival.
There are many other affordable events but this isn't all what the the Lex Not Live Festival is about as it will involve other PokerStars Ambassadors, community SNGs, and some fun with an "Off Day" on Friday, May 21 when Veldhuis instead will host online video games and an Amazon Movie Watch Party.
2021 Lex Not Live Schedule
| Date | Time (CEST) | Event | Guarantee |
| --- | --- | --- | --- |
| May 18 | 11 a.m. | Lex Not Live Event #1: $33 PLO [6-Max, Lex Veldhuis Open] | $12,000 |
| | 12:30 p.m. | Lex Not Live Event #2: $22 NLHE [8-Max, PKO] | $30,000 |
| | 2 p.m. | Lex Not Live Event #3: $11 6+Holdem [6-Max] | $6,000 |
| May 19 | 11 a.m. | Lex Not Live Event #4: $22 NLHE PLO [7-Max, Progressive KO] | $15,000 |
| | 12:30 p.m. | Lex Not Live Event #5: $55 NLHE [8-Max, High Roller] | $40,000 |
| | 2 p.m. | Lex Not Live Event #3: $11 6-Card PLO [6-Max] | $3,000 |
| May 20 | 11 a.m. | Lex Not Live Event #7: $22 NLHE [Heads-Up, Turbo, Progressive Total KO, Zoom] | $18,000 |
| | 2 p.m. | Lex Not Live Event #8: $22 NLHE [6-Max, Turbo, Progressive KO, Zoom] | $12,000 |
| May 22 | 11 a.m. | Lex Not Live Event #9: $11 NLHE [7-Max, Turbo] | $10,000 |
| | 12:30 p.m. | Lex Not Live Event #10: $22 NLHE [8-Max, Deepstack] | $30,000 |
| | 1:30 p.m. | Lex Not Live Event #11: $11 NLHE [Heads-Up, All-In Shootout, FU Flipout] | $12,000 |
| | 3 p.m. | Lex Not Live Event #12: $22 Fusion [7-Max, Turbo] | $8,000 |
| May 23 | 12:30 p.m. | Lex Not Live Event #13: $22 NLHE | $35,000 |
| | 2 p.m. | Lex Not Live Event #14: $22 NLHE PLO [7-Max, Progressive KO] | $40,000 |
| | 4 p.m. | Lex Not Live Event #14: $33 NLHE [8-Max, Main Event] | $200,000 |
| | 6 p.m. | Lex Not Live Event #15: $22 NLHE [8-Max, Turbo, Second Chance] | $25,000 |
| | 8 p.m. | Lex Not Live Event #16: $11 NLHE [Hyper-Turbo, Progressive KO] | $12,000 |
Flutter PLC is a majority shareholder in PokerNews