Guy Taylor Completes Incredible Grosvenor Quadruple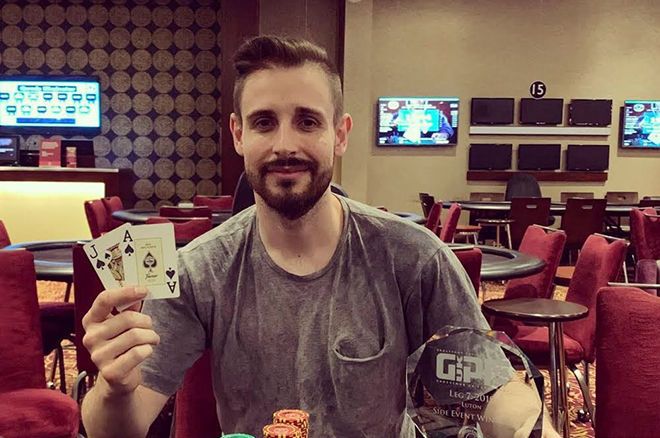 Guy Taylor is not someone you want at your table when you enter a Grosvenor poker tournament. It's not that he's not friendly, quite the opposite, it is just he is a beast in these events and is highly likely to help himself to your stack before the night is out.
Taylor won the GUKPT Main Event at Grosvenor Poker this weekend and reeled in the £22,155 top prize. That result is impressive enough in its own right with Taylor having outfoxed 210 opponents in the £530 buy-in tournament. What is more impressive is the fact this victory was the fourth major Grosvenor title Taylor has won.
Guy Taylor's Incredible Quadruple Grosvenor Victories
| Date | Tournament | Buy-in | Entrants | Prize |
| --- | --- | --- | --- | --- |
| Aug 2020 | Grosvenor 25/25 Series | £225 | 157 | £7,335 |
| Oct 2020 | Grosvenor Deepstack | £115 | 172 | £4,592 |
| Nov 2020 | GCOOP High Roller | £225 | 187 | £8,737 |
| May 2021 | GUKPT Main Event | £530 | 211 | £22,155 |
Taylor's first Grosvenor triumph came in August 2020. With COVID-19 ruining the live poker tournament schedule, Grosvenor, like dozens of other poker operators, switch their events to their online platform.
Some 157 players bought into the £225 buy-in Grosvenor 25/25 Series event, and Taylor outlasted them all, securing the £7,335 first-place prize.
Victory number two came a couple of months later in the £115 Grosvenor Deepstack. Taylor left 171 opponents in his wake as he bulldozed his way to a £4,592 prize.
He was not done with winning, far from it, and became the £225 GCOOP High Roller champion in November 2020, besting 186 opponents to collect £8,737.
His final triumph came on the GUKPT Main Event over the Bank Holiday weekend. Taylor navigated his way through a 211-strong field in the £530 buy-in affair, ultimately walking away with £22,155 and the title of champion.
Gerard "WRDortmund7" Barclay Wins the 2020 Grosvenor Goliath Online Main Event for £42,248
What Is Taylor's Secret?
Being unable to grind any live poker tournaments has left some live pros high and dry. The live and online games are the same, but they do require different skill sets in order to succeed. Taylor, obviously, has the ability to switch from live to online mode and find an edge with ease.
"If there's a specific edge I have in these tournaments relative to others it's that, having played a lot of live tournaments as well as online, I understand how live pros think differently to online grinders about certain situations in MTTs. Once I got the regulars in these fields profiled into different categories, I was able to find some big exploits that have contributed to my success."
Taylor's refusal to simply make what would be deemed "the correct play" and the same play against all his opponents is something that has helped him achieve the remarkable feat of four major Grosvenor titles. His background in heads-up poker has helped him to treat every foe as an individual.
"I used to grind heads-up games online, and one of the key things you learn in that format is to play every opponent specifically and deliberately rather than just trying to stick to 'the correct way' every hand."
Taylor is far from finished tearing up Grosvenor's events and now has his sights set firmly on taking down the company's biggest event: The Goliath.
"I suppose the Goliath is all I have left to win now! It won't be easy with all those runners but I'll be sure to give it a go every year. And obviously, when the live events kick off again, I can't wait to peel some physical playing cards and enjoy a live final table rail. The virtual rails I've had on my Twitch channel have been great, but we miss final table beers and the odd unnecessary chant after winning a five big blind pot!"
It is likely, although unconfirmed, the 2021 Goliath will take place online. Taylor will almost certainly stream his Goliath title charge on his increasingly popular Twitch channel. Until then, you can find Taylor grinding away most nights right here.