Charlie Carrel Dips Back Into High Stakes Poker; Wins $140K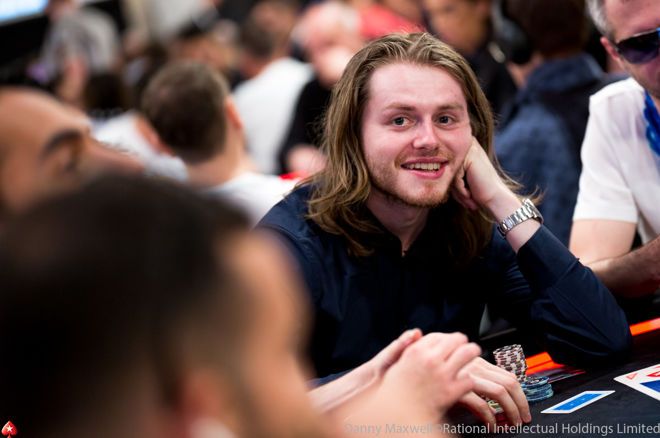 Remember how Fedor Holz announced he was essentially stepping away from poker only for him to continue crushing like there was no tomorrow? It appears Charlie "Epiphany77" Carrel was cut from the same cloth.
Carrel considers himself a former professional poker player and rarely hit the tables as a result. They say you do not quit poker, poker quits you, and the game continually gives stars an itch they must scratch.
The latest itch happened on April 28 when Carrel decided to jump into the SCOOP-100-H: $5,200 NLHE [8-Max, Final Freeze] at PokerStars, tone of the events that rounded off the $100 million Spring Championship Of Online Poker. Some 182 others joined Carrel in this event, and created a $915,000 prize pool.
Bubble Bursts in Spectacular Style
Only the top 23 finishers won a slice of $915,000 pie, so spare a though for PokerStars Ambassador Parker "tonkaaaa" Talbot who crashed out in 24th place and burst the bubble, doing so in spectacular style.
Talbot was all-in with


against Mark "mmetsla" Metsla and his


, plus Jake Schindler who had the


in his hand. A jack-high board sent both Metsla and Talbot to the rail, and Schindler's stack soaring skyward.
A whole host of stars busted inside the money place. These included Michiel "utreg" Brummelhuis, Artur "mararthur1" Martirosian, Anton "Bomber&Granater" Wigg, Viktor "papan9_ps" Ustimov, and final table bubble boy "Remi Lebo_10".
There was little to separate the top five players going into the final table, leading to an enthralling finale.
Schindler Shines at the Final Table
Schindler sent Kyriakos "9cream4" Papadopoulos to the rail in ninth before sending Niklas "Lena900" Astedt to the showers with the $30,724 eighth-place money.
Carrel took over the role of executioner when his


prevailed against the


of "MATT HOLVIK."
Andras "probirs" Nemeth fell in sixth when his pocket tens failed to get there against Schindler's jacks. Schindler claimed another tournament life when his pocket fives held in a coinflip with Claas "ssicK_ONE" Segebrecht, who pinned his hopes on ace-queen.
The rich got richer when Schindler found pocket kings, which stayed true against Luiz "justholdplz" Duarte's suited jack-ten. That hand saw Schindler's stack swell to 13.8 million chips, with Carrel in second-place holding just shy of three-million.
Alexandros "Pwndidi Theologis was the next grinder to feel Schindlers wraith. Theologis got his stack into the middle with queen-jack against Schindler's ace-king. A queen on the flop put Theologis ahead, but only until the ace of clubs reared its head on the turn.
Carrel With His Work Cut Out Heads-Up
Carrel had a lot of work to do going into the heads-up because he trailed by 3,001,742 to 15,298,258 chips with blinds and antes at 30,000/60,000/7,500a. The gap proved too substantial to bridge.
The final hand saw Schindler open to 150,000 on the button with


and Carrel defend with


. Both players check on the



flop, and again on the

turn. Carrel led for 245,700 on the

river, only for Schindler to set him all-in for the 1,066,408 he had behind.
Carrel went into the tank, prompting Schindler to ask "slowroll?" in the chat. Carrel replied with "Wtf you repping" before calling with his bluff catcher.
Schindler banked the 181,517 top prize plus the title of champion, resigning Carrel to a $140,835 consolation prize.
Final Result 2021 SCOOP-100-H: $5,200 NLHE [8-Max, Final Freeze]
| Place | Winner | Country | Prize (in USD) |
| --- | --- | --- | --- |
| 1 | Jake Schindler | United States | $181,517 |
| 2 | Charlie "Epiphany77" Carrel | United Kingdom | $140,835 |
| 3 | Alexandros "Pwndidi" Theologis | Greece | $109,271 |
| 4 | Luiz "justholdplz" Duarte | Brazil | $84,782 |
| 5 | Claas "ssicK_OnE" Segebrecht | Austria | $65,781 |
| 6 | Andras "probirs" Nemeth | Hungary | $51,038 |
| 7 | MATT HOLVIK | Canada | $39,599 |
| 8 | Niklas "Lena900" Astedt | Sweden | $30,724 |
| 9 | Kyriakos "9cream4" Papadopoulos | Greece | $23,838 |
Flutter PLC is a majority shareholder in PokerNews