PokerStars 50/50 Series Kicks Off With $50 Buy-In Sunday Million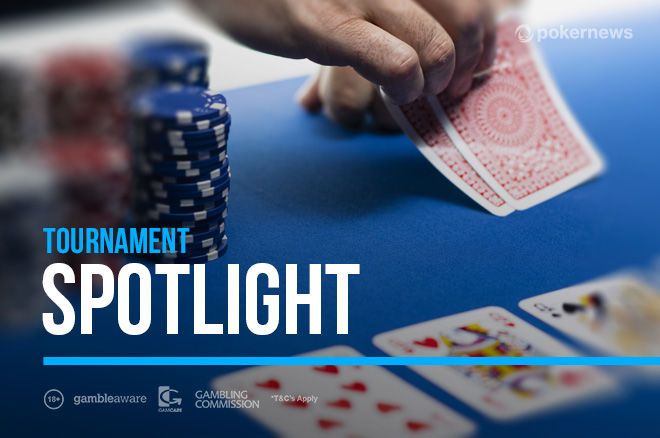 Table Of Contents
This weekend sees the first seven of 50 tournaments on the bustling PokerStars 50/50 Series schedule, including a $50 buy-in special edition of the Sunday Million.
50/50 Series 03 [Progressive KO, Sunday Million SE], $1M Gtd shuffles up and deals at 6:00 p.m. GMT on January 31 and only costs $50 to enter despite having a $1 million guaranteed prize pool.
$23 from each $50 buy-in goes into the bounty prize pool meaning you win at least $11.50 for each and every opponent you send to the rail.
You receive 10,000 chips for your $50 buy-in giving you plenty of room to manoeuvrer considering the blinds start at only 25/50/5a and increase every 12-minutes. Should you dust off your stack during the first 3.25 hours of play, you can re-enter up to three times and take another bite at the $1 million cherry.
Playing for a slice of $1 million for a $50 buy-in is pretty cool in its own right, but imagine grinding for a massive six-figure prize after only paying $2.20 to enter. This is possible thanks to several satellites, feeding into the 50/50 Series Sunday Million, starting at a mere $2.20. $5.50 and $11 buy-in satellites are also available, meaning this could be your best chance of playing in the Sunday Million!
This Event Guarantees $500K for a $55 Buy-in at PokerStars
What is the 50/50 Series?
The concept of the 50/50 Series is a simple one. The schedule has 50 events on it and each only costs $50 to buy into, unless you secure your seat from one of the cut-price satellites.
The 50/50 Series runs from January 31 and concludes on February 7. It guarantees to payout at least $6.2 million across those 50 events.
Two events have $1 million guarantees on them: this weekend's Sunday Million SE, and the 46th event on the schedule, the 50/50 Series Main Event on February 7.
Several different formats and variants adorn the 50/50 Series schedule. You can showcase your skills in standard no limit hold'em, pot-limit Omaha, 8-Game, HORSE, PKO, special edition Bounty Builders, and even Zoom makes an appearance.
Stars Join Simpsons' Voice Actor Hank Azaria in Charity Home Game
Check Out The 50/50 Series Schedule
| Date | Time (GMT) | Event | Buy-in |
| --- | --- | --- | --- |
| Sun 31 Jan | 3:00 p.m. | 50/50 Series 01 Sunday Marathon SE, $100K Gtd | $50 |
| | 4:30 p.m. | 50/50 Series 02 Progressive Total KO Zoon, $75K Gtd | $50 |
| | 6:00 p.m. | 50/50 Series 03 Progressive KO Sunday Million SE, $1M Gtd | $50 |
| | 7:05 p.m. | 50/50 Series 04, $50K Gtd | $50 |
| | 8:00 p.m. | 50/50 Series 05 Progressive KO, $150K Gtd | $50 |
| | 9:00 p.m. | 50/50 Series 06 PLO, $40K Gtd | $50 |
| | 11:00 p.m. | 50/50 Series 07 Sunday Wrap-Up SE, $50K Gtd | $50 |
| Mon 1 Feb | 3:00 p.m. | 50/50 Series 08 Daily Marathon SE, $50K Gtd | $50 |
| | 4:30 p.m. | 50/50 Series 09 Progressive Total KO Zoom, $50K Gtd | $50 |
| | 6:00 p.m. | 50/50 Series 10 Progressive KO Mini Bounty Builder SE, $250K Gtd | $50 |
| | 8:00 p.m. | 50/50 Series 11, $100K Gtd | $50 |
| | 9:00 p.m. | 50/50 Series 12 NLO8 Progressive KO, $25K Gtd | $50 |
| | 10:00 p.m. | 50/50 Series 13 Monday 6-Max SE, $50K Gtd | $50 |
| Tue 2 Feb | 3:00 p.m. | 50/50 Series 14 Daily Marathon SE, $50K Gtd | $50 |
| | 4:30 p.m. | 50/50 Series 15 Progressive Total KO Zoom, $50K Gtd | $50 |
| | 6:00 p.m. | 50/50 Series 16 Progressive KO Mini Bounty Builder SE, $250K Gtd | $50 |
| | 8:00 p.m. | 50/50 Series 17 Zoom, $75K Gtd | $50 |
| | 9:00 p.m. | 50/50 Series 18 8-Game, $15K Gtd | $50 |
| | 10:00 p.m. | 50/50 Series 19 Progressive KO, $75K Gtd | $50 |
| Wed 3 Feb | 3:00 p.m. | 50/50 Series 20 Daily Marathon SE, $50K Gtd | $50 |
| | 4:30 p.m. | 50/50 Series 21 Progressive Total KO Zoom, $50K Gtd | $50 |
| | 6:00 p.m. | 50/50 Series 22 Progressive KO Mini Bounty Builder Se, $250K Gtd | $50 |
| | 8:00 p.m. | 50/50 Series 23, $100K Gtd | $50 |
| | 9:00 p.m. | 50/50 Series 24 PLO Progressive KO, $30K Gtd | $50 |
| | 11:00 p.m. | 50/50 Series 25 Progressive KO Battle Royale SE, $75K Gtd | $50 |
| Thu 4 Feb | 3:00 p.m. | 50/50 Series 26 Daily Marathon SE, $50K Gtd | $50 |
| | 4:30 p.m. | 50/50 Series 27 Progressive Total KO Zoom, $50K Gtd | $50 |
| | 6:00 p.m. | 50/50 Series 28 Progressive KO Mini Bounty Builder SE, $250K Gtd | $50 |
| | 8:00 p.m. | 50/50 Series 29 Zoom, $75K Gtd | $50 |
| | 9:00 p.m. | 50/50 Series 30 PLO, $25K Gtd | $50 |
| | 10:00 p.m. | 50/50 Series 31 Progressive KO, $75K Gtd | $50 |
| Fri 5 Feb | 3:00 p.m. | 50/50 Series 32 Daily Marathon SE, $50K Gtd | $50 |
| | 3:00 p.m. | 50/50 Series 33 Progressive Total KO Zoom, $50K Gtd | $50 |
| | 3:00 p.m. | 50/50 Series 34 Progressive KO Mini Bounty Builder SE, $250K Gtd | $50 |
| | 3:00 p.m. | 50/50 Series 35, $100K Gtd | $50 |
| | 3:00 p.m. | 50/50 Series 36 HORSE, $15K Gtd | $50 |
| | 3:00 p.m. | 50/50 Series 37 Fast Friday SE, $50K Gtd | $50 |
| Sat 6 Feb | 3:00 p.m. | 50/50 Series 38 Daily Marathon SE, $50K Gtd | $50 |
| | 4:30 p.m. | 50/50 Series 39 Progressive Total KO Zoom, $50K Gtd | $50 |
| | 6:00 p.m. | 50/50 Series 40 Progressive KO Mini Bounty Builder SE, $250K Gtd | $50 |
| | 8:00 p.m. | 50/50 Series 41 Zoom, $75K Gtd | $50 |
| | 9:00 p.m. | 50/50 Series 42 NLO8 Progressive KO, $25K Gtd | $50 |
| | 10:00 p.m. | 50/50 Series 43 Progressive KO Saturday Duel SE, $75K Gtd | $50 |
| Sun 7 Feb | 3:00 p.m. | 50/50 Series 44 Daily Marathon SE, $100K Gtd | $50 |
| | 3:00 p.m. | 50/50 Series 45 Progressive Total KO Zoom, $75K Gtd | $50 |
| | 3:00 p.m. | 50/50 Series 46 Main Event, $1M Gtd | $50 |
| | 3:00 p.m. | 50/50 Series 47 Progressive KO, $175K Gtd | $50 |
| | 3:00 p.m. | 50/50 Series 48 PLO, $40K Gtd | $50 |
| | 3:00 p.m. | 50/50 Series 49, $100K Gtd | $50 |
| | 3:00 p.m. | 50/50 Series 50 Series Wrap-Up, $75K Gtd | $50 |
The Stars Group is a majority shareholder in Oddschecker Global Media, the parent company of PokerNews