JP McCann: The Irish Open Winter Festival Schedule Is Fantastic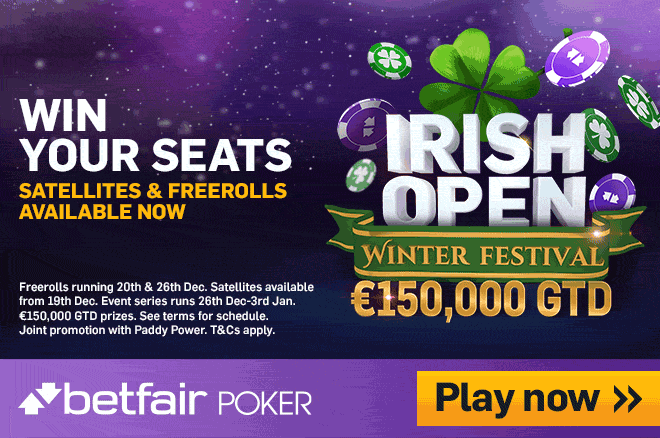 There's plenty of tournament action to get stuck into at Betfair Poker and Paddy Power Poker over the festive period with the Irish Open Winter Series taking place.
The Irish Open Winter Series runs from December 26 through January 3 and has €150,000 worth of guaranteed prize pools to play for. A bustling, exciting schedule is capped off by the €100 buy-in Irish Open Winter Festival Main Event which has a €50,000 guarantee.
PokerNews caught up with JP McCann, a man with a long connection with the Irish Poker Open, and asked him a few questions about the upcoming series.
Anyone who knows McCann knows he's at home at live poker events; they're what he lives for, you could say. Several tours have switched their live events for the online poker world, is this the next best thing?
Win Up to €200 Every Week in the Paddy Power Poker SNG Leaderboard
"As you know, the Irish open was one of the first major poker festivals to cancel due to COVID this year," McCann told PokerNews, "While it is impossible to replicate a live event online, I believe it's the next best thing. I don't normally get much time to play online, but during this year I played a good bit of poker online and coupled with Zoom calls, found it a great way to keep in touch with my friends."
There's no substitute for live poker if that's your thing. Large sections of the poker community are itching to head to a venue, sit at a table and battle it out at an actual poker event. When Does McCann think this will happen?
"Honestly, I cannot wait for live poker to come back. I remember when I first started playing poker (a few years ago now) and I just loved the characters you would meet at the tables and the stories they would tell. It is hard to say with any real certainty when live poker will return. I thought we would see live poker back at the end of last summer, but it is most likely that live poker won't return until next summer."
"The most important thing is we don't rush back to the felt before it's a safe environment for both the players and our staff."
Paddy Power and the Irish Poker Open Has a Long History
The 2020 Irish Open ran online like this event but did so over at partypoker. The Irish Poker Masters recently concluded, again at partypoker, who why make this switch to Betfair Poker and Paddy Power Poker?
"The Irish Open has a long-standing relationship with Paddy Power. Paddy Power have supported the Irish Open for many years and both parties wanted to put something on for their players over the festive season, and felt that a winter series tailored for Paddy Power and Betfair players could work nicely."
Neither Paddy Power or Betfair are known for running festivals at this time of year but this Irish Open Winter Series could become a permanent fixture if it proves successful. The series has been designed as purely an online event.
What's Your Strategy For Betfair's Hold'em Exchange Games?
"No, it wasn't scheduled as a live event. Paddy Power normally starts their satellites for the Irish Open in late October, early November with the first big super satellite on St. Stephen's Day (December 26). Due to the uncertainty with COVID, we though this would be a better fit this year as decisions on the Irish Open Live event remain up in the air somewhat. Hopefully, it will be a success and we may look to replicate in 2021."
PokerNews has had a sneak peek at the Irish Open Winter Festival schedule and we're impressed, to say the least. We'll share the full schedule with you soon, but we can tell you there are three events starting every day during the series, including a Championship event each night. McCann knows a thing or two about putting a tournament schedule together so who better to ask for their festival highlights?
"The schedule is a fantastic schedule for recreational players and really buys into the ethos of what Paddy Power and Betfair are trying to do, and indeed what we are trying to do at the Irish Open. For most players, poker is a fun game where we can challenge ourselves. The Irish Open Winter Festival has been put together with the recreational player in mind. In addition to the three events each day, there will be a lot of satellites available for player to qualify very cheaply."
"Outside the Main Event, which has three starting days running from January 1-2, I;m most looking forward to the following events:"
#1 – NLH 6-Max €5,000 GTD on December 26
#4 - NLH Progressive Knock-Out €10,000 GTD on December 27
#7 PLO €5,000 GTD on December 28
#14 NLH Ambassadors Tournament €5,000 GTD on December 30
#16 NLH Paddy Power Event GTD on December 21
Tons Of Added Value For Players
The €100 buy-in €50,000 guaranteed Main Event is the obvious crown jewel on the scheduled. €100 is at the more affordable end of the buy-in scale, but still relatively costly for large sections of players. Thankfully, this has been thought of.
"Not only will Paddy Power and Betfair have satellites running daily for each night's Championship Event and the Main Event, you can also win your seat into the Main Event by finishing in the top three in any event during the Irish Open Winter Festival. These seats are being added very generously by Paddy Power."
That's a lot of added seats and a great touch by Paddy Power. Throw into the mix a €10,000 leaderboard for the best performing players during the series and you have the perfect recipe for a value-packed holidays period. We can't wait for it to start.