Padraig O'Neill Turns €50 into Unibet Open Online Title and €79,998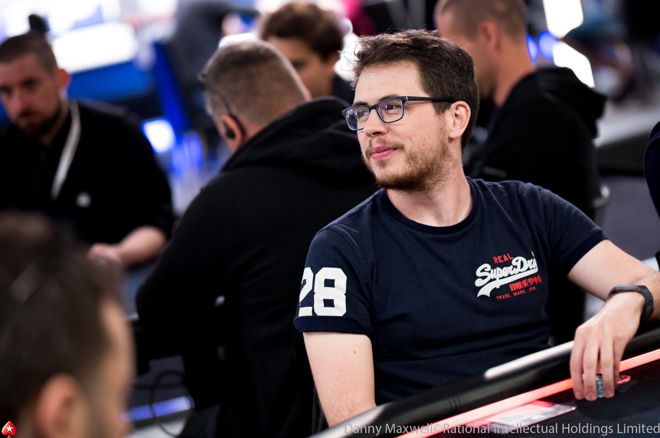 The Unibet Poker Online Series concluded on October 12 with the completion of the €1,100 buy-in Unibet Open Online High event. A delighted Padraig "John_smith2" O'Neill was the last player standing and he secured a career-best €79,998 for his impressive victory.
Unibet Open Online High Final Table Results
| Place | Player | Prize |
| --- | --- | --- |
| 1 | Padraig "John_smith2" O'Neill | €79,998 |
| 2 | lovebeaches | €56,962 |
| 3 | Lapeok | €41,394 |
| 4 | thrsths | €29,720 |
| 5 | Lariat | €22,641 |
| 6 | thyragray84 | €16,627 |
| 7 | Imaginedead | €12,027 |
| 8 | PLP2015 | €8,667 |
| 9 | Kardashian69 | €6,192 |
Ian Simpson Introduces Latest Unibet Poker Upgrade
The final day started with 64 players returning to the action from a Day 1 field of 387. Two of those returnees went home empty-handed with 62 places paid in this event, which was Unibet Poker's biggest-ever online event thanks to the €406,350 prize pool.
"DJ_Dan" and "souzoc", the latter who sat back down with a mere two big blind stack, were the unfortunate souls who failed to cash in this monster-sized event. Souzoc's exit in 63rd paved the way to a cash of at least €1,767 for the surviving players.
This princely sum increased to €6,192 by the time the final table was reached. "Kardashian69" got their hands on this prize after seeing their tournament end in ninth place.
Eighth place and the last four-figure prize of the evening went to "PLP2015" before "Imaginedead" passed their stack on and fell in seventh, a finish good for €12,027.
The six remaining players became five when the tournament of "thyragray" ended abruptly. Sixth place weighed in at €16,627.
Each jump in pay was now becoming quite substantial and nobody wanted to bust with the almost €80,000 top prize being within touching distance. The very nature of tournament poker means players do bust, they have to. "Lariat" was the next casualty and "thrsths" joined them on the sidelines. These deep runs resulted in a €22,641 and €29,720 payout respectively.
Heads-up was set when "Lapeok" bowed out in third. Lapeok collected an impressive €41,394 and their exit left "lovebeaches" and O'Neill to fight it out one-on-one for the title and the lion's share of the prize pool.
O'Neill got the job done and secured a career-best score of €79,998; he also won €0.13 but let's not split hairs here. Commiserations to runner-up lovebeaches who can no doubt afford a beach holiday now seeing how second place was worth €56,962.
Unibet's Dara O'Kearney Explains How to Plug Your Biggest Satellite Leaks
O'Neill "Thrilled" To Win
O'Neill was, unsurprisingly, delighted to become the 2020 Unibet Open Online High champion. Shortly after his victory, O'Neill said:
"I am thrilled to have just booked my biggest ever win in the Unibet open Online. I play on the site most nights and I actually qualified all the way from a €50 satellite.
"I also want to say that the Twitch stream and commentary from ambassadors Dara O'Kearney, Ian Simpson, and David Lappin was a lovely addition. My family tuned in and loved every minute, even though they barely know the hand rankings! I could hear my fiancee listening to Ian's infectious laugh in the next room and she noted that only Doke was using his indoor voice!"
International Poker Open Starts October 19
You don't have long to wait for the next big festival at Unibet Poker because the 2020 International Poker Open (IPO) heads there from October 19. This event usually takes place in Dublin, but the ongoing pandemic has put paid to that. Unibet Poker stepped in and is hosting a superb schedule of events that you can see below:
2020 IPO Dublin Schedule (Online at Unibet Poker)
| Date | Time | Tournament | Buy-in | Guarantee |
| --- | --- | --- | --- | --- |
| Mon 19 Oct | 8:00 p.m. | Super Qualifier to €50,000 IPO | €25 | 5 seats |
| Tue 20 Oct | 8:00 p.m. | Super Qualifier to €50,000 IPO | €25 | 5 seats |
| Wed 21 Oct | 7:00 p.m. | €15,000 IPO Warm Up | €50 | €15,000 |
| | 8:00 p.m. | Super Qualifier to €50,000 IPO | €25 | 5 seats |
| Thu 22 Oct | 7:00 p.m. | €10,000 IPO Rebuy | €25 | €10,000 |
| | 8:00 p.m. | Super Qualifier to €50,000 IPO | €25 | 5 seats |
| | 9:00 p.m. | €5,000 Nightly Freezeout | €100 | €5,000 |
| Fri 23 Oct | 7:00 p.m. | €10,000 IPO Rebuy | €25 | €10,000 |
| | 8:00 p.m. | Super Qualifier to €50,000 IPO | €25 | 5 seats |
| | 9:00 p.m. | €5,000 Nightly Freezeout | €100 | €5,000 |
| Sat 24 Oct | 4:30 p.m. | Super Qualifier to €50,000 IPO | €25 | 5 seats |
| | 5:30 p.m. | Super Qualifier to €50,000 IPO | €10 | 5 seats |
| | 6:30 p.m. | Super Qualifier to €50,000 IPO | €25 | 5 seats |
| | 7:00 p.m. | €50,000 IPO Main Event Day 1 | €300 | €50,000 |
| | 8:00 p.m. | €2,000 #QUEENRULES (Ladies Event) | €25 | €2,000 |
| | 9:00 p.m. | €5,000 Nightly Freezeout | €100 | €5,000 |
| Sun 25 Oct | 4:30 p.m. | Super Qualifier to IPO High Roller | €50 | 4 seats |
| | 5:30 p.m. | Super Qualifier to IPO High Roller | €50 | 4 seats |
| | 6:30 p.m. | Super Qualifier to IPO High Roller | €50 | 4 seats |
| | 7:00 p.m. | €50,000 IPO Main Event Final Day | | €50,000 |
| | 7:00 p.m. | €25,000 IPO High Roller Day 1 | €500 | €25,000 |
| | 7:30 p.m. | €25,000 IPO Mini Main Day 1 | €100 | €25,000 |
| | 8:00 p.m. | €4,000 IPO Omaha Rebuy | €25 | €4,000 |
| | 9:00 p.m. | €5,000 Nightly Freezeout | €100 | €5,000 |
| Mon 26 Oct | 7:00 p.m. | IPO High Roller Final Day | | €25,000 |
| | 7:00 p.m. | IPO Mini Main Final Day | | €25,000 |
| | 7:00 p.m. | €4,000 IPO Cool Down | €50 | €4,000 |
| | 9:00 p.m. | €5,000 Nightly Freezeout PKO | €100 | €5,000 |