Galfond Challenge: Kornuth Chops Out About Half of $280K Deficit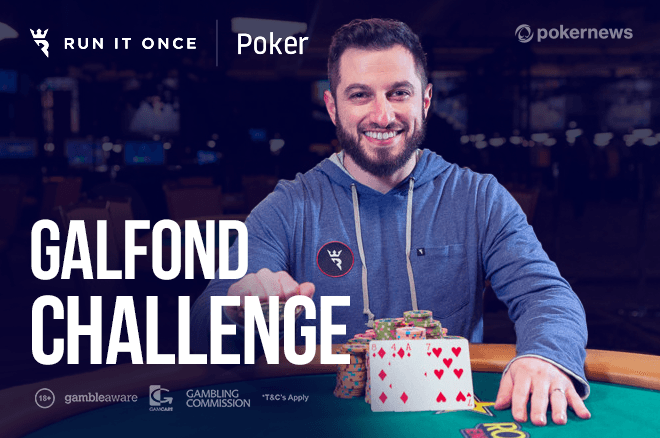 The latest Galfond Challenge match began rather inauspiciously for challenge Chance Kornuth of Chip Leader Coaching. He was down more than 14 buy-ins, or $280,000, after the first nine days of play.
Considering Phil Galfond had taken and dispatched all comers — some by the skin of his clicking finger and some by comfortable margins — it was easy to expect he was in the early stages of authoring another victory.
However, Kornuth had other ideas. He put together back-to-back solid wins after being beaten into such a hole he had to take a break to reload his account. After 11 sessions and about 6,000 of 35,000 hands, he lopped off about half of his max deficit as he looks to make Galfond sweat giving 4-to-1 odds on the outcome.
Want to know everything about the Galfond Challenge? Check out thePokerNews Galfond Challenge page for more information!
Day 10
Kornuth had the edge in the first half-hour or so as he won most of the bigger pots to go up about $50,000 despite no all-in pots being played.
That figure only increased in a three-bet pot when they saw



flop. Galfond, the three-bettor, checked, and Kornuth bet $2,400. Galfond came in for a small raise to $6,600. Kornuth stuffed it in with




for the nuts and a redraw while Galfond's




left him in rough shape with his best hope being a chop. The

and

didn't do it.
One of the bigger pots to go down followed a



flop in a three-bet pot. Galfond continued for $1,200 and Kornuth called, bringing a

. Galfond slowed down with a check and Kornuth bet $4,500. Galfond potted and Kornuth shoved for about $23K.
Kornuth:





Galfond:




Kornuth had been coolered but he had plenty of ways to wiggle out with his combo draw. The

didn't do it, so Galfond earned a pot over $52K.
The great fortune continued for Galfond when they were 150 blinds deep and got it in with each holding single-suited aces:




for Galfond and




for Kornuth. The



was a nasty flop for Galfond but he made a flush on the

turn. He still had to fade Kornuth filling up and the

was the ticket for a 60K pot.
They exchanged stacks with about an hour to go, with Kornuth holding with top set of kings against kings up and a heart draw on the turn, and Galfond winning his own cooler with a second set of queens against kings and queens all in on the turn.
They were deep on both tables but opted not to reset. Kornuth finished strong as he picked off a pot-sized bluff of $10K on a completed board of





with top set, Galfond showing




. that would be the last big pot, and it was enough to get Kornuth back on the winning track with just under four buy-ins of profit.
Hands Played: ~510
Results: Chance Kornuth +~$79,000
Full session video
Check out Run it Once Poker and cash in on amazing rakeback!
Day 11
Kornuth jumped out to an early lead as he built up a double stack of $40K on one table. On the other, he grabbed some value in an interesting hand when he checked down a weak full house on a three-flush board and then got a bet-three-bet in on the river, with Galfond paying off. That gave him a win of something like $30K in the early going.
Galfond squared things up when they got in a raising war on



. Galfond bet, Kornuth raised, Galfond piled in $16K and Kornuth went with his hand.
Kornuth:





Galfond:




Galfond was in great shape with his superior hand and draw, and the

turn and

river left him with a winning flush for a $49K pot.
Kornuth had a bit more equity the next time it went in, but it was a standard PLO flip on a



flop. Kornuth had the nuts with




but was far from in the clear as Galfond showed




for a monster draw. Kornuth managed to fade it with the

,

runout.
They mostly contested medium-sized pots over the next couple of hours, with Kornuth increasing his lead slightly but neither player taking control. A few further five-figure pots enabled Kornuth to grab a lead of roughly $60K.
Kornuth made a strategic adjustment to increase the number of limped pots, which helped keep the number of times they played for stacks a bit down from previous sessions.
One insane showdown cropped up on a completed board of





. Galfond checked the river with $6K in the pot and Kornuth fired in $4,500. Galfond clicked call after some thought, and Kornuth could only muster




for a bluff with third pair. Amazingly enough, that earned him half the pot as Galfond rolled over




.
A big pot about four hours in saw Kornuth increase his lead. Kornuth opened and Galfond called, and the flop came



. Galfond check-called $900. The

checked through, bringing a

. Galfond potted for $3,000 and Kornuth potted right back to $12K. Galfond tank-called but ran into tens full.
The good times continued for Kornuth when they got to the turn on a board of




. Stacks went in with Kornuth having




for the nuts and a redraw. Galfond had a huge draw with




but unfortunately saw many of his diamonds were dead. The

river sent the $40K pot to Kornuth.
Things got weird a bit after that. Galfond went for a half-pot bet of $3,350 in position on




. Kornuth woke up with a big pot-sized check-raise on the wet texture, but the players were deep, so when Galfond tanked forever and called for a $40K pot, there was still almost $15K left to play. One of the flushes completed with the

river and Kornuth checked. Galfond did stuff it in and Kornuth tank-folded.
The small recovery wasn't enough as Kornuth won several more buy-ins by the estimation of the streaming team.
Hands Played: 540
Results: Chance Kornuth +~$84,000
Full session video