WATCH: Adam Owen and Dara O'Kearney Break Down GGPoker Staking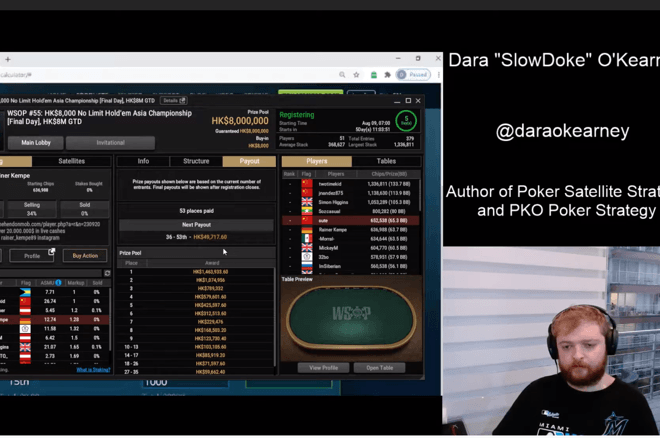 Among the exciting features offered on GGPoker is an integrated staking platform that lets players and observers buy and sell action to tournaments. While this practice has long been a staple of tournament poker, an operator integrating it into the client at no additional charge for the buyers and sellers is part of what makes GGPoker truly unique.
With the World Series of Poker schedule including a slew of two-day events, GGPoker went a step further last month by adding Day 2 trading. Now, if a player makes a Day 2, he or she can lock up some equity by selling pieces, with GG automatically adjusting the selling price based on the chips the player has relative to a starting stack.
Many players and fans are simply going to buy pieces based on whether they want to root for a friend or famous player. While there's nothing wrong with this approach, what if someone wanted to analyze the staking landscape as if seeking value in a market, looking for the best potential return on investment?
Whose action is best to buy is a difficult question to answer, with myriad factors involved. Those looking for tips on the matter are in luck, though.
That's because pro poker players Adam Owen and Dara O'Kearney recently went in-depth on the matter in a video posted to Owen's YouTube channel. With Owen's permission, PokerNews has embedded the video here, with some timestamps provided below.
Follow all the latest from the WSOP - LIVE!
The cards are in the air in the GGPoker portion of the event. The PokerNews live reporting team is on top of all things WSOP. Don't miss a beat!
Owen and O'Kearney Break Down the Day 2 Staking Market
Timestamps
3:22: Owen introduces ASMU, the automatic mark-up system used by GG
6:00: O'Kearney outlines the math behind ICM in relation to big vs. small stacks
11:00: The players run the math with a standard payout structure
13:38: O'Kearney explains why buying pieces of short stacks has higher EV
20:10: They run the ICM math with a top-heavy payout structure
24:35: They run the ICM math with a flat payout structure
What Tournaments Can I Buy Day 2 Action for?
If you're interested in buying Day 2 action for WSOP bracelet events, there will be plenty of opportunities still ahead. Here's a look at the multi-day events that still remain on the schedule:
| Date | Tournament |
| --- | --- |
| Aug. 16 | Event #63: $500 Mini Main Event [Final Day], $5M GTD |
| Aug. 23 | Event #70: $25,000 NLH POKER PLAYERS CHAMPIONSHIP, $10M GTD |
| Aug. 23 | Event #71: BIG 50 [Final Day], $1M GTD |
| Aug. 30 | Event #77: $5,000 No Limit Hold'em Main Event [Day 2], $25M GTD |
| Sept. 6 | Event #83: $10K WSOP Super MILLION$, $5M GTD |
| Sept. 6 | Event #84: $100 WSOP MILLION$ [Final Day], $2M GTD |
Sign Up for a GGPoker Account Through PokerNews
If you want to play in the WSOP 2020 Online on GGPoker, you'll need to sign up for an account. By downloading GGPoker via PokerNews entitles you to a welcome bonus worth up to $600. Your first deposit is matched 200% up to a maximum of $600, setting you up nicely in time for the WSOP Online.
The bonus releases into your account in $10 increments each time you earn 6,000 Fish Buffet Points, which is the equivalent of $60 in rake or tournament fees.