Tallinn Summer Showdown Returns on Aug. 18-23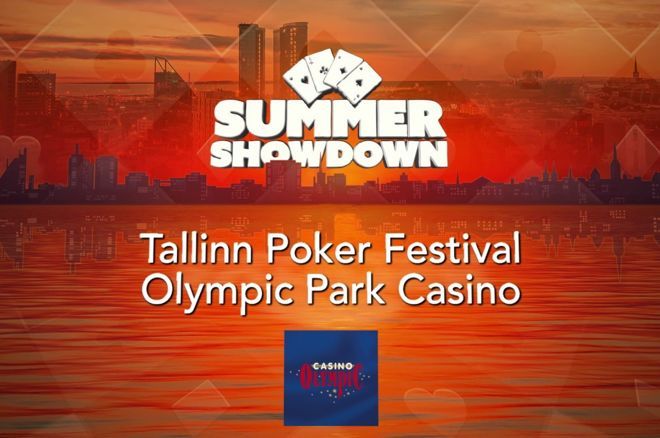 Poker players in the Baltics, Scandinavia, and other parts of Europe are gearing up for the first major festival in Northern Europe since the COVID pandemic with the Tallinn Summer Showdown returning to the Estonian capital of Tallinn at Olympic Park Casino and the Hilton Tallinn Park on Aug. 18-23.
The schedule features 26 action-packed events highlighted by the €1,000 Tallinn Summer Showdown Main Event on Aug. 20-22.
There is something for everyone on the schedule. Those with limited bankrolls can even play for free in freebuy satellites and €100 side events including the popular Ladies Event.
Those with bigger bankrolls can battle it out not only in the Main Event but the schedule also boasts a pair of two-day €500 side events, a two-day, six-max €2,000 High Roller, along with a handful of one-day events with €500-€1,000 buy-ins.
While no-limit hold'em players will have plenty to choose from on the schedule, players that enjoy other variants will be pleased to know there is plenty for them on the schedule as well with events in pot-limit Omaha, Short Deck, H.O.R.S.E., and Open Face Chinese Pineapple.
In addition, the popular Team Competition will return.
About the Main Event
The Tallinn Summer Showdown Main Event received a makeover from last year when Finland's Mathias Siljander finished on top of a field of 195 entrants to win the €46,700 top prize.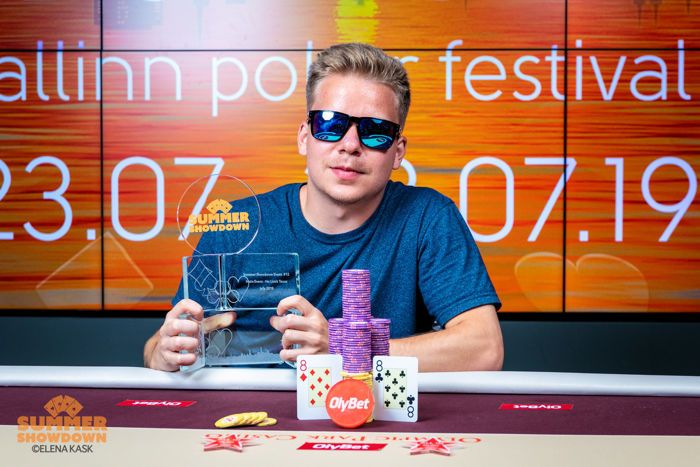 The Main Event has historically been a four-day event with 60-minute blind levels. This year, the event will instead take place across three days and feature 45-minute blind levels. Additionally, the buy-in has been reduced from €1,100 to €1,000.
Day 1a and Day 1b will take place on Aug. 20. Survivors of either of these flights will resume for action with those that late register or reenter on Day 2 for two more days of action on Aug. 21-22 until a winner is crowned.
There are still plenty of opportunities both live and online at OlyBet Poker for players to qualify into the Main Event for a fraction of the cost.
Qualify to the Summer Showdown at OlyBet
Safety Precautions
The number of new COVID cases has been limited for a few months in the Baltic region including Estonia.
PokerNews sat down with Olympic Casino Poker Marketing Manager Martin Piik to learn more about the situation in Estonia. Piik is not only knowledgable about the industry side but just before the pandemic proved he can win big events himself after taking down the final MPN Poker Tour Main Event in Madrid back in February for €52,000.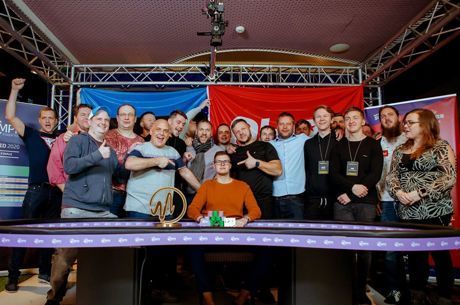 Read More: Martin Piik Wins Last Ever MPN Poker Tour Main Event.
The Summer Showdown is the first major event in quite some time at Olympic Park Casino, which in recent years was bustling with events. However, unlike many places around the world, casinos in the Baltics including Olympic Park Casino have been open throughout the summer to the delight of many players.
"Olympic Park Casino reopened on June 1 and things went pretty smooth," Piik shared with PokerNews. "People were longing for some great entertainment after a long quarantine and we were happy to be able to provide that playing experience."
Of course, the casino didn't open without any restrictions. The restrictions, even the initial ones, weren't as severe as places like Las Vegas that also opened their doors due to the lack of many COVID cases in the region.
"Casinos were only allowed to have 50% of their capacity or a maximum of 100 people inside the casino," Piik said. "People had to keep distance and respect the 2+2 rule. Every customer was monitored upon entering the casino and their temperature was taken. The 2+2 rule and temperature checks have now been discontinued but as of now, the 50% capacity rule stands."
That being said, the casino will bring back temperature checks during the festival.
"Visibly sick players will not be allowed to play and we are planning to make regular temperature checks upon entering the casino for the wellbeing of our players and staff," said Piik.
The schedule has been reduced from 36 events last year to 26 events this year. Piik explained why.
"In composing the schedule we wanted to give players a wide variety of tournaments while keeping the concurrent running tournaments as low as possible to avoid having a big group of people clumped together," Piik explained.
Olympic Park Casino is optimistic that this year's Summer Showdown Main Event will be the biggest one to date.
"We might be a bit optimistic here as some travel is still restricted, but since this is one of the major events, we're hoping to have around 200 entries for the Main Event which would top last year's entries," Piik predicted.
While poker players from most countries will be able to head into Estonia without a quarantine, things can change quickly. Up-to-date information on countries and self-isolation requirements for passengers can be found on the Ministry of Foreign Affairs homepage.
2020 Tallinn Summer Showdown Schedule
| Date | Time (EET) | Event # | Event | Buy-in |
| --- | --- | --- | --- | --- |
| Aug. 18 | 5 p.m. | 1 | NLH Hit & Run Satellite to Event #4 | €55 |
| | 7 p.m. | 2 | NLH - Summer Showdown Opening | €200 |
| | 9 p.m. | 3 | Rake free satellite to the Main Event | €20 |
| Aug. 19 | 2 p.m. | 4 | NLH - Summer Showdown 500 Day 1A | €500 |
| | 5 p.m. | 5 | NLH Hit & Run Satellite to the Main Event | €110 |
| | 7 p.m. | 4 | NLH - Summer Showdown 500 Day 1B | €500 |
| | 9 p.m. | 6 | PLO - Turbo Knockout | €200 |
| | 11 p.m. | 7 | NLH - Hyper-Turbo | €200 |
| Aug. 20 | 11:30 a.m. | 8 | NLH - Rake free satellite to the Main Event | €20 |
| | 12 p.m. | 9 | NLH - Main Event Day 1A | €1,000 |
| | 3 p.m. | 10 | NLH - Hit & Run satellite to the ME 1B | €110 |
| | 8 p.m. | 9 | NLH - Main Event Day 1B | €1,000 |
| | 9 p.m. | 4 | NLH - Summer Showdown 500 Day 2 | |
| | 9 p.m. | 11 | 5 Card PLO - PSKO 6-max | €500 |
| | 11 p.m. | 12 | Short Deck | €200 |
| Aug. 21 | 12 p.m. | 9 | NLH - Main Event Day 2 | €1,000 |
| | 3 p.m. | 13 | NLH - 888Live Deepstack Warm-up | €200 |
| | 5 p.m. | 14 | H.O.R.S.E | €300 |
| | 7 p.m. | 15 | NLH - PSKO 6-max | €1,000 |
| | 9 p.m. | 16 | 5 Card PLO 6-max | €1,000 |
| | 11 p.m. | 17 | NLH - Hyper Turbo Knockout | €200 |
| Aug. 22 | 11:30 a.m. | 18 | NLH - Turbo Satellite to Highroller | €110 |
| | 12 p.m. | 9 | NLH - Main Event Day 3 | |
| | 1 p.m. | 19 | NLH - Ladies Event | €100 |
| | 3 p.m. | 20 | NLH - 6-max Highroller Day 1 | €2,000 |
| | 3 p.m. | 21 | NLH - OlyBet Special Day 1 | €200 |
| | 5 p.m. | 22 | Open Face Chinese Pineapple | €300 |
| | 7 p.m. | 23 | PLO 4 & 5 Cards 8-max | €200 |
| | 9 p.m. | 24 | NLH - Progressive Knockout Day 1 | €500 |
| | 11 p.m. | 25 | NLH - Win the Button | €200 |
| Aug. 23 | 12 p.m. | 21 | NLH - OlyBet Special Day 2 | |
| | 12 p.m. | 24 | NLH - PSKO Day 2 | |
| | 1 p.m. | 20 | NLH - 6-max Highroller Day 2 | |
| | 1 p.m. | 26 | NLH - Hyper-Turbo version of the ME | €100 |