RIO Legends Showdown: Holz, Ayras Show Strong in Week 1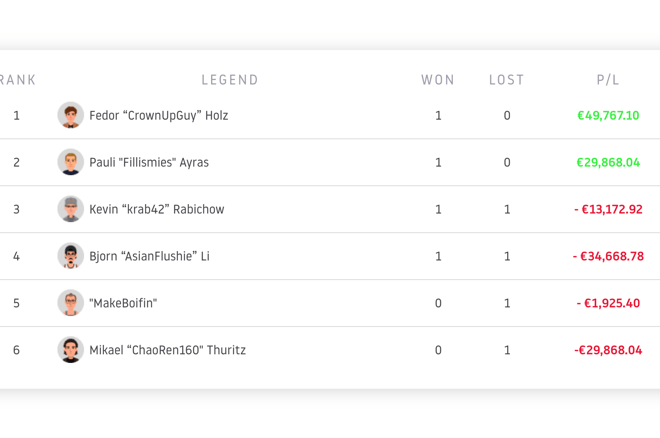 While the Galfond Challenge remains on hiatus for at least a little while longer, poker fans thirsting to follow some high-stakes action during the lull got a bone thrown their way last week with the advent of the Legends Showdown on Run It Once Poker.
What is Legends Showdown?
In Legends Showdown, six players have bravely signed up to compete against fellow high-level professionals in €50/€100 heads-up no-limit hold'em.
In the first round, each competitor plays out three 750-hand matches against other randomly selected players in the pool. The player who comes out with a profit, no matter how big or small, gets a win, while the other takes a loss. Those with the four best records then advance to the semifinals, with ties broken by profit margin.
The matches lengthen in the semifinals and finals.
There's also prize money for the ones who emerge as the best in the challenge. The winner gets €40,000 and some significant bragging rights, while the runner-up will receive €20,000.
All of the action will be streamed on the Run It Once Twitch channel with commentary and cards up.
Check out Run it Once Poker and start becoming a legend yourself!
Week 1 Legends Showdown Recap
The first match got off to a bit of a slow start, but Makeboifin got cooking about 40 minutes in. First, they pulled off a nasty river call with ace-high to pick off a bluff, then they check-raised an



flop from €800 to €2,000. Li shoved all in for about €9,000 and Makeboifin called.
Makeboifin:



Li:


The draw failed to come home despite a

improving it on the turn and MakeBoifin grabbed a nice lead.
Makeboifin caught fire around the 150-hand mark, overbet shoving a pot where a ten-high straight hit the board. Then, he put in a four-bet with


and managed to make an underfull checking down





. Li bluff-shoved the river for €7,100 into €5,800 and Makeboifin snapped and beat


.
Makeboifin was up almost €30K and even pushed toward +€40K for a bit, but the second half of the match belonged to Li. He had the deficit down to four figures with about 300 hands left, and he took the lead when he made trip sevens and picked off a pot-sized bluff of €3,733.
The decisive moment came with 50 hands left when Li raise-called for €1,000 preflop and saw a



flop. Makeboifin bet €500 and Li called. On the

turn, Makeboifin check-called €2,000. On the

river, Li shoved for just over the €7K pot and Makeboifin tank-folded. Down just a few hundred, they were nonetheless unable to make up the gap as Li booked a small win of €1,925.
It was right back to work for Li in the second match but he fell behind early against Rabichow. About 90 hands in, the deficit got a lot bigger in a massive cooler where Rabichow three-bet to €1,100 with


and Li peeled


. The flop came



and Rabichow check-called €1,000. Both players checked the

and Rabichow saw a beautiful

fall on the river. He bet small and called off the shove to win a €21K pot and take a sizable lead.
Li got back in it when he turned two pair with king-ten against top pair of aces and rivered a full house to boot, but Rabichow found the river fold with


on





. Still, the €26K pot helped Li greatly.
Rabichow lost the lead a bit after that but righted the ship getting a large two-barrel all-in bluff through in a four-bet pot when they were 150 big blinds deep and he missed a flush draw with


against pocket tens on a queen-high board. He then made a nut flush over a straight to go back up over €20K.
Nothing major happened over the next few hundred hands, and any chance of a comeback down the stretch was killed when Rabichow turned a two-outer with


against


on an



flop to seal up a €36K win.
This match opened very aggressively with both players coming out blasting, but most of the big pots went Ayras' way early as he built up a nice lead of about two buy-ins. A nasty cooler in a three-bet pot helped the longtime nosebleed reg Thuritz get back in it when he flopped an overfull with queens against Ayras' trip nines.
In a three-bet pot, Ayras flopped second pair on



with


but was well behind the


of Thuritz. However, after calling a small bet, Ayras turned gin with the

. Thuritz check-called €1,700 then check-called a shove worth €6,800 on the

river and was shown the bad news.
One of the sickest hands yet went down just a little shy of the 500-hand mark. Thuritz got in the four-bet with


and Ayras peeled


when they were more than 200 blinds deep. Thuritz proceeded to bet €1,550 on the



flop. Ayras check-called and then check-called €4,056 on the

. On the

river, Thuritz barreled off for just under the €15.9K pot and Ayras tanked a long time then clicked call to scoop the massive pot.
Down over €30K again, that deficit was too big for Thuritz to overcome as he'd wind up booking a loss of just shy of that number.
Rabichow found a big hero call to kick things off as Holz barreled off


on





after three-betting preflop. Rabichow looked him up with


.
Holz lost another stack when he ran out Broadway only to be shown threes full of kings, and things looked grim for him as he was down almost €30K early.
Holz worked his way back down only four figures but he blasted off another stack on a three-bomb. This time, the board ran





and he went for it with


only to be shown


for a rivered flush.
Again, though, Holz wouldn't lay down. He was down about €14K when he collected a stack by checking river with top set, snapping off Rabichow's attempt at a value-shove for twice the pot with two pair. Suddenly, it was anyone's game again with about a third of the match still left.
Rabichow still had a small lead with about 100 hands left, but Holz went on a sick run to finish. They were more than 200 blinds deep when he called a four-bet with jacks and flopped top set against kings. Rabichow barreled off for value and was soon stuck €30K. Rabichow bluffed off a final stack and got picked off by ace-high on a double-paired board, and when the dust settled, he found himself staring at a shocking loss of almost €50K.
Overall Results
With the first week of matches over with, here's how the standings look:
| Rank | Player | Record | Money Won |
| --- | --- | --- | --- |
| 1 | Fedor "CrownUpGuy" Holz | 1-0 | +€49,767.10 |
| 2 | Pauli "Fillismies" Ayras | 1-0 | +€29,868.04 |
| 3 | Kevin "krab42" Rabichow | 1-1 | -€13,172.92 |
| 4 | Bjorn "AsianFlushie" Li | 1-1 | -€34,668.78 |
| 5 | "MakeBoifin" | 0-1 | -€1,925.40 |
| 6 | Mikael "ChaoRen160" Thuritz | 0-1 | -€29,868.04 |
Only Ayras and Holz have booked a profit thus far. Holz has shown that he's no tournament-only pony with his early destruction of Rabichow, and nobody should be surprised to see Ayras at the top as he's been one of the most successful players recently in both high-stakes tournaments and cash.
Meanwhile, Rabichow and Li have at least grabbed a win to bolster their places in the standings even if their wallets are a little lighter after the early going.
Keep an eye on the Run It Once social media accounts and Twitch channel to keep tabs on the match schedule, and check out PokerShares to track the odds or place a bet if located in a legal jurisdiction.