partypoker's Jaime Staples Talks Twitch and His Desire to Win a WPT WOC Title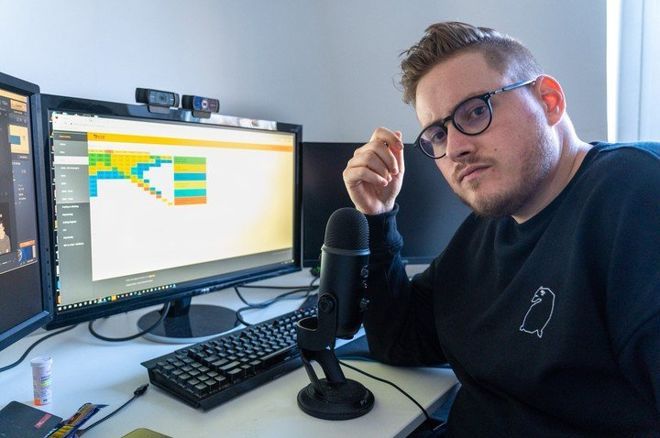 We recently caught up with partypoker's Jaime Staples who says that he is enjoying the WPT World Online Championships and has been working hard on his Twitch channel to bring the tournament's action straight to his fans.
"For me it's the perfect series," Staples told PokerNews. "And I'm not just saying that because I am sponsored by partypoker. It's really designed perfectly I think with the Championship Events. So I am getting really excited for those big ones every weekend and planning my week around them. The side events have been good fun as well."
WPT World Online Championship Hub
Check out the WPT WOC Live Reporting Hub for all the updates, interviews, news and more!
A veteran of the platform, Staples says that his Twitch community has rallied around the prestigious World Poker Tour as it plays out on the partypoker platform. He says it's an iconic name in the poker world and it's special that it is playing out.
"You would have a tough time to find a regular poker player that didn't know about the WPT. That name and their history collaborating with partypoker has led to something really special here. It's an amazing dream to have everyone around the world playing in one pool. Even what we have now is special. Hopefully one day, the stars will align and we can once again battle it out."
Are You Following PokerNews on Twitch?
Staples' Twitch community has always been behind the Canadian, and he says that they know great poker when they say it.
"Twitch is definitely into the WPT and definitely taking part in the series itself. There has been some great value in the Mega Sats I have been informing them of and I know a few people who have satellite into $3,200 Championship Events by playing those."

The engagement of Twitch with the streams during the WPT World Online Championships has also increased thanks to three distinct ways:
Club Games - Players are able to create a club in order to play tournaments and cash games with players.
The PokerStaples Home Game - This $5.50 Friday Night tournament (8pm BST - Password: Kappa). The tournament has added prizes with Bounties on Staples' head and $11 Twitch Open tickets added for anyone who makes the final table.
Twitch Open - With $25 bounties on the heads on all partypoker Team Online members who play, this tournament aims to gather act as a Twitch community gathering spot where everyone can play together.
Staples says he also has more ideas, but believes this is a good start for Twitch to come together through poker.
---
---
Meanwhile back in the World Poker Tour World Online Championships, Staples is focusing on satellites as they offer affordable ways to get into Championship Events through ambitious satellites.
"The satellites are incredible value right now," said Staples. "partypoker has set very ambitious guarantees and with that comes ambitious satellites which are a great money maker for me in general. So I am playing a bunch of them outside of the feature events."
The partypoker Team Online member has three tips for those playing satellites to the WPT WOC:
Jaime Staples Satellite Tips
1. Don't win, survive.
2. Make sure you utilize your time clock effectively. Other players will, so you have to.
3. If you think it's close between call and fold, it's probably a fold. I'd rather shove 72 then call of with 55% close to the ticket in a satty.
10 reasons you need to play in the WPTWOC events
With the WPT WOC taking up a large chunk of the tournaments he streams, does he have any goals?
"I do have a desire to win a title and I'm doing what I can to win a championship event. There are only a limited amount, and there are some really tough opponents. So I can't realistically depend on that to come through. I'm sure going to try though, and it is possible. Hopefully, we can chat again in a couple weeks and my name will be on the Mike Sexton WPT Champions Cup!"
---