Goliath Round-Up: Second Title for Zebster1994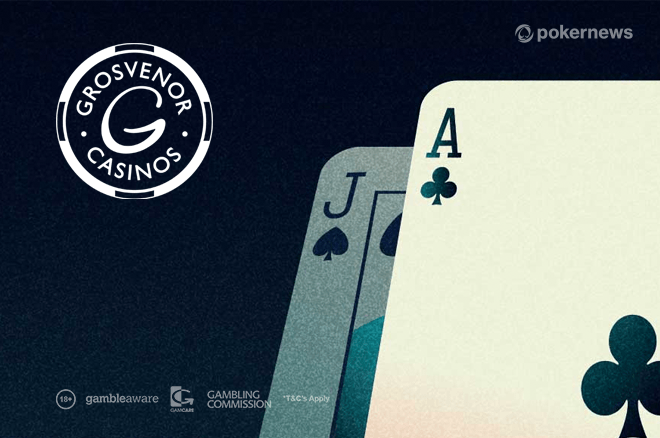 "Zebster1994" took down the PKO event at the beginning of the Goliath Online Series and walked away with £2,204 with bounties included. The same name was the last player standing in the £55 buy-in Heads Up event and scooped another £2,322.
It is a result that puts Zebster1994 into first place in the Player of the Series race. They now have 300 points and are in pole position for the £1,000 worth of tournament tickets package.
Their second victory came after outlasting a 172-strong field in the Heads-Up event. Zebster1994's final opponent was "naebawhair91" who fell at the final hurdle and won the tournament's only other four-figure prize, namely £1,290.
A round table with all the Team Grosvenor pros
Big Win For GetToBed
"GetToBed" has a couple of deep runs to their name and now has an outright victory after coming out on top of a 538-strong field in the £30 buy-in Deep and Steep.
It was such a fun event with big 100,000-chip starting stacks and five-minute blinds. GetToBed excelled in the event and was deserving of their £2,862 top prize. Three other Grosvenor Poker players padded their bankrolls with four-figure prizes.
"smellitfirst" finished in fourth and won £1,129 with "Geeteewoah" collecting £1,545. The runner-up, "MrGilbert76" won £2,108.
The win places GetToBed second in the Player of the Series leaderboard. They also have 300 points but Zebster1994 is the leader courtesy of winning two events.
PLO Event Smashes Guarantee
Play switched to PLO for the ninth event of the series and 235 players turned out for the £55 buy-in tournament, creating an £11,750 prize pool much more than the advertised £8,000 guarantee.
The top three finishers each walked away with more than £1,400. Third-place finisher "RawJustice" made their second bullet count because it turned into £1,410. Their exit left "illgetthemin" and "C00kieMonster" heads-up. The latter fell in second for £1,821 meaning illgetthemin secured the £2,555 top prize.
Four more players netted prizes in excess of £1,000 in the No-Limit Hold'em event, the 10th in the series. A £14,392 prize pool was created when 514-players bought in for £30, smashing the £10,000 guarantee out of the park.
"2ndisthenew1st" may need a new alias because they finished fourth for £1,079. Third-place and £1,476 went to "GussyFinknottle" before "clownkicked96" defeated "ChefBrad" heads-up to win £2,734 leaving the runner-up to win £2,014.
Check out these massive Goliath attendance figures
Latest Goliath Online Series Champions
| Event | Buy-in | Entrants | Prize pool | Champion | Prize |
| --- | --- | --- | --- | --- | --- |
| #1: The Opener | £55 | 696 | £34,800 | LeGrandPoisson | £6,542 |
| #2: PKO | £30 | 493 | £13,804 | Zebster1994 | £2,204 |
| #3: 25/50 | £225 | 258 | £54,180 | LateNightTales | £10,971 |
| #4: NLH | £30 | 610 | £17,080 | BluffSqaaaaud | £3,245 |
| #5: NLH | £5 | 564 | £2,650 | whatacrapname | £503 |
| #6: NLH 6-Max | £30 | 545 | £15,260 | beeevil15 | £2,899 |
| #7: Heads Up | £55 | 172 | £8,600 | Zebster1994 | £2,322 |
| #8: Deep and Steep | £30 | 538 | £15,064 | GetToBed | £2,862 |
| #9: PLO | £55 | 235 | £11,750 | illgetthemin | £2,555 |
| #10: NLH | £30 | 514 | £14,392 | clownkicked96 | £2,734 |