The partypoker Ragnarök Promotion Has $300K Worth of Freerolls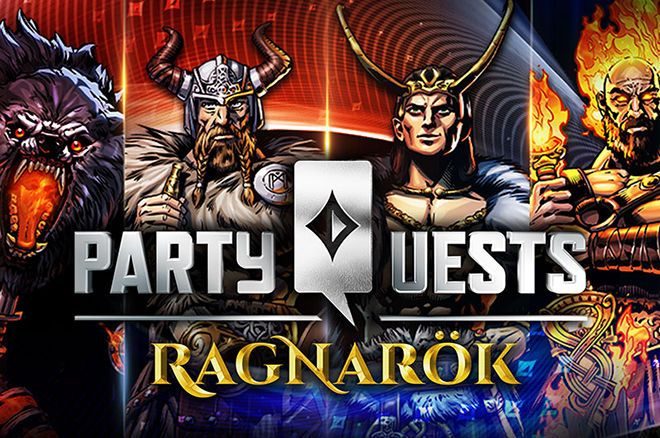 partypoker is the online poker site to play at if you're a fan of freeroll tournaments because there are more than $70,000 worth of Ragnarök freerolls taking place every week until July 23. A cool $300,000 will have been given back to partypoker's players by the time the promotion concludes.
Ragnarök is a series of events in Norse mythology that ultimately results in an epic battle involving Norse Gods. Some of those Gods make an appearance in the Ragnarök promotion as they lend their names to some value-packed freerolls that run throughout the week.
The promotion revolves around earning spins on the Ragnarök prize wheel. Every partypoker players receives a free spin every day just for logging into their accounts. They can earn up to five more spins by completing a specific poker-related task that's unique to each player.
Every Ragnarök prize wheel spin guarantees a prize. These prizes are in the form of freeroll tournaments, named after iconic Norse Gods, or $1,000 cash.
partypoker is giving away $500K worth of WPT tickets!
Ragnarök Freeroll Schedule
| Day | Time (BST) | Freeroll | Prize Pool |
| --- | --- | --- | --- |
| Daily | 6:00 p.m. | Asgard | $500 |
| Monday | 7:00 p.m. | Fenrir | $4,000 |
| Tuesday | 7:00 p.m. | Loki | $4,000 |
| Wednesday | 7:00 p.m. | Odin | $15,000 |
| Thursday | 7:00 p.m. | Thor | $10,000 |
| Friday | 7:00 p.m. | Valhalla | $20,000 |
| Saturday | 7:00 p.m. | Surtr | $4,000 |
| Sunday | 7:00 p.m. | Heimdall | $10,000 |
As you can see from the above table, the prize pools in these freerolls aren't to be sniffed at. The daily Asgard freerolls have $500 waiting to be won but others have prize pools ranging from $4,000 up to a massive $20,000.
That $20,000 freeroll, called Valhalla, has a twist to it. Any ticket won before 11:00 p.m. BST on Thursday lands you a bonus Valhalla ticket. Any unused freeroll tickets boost your starting stack in the Valhalla freeroll by 500 chips, up to a maximum of 25,000. This makes it worthwhile grinding to earn extra Ragnarök prize wheel spins because an extra 25,000 chips in the $20,000 Valhalla freeroll gives you a significant advantage over the majority of the field.
All the weekly freerolls shuffle up and deal at 7:00 p.m. BST sharp. The daily $500 Asgard freeroll kicks of an hour earlier at 6:00 p.m. BST.
$100M GTD WPT Online World Championships
Receive $40 Worth of SPINS Tickets For a $10 Deposit
Log into your partypoker account now and see which prize you win from your free Ragnarök prize wheel spin. Don't have one to log into? Download partypoker via UK & Ireland PokerNews, make your first deposit at least $10 and partypoker rewards you with $40 worth of SPINS tickets.
These tickets automatically hit your account over the space of a week and give you the chance to play for a $1 million top prize in partypoker's take on jackpot sit & go tournaments.