Here's How To Play in the £100K Gtd Goliath For Only £0.25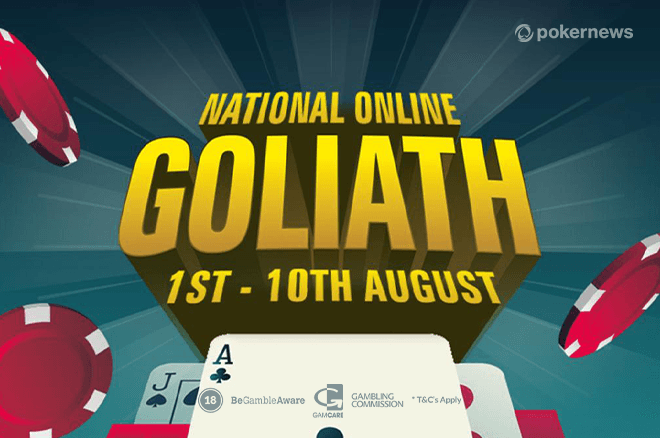 There's little over a week remaining until the first-ever online Goliath Main Event takes place at Grosvenor Poker. Its £125 buy-in already represents great value, but you don't want to be paying full price when you can win a Goliath Main Event seat for a quarter of a single British pound. Yes, £0.25!
What Is The Goliath?
The Goliath is usually an annual tournament run by the Grosvenor UK Poker Tour (GUKPT) folks that attracts a ridiculous number of poker players. It started life back in 2011 and saw 1,765-players pile into the Grosvenor Casino inside Coventry's Ricoh Arena.
Attendances grew every year, with 2019 seeing a record 9,300 participants, making the Goliath the best-attended tournament ever outside Las Vegas; it was larger than any WSOP Main Event in its 50-year history!
Plans to hit 10,000 entrants in the 2020 edition of Goliath were scuppered thanks to the uncertainty surrounding British casinos due to the ongoing COVID-19 pandemic. Grosvenor made the decision to switch the 2020 Goliath to an online event hosted by Grosvenor Poker on the iPoker Network.
This event shuffled up and deals at 4:00 p.m. BST on August 8, costs £125 to enter and has £100,000. Late registration is open until the end of the 13th 30-minute level and it's possible to purchase up to five re-entries should you dust your stack off during this time. That would be a difficult task because the blind structure is nothing short of phenomenal, with every sitting down with 25,000 chips and blinds starting at 100/100.
Day 1 pauses at 1:00 a.m. to give Day 2 players enough time to rest for the 2:00 p.m. restart on August 9.
Check out the full 2020 Goliath schedule here
Win Your 2020 Online Goliath Seat From Only £0.25
Grosvenor Poker is pulling out all the stops to ensure as many of its players as possible can play in the £100,000 guaranteed Goliath. £125 is at the more affordable end of the buy-in scale when it comes to prestigious events, but it'd be far better if you won a £125 seat for only £0.25.
There are satellites on Grosvenor Poker known as Steps. The Grosvenor: Step 1 satellite costs a mere £0.25 to enter; you can't even buy a chocolate bar for that money. These Step 1 tournaments award tickets to Step 2 that are worth £5 each. Step 2 satellites payout £30 Grosvenor tickets that can be used to enter the [Sat Freeze] Goliath -10 seat satellites.
As their name suggests, these freezeout satellites have 10x £125 seats guaranteed for their £30 buy-in.
You can enter the Grosvenor Step tournaments at any stage you wish, or jump straight into the £30 level and try to win one of the 10 guaranteed seats.
If you don't want to use your £5 Step 2 ticket for that satellite, there are some £5 buy-in rebuy and add-in Goliath satellites that have 10x £125 seats guaranteed. Win multiple Step 2 tickets and spend them on rebuys and add-ons in these exciting satellites.
It's also possible to use the £5 tickets won in a Grosvenor Step 1 to buy into any multi-table tournament on Grosvenor Poker that has a £5 buy-in. This included the £2,000 guaranteed Goliath #5 NLH side event on August 2. Go deep in this or another £5 buy-in MTT and you could parley your winnings into a £125 Goliath Main Event entry.
The History of the Ever-Growing Goliath Main Event
Don't Miss TheHayemaker Bounty on July 28
A more novel way to get your hands on a ticket while getting some tournament practice in is to play in The Hayemaker Bounty tournament. This £30 event has £5,000 guaranteed and David "TheHayemaker" Haye is playing with a bounty on his head. Bust the former world champion boxer and you'll receive a £125 Goliath Main Event seat for your troubles.
The Haymaker Bounty shuffles up at 8:00 p.m. BST on July 28 so make sure you don't miss out on the chance of a free ticket.