CEO Adam Pliska Discusses WPT's Online Events, Future Live Plans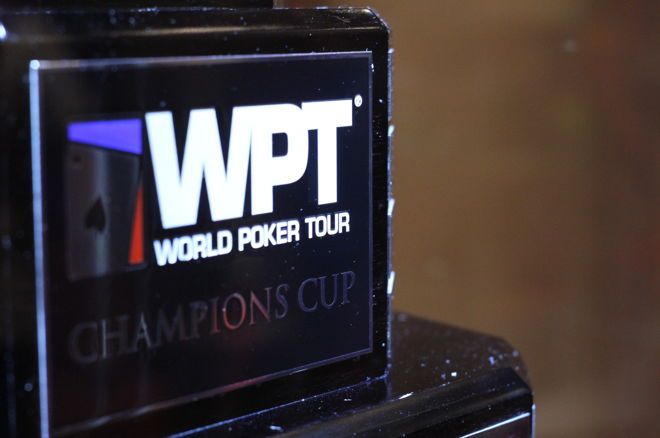 Like all poker operators, the World Poker Tour has done its best to adapt to the trying times of COVID-19.
With numerous live events and final tables canceled thanks to the pandemic — and one final table hastened into a chop — the company leaned into its partnership with partypoker, executing the rescheduled WPT Online Series.
The result was a smashing success. According to Poker Industry PRO ($), here are some of the benchmarks hit and records broken:
$52,956,050 paid out on $44M in guarantees
$563,362 average payout per tournament
111,183 entries
2,130 Main Event entries broke WPT Main Event record
$923,786 and $865,542 awarded to deal-making winners
4,828 WPT500 entries, second-best in tour history
Now, it's time for the next round, which promises to be even bigger: the WPT World Online Championships, with $100 million in total guarantees.
WPT CEO Adam Pliska called the number "a direct result" of the success of the WPT Online Series.
"Certainly, to the degree of guarantees and the support behind it," he told PokerNews. "I think everyone's quite happy at least on our side."
Click here to learn why you should be playing the Online World Championships!
A Different Take on $100M
The prospect of $100 million in guarantees would have been dreaming big for an online poker series before the past few months. But, that eyebrow-raising amount has now been hit a couple of times in recent months.
Still, the WPT and partypoker's joint effort is notable because it takes a different approach, one outlined by Pliska with his overall thought process on the WPT foray online: making online events feel like live events.
In that vein, partypoker, with its use of real names at select tournament tables — set to be in use throughout the WPT World Online Championships — makes for an ideal partner. Pliska said that's absolutely the case.
"We're the storytellers," he said. "We really put a lot of emphasis on the narrative of poker. It's all part of this 20-year history. Those names give us the personalized effect and allow us to tell the story more than just, 'Somebody won.'"
Other partypoker policies for the event include limited late registration, single reentry in championship-level events and no more than two starting flights in such events. Where other operators are allowing players to register tournaments with as few as 10 big blinds, partypoker is cutting things off during the WPT World Online Championships when players have 50 big blinds.
"I'm delighted that we have a partner in party who is thoughtful about the ecology," Pliska said. "I couldn't be happier in terms of the relationship."
Still, there's no doubt those policies put the operator at risk, particularly in the current climate. While online poker overall has enjoyed a rare boom period of late, high stakes events in particular have seen a downturn in participation very recently, according to PRO ($) — five high-stakes events in the PokerStars Stadium Series missed their guarantees as of Tuesday.
Pliska seemed unconcerned, though, calling the guarantees "commensurate" with the current environment.
More to Come
Aside from the metrics, Pliska said a less-easily defined goal was reached with the WPT Online Series: making people who wouldn't normally be online grinders excited to play an online poker tournament.
"There were many people who thought about playing online, they didn't know, and they set up an account," he said. "That's a major milestone for poker and we shouldn't forget that. They realize it's fun and they can have similar enjoyment to physical events. I think that will be an indelible part of the progression of poker."
That factor, Pliska said, is something every part of the industry should be working toward.
Just like their partner partypoker with the aforementioned initiatives, the WPT constantly strives to make that a reality. Pliska pointed to ClubWPT and the new ClubWPT Diamond as ways the company tries to keep people engaged. The recently announced expanded streaming plans for the events also fit that bill.
The aligned objectives and mindsets of the WPT and partypoker are why Pliska fully expects the recent collaborations for major online series to be a thing going forward, regardless of the live poker situation.
"I can't tell you exactly how many but we're not gonna stop," he said. "They're gonna be successful. We're gonna do them better. Every time we do this, we will get better."
Live WPT Events Likely to Return to Asia First
The WPT World Online Championships may prove to be a home run, a swing and miss, or something in between. No matter what, though, the WPT became one of the biggest brands in poker because of the success of its live events, and those will be foremost on the minds of many as far as the future goes.
Normally at this time, at least the first half of the next season of WPT events would be on the schedule. There's still nothing but the partypoker events listed on the company's website, though.
"Right now, what we'd love to be able to say, this is the schedule," Pliska said. "So much of this is in the hands of the casinos.
"We are trying to be good partners right now. We know there are people who want the live scene back and we're just going to tell everybody to bear with us. We will announce when things are confirmed."
Pliska hinted that Asia will likely be the first place to host WPT events again. An emerging market thanks in large part to the work of regional ace Danny McDonagh, several countries in the area have been among the most successful in getting control of COVID-19. European events would likely follow, with WPT on American soil coming whenever things finally clear up stateside.
"For years, the U.S. has been the lead and then things follow," Pliska said. "But, it's somewhat the opposite right now."
There's also the question of delayed live final tables. Three are currently in the backlog at the moment — WPT Gardens Poker Championship, WPT Borgata Winter Poker Open and WPT L.A. Poker Classic. Originally scheduled for March 31, they've been postponed indefinitely despite Las Vegas taking steps to reopen its casinos.
"We're just going to tell everybody to bear with us."
Some of the participants in these final tables hail from outside the U.S., making things particularly tricky because of current travel restrictions in place in many countries. Pliska had no immediate answers on any plans in place for the final tables to be played in the near future.
"We are doing everything we can to get these done," he said. "In fact, we thought it was going to be quite soon. But, it's difficult to get people to fly in.
"In the next couple of weeks, we will reassess. We will find a solution. We're hoping within this time, travel restrictions and a better sense of how the virus is being contained, we'll be in a better position."
Ultimately, Pliska said, the WPT remains in a solid financial position despite the challenges.
"The good news is we're a strong brand and we have a strong business model," he said. "We're a diversified revenue base so the company will do fine. It wouldn't do fine if it went for 10 years, but it won't go for 10 years."