WPT Legends Dunst and Lichtenberger Discuss Online Poker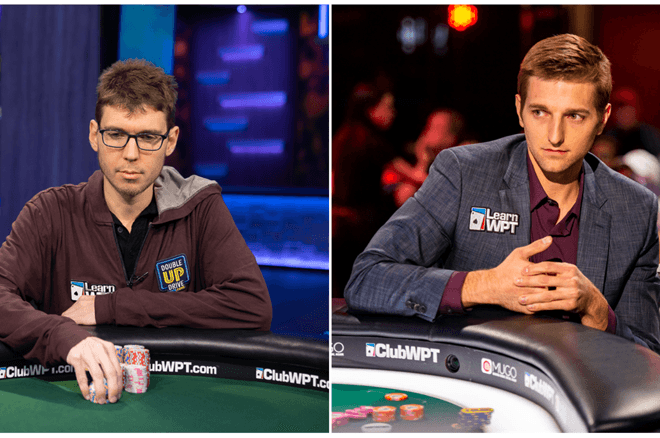 Like many of you, the instructors at LearnWPT have been adjusting to life without live poker over the past couple months. Instead of putting in hours at in-person World Poker Tour stops, they've been grinding the online felt.
Today we sit down with two players who have dominated online play over the last couple months: Andrew "LuckyChewy" Lichtenberger and Tony "bond2p2" Dunst.
Experienced Lichtenberger Working Hard to Stay on Top of His Game
WPT Champions Club member Lichtenberger has a rich history with the World Poker Tour, including his victory in the Alpha8 Las Vegas for a cool $2.1m. But how has been adjusting to life with no live poker?
Top Five Andrew Lichtenberger WPT Cashes
| Season | Event | Buy-in | Entries | Place | Payout |
| --- | --- | --- | --- | --- | --- |
| 2014-15 | WPT Alpha8 Las Vegas | $100,000 | 55 | 1st | $2,104,245 |
| 2018-19 | WPT Five Diamond World Poker Classic | $10,400 | 1001 | 3rd | $802,973 |
| 2012-13 | WPT Five Diamond World Poker Classic | $10,300 | 503 | 5th | $234,197 |
| 2011-12 | WPT Five Diamond World Poker Classic | $10,300 | 413 | 4th | $218,933 |
| 2008-09 | WPT World Championship | $25,500 | 338 | 13th | $81,710 |
"To be honest I'd already been playing a lot of online poker previous to this," said Lichtenberger. "So while I miss the WSOP and other live events that accompany it this time of year, it's not a huge shift for me."
The new influx of players has certainly impacted his online play, but he says that things have tapered off since then as he grinded both tournaments and cash games online.
Lichtenberger credits his ongoing success both live and online to experience.
"I was fortunate to have been early, relatively speaking, to online poker before Black Friday and always found a way to do well there, so I suppose it's just experience. I also work pretty hard to stay on top of new ideas and strategies."
And what strategy advice does he have to anyone playing in online poker these days?
"The same thing that's always been relevant - learn theory as best you can and understand how, when, and why to deviate from it."
The WPT GTO Trainer and strategy episodes by both Andrew "LuckyChewy" Lichtenberger and Tony "bond2p2" Dunst are available exclusively to members of LearnWPT.com's online training site, but you can try it for free by clicking here.
Dunst Swaps WPT Hosting to Crushing Online
Meanwhile, WPT Host Tony Dunst says he's been missing the social side of poker, but has appreciated being able to work from home while many others can't. That being said, he's been enjoying online poker as well.
"The fields were a lot softer because there was this huge spike in traffic, but they've gradually become tougher. I think things will really slow down in the summer as people get their lives back."
Playing mostly tournaments, Dunst puts his success down to positive variance, and consistent work and study.
"Any time you go on a nice run in tournaments, you're winning more than your share of coin-flips. Having a guy like Chewy to do hand history reviews with doesn't hurt either."
Dunst has been running well in recent months, winning $40,000 in a $1,000 buy-in tournament along with a few other $20-30k scores.
"I had a session where I final tabled three of the five events I played, won one. Didn't lose an all-in for hours that night!"