Unibet Ambassador Ian Simpson Fostering Twitch Community with Stream Satellites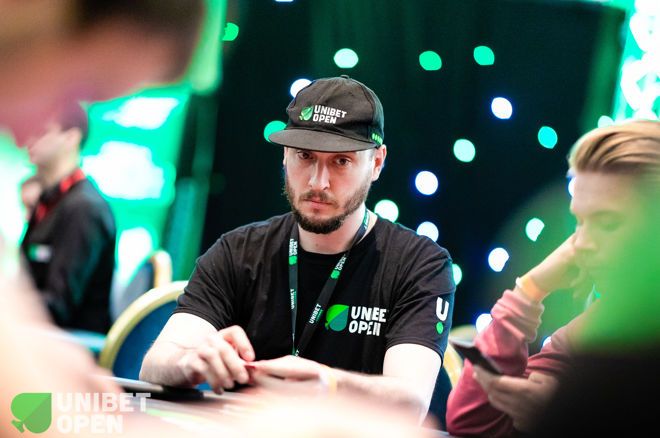 Earlier this month we brought you the news that Unibet Poker had launched Simpson's Stream Satellites. The premise was simple, satellite your way into a €25 Final which would have zero direct buy-ins, thereby avoiding the sharks and competing solely against fellow qualifiers.
Even Unibet Poker Ambassador Ian Simpson himself wasn't exempt, as he would have to make his way through a series of satellites in order to guarantee his place.
And with the final less than two weeks away, we caught up with Simpson to see how he was getting on, how his fans were reacting to the intiative and most-importantly of all, had he managed to secure his place in the Final yet!
Special Unibet Poker Freeroll - Click Here!
Stream Satellites Going Strong
Streaming on Twitch, Simpson says that his viewers are enjoying the different type of content, with satellites necessitating a very different approach to other types of poker tournament.
"It's going really well so far," said Simpson. "As the bubble of a satellite approaches, and there are various viewers close to a seat, they're getting cheered on by the gang; the Twitch chat rail is always heartening to see."
Players have been locking up seats with 0.1 of a big blind, something Simpson says is "brilliant" to see. But has he managed to lock up a seat of his own.
"I have not qualified yet!" admitted Simpson. "You can only direct buy in as high as the €1 tier, and while I've made it to the €5 final twice, both times I crashed out! There are two more €5 finals to go, so I'm still hopeful I'll get there. The pressure is definitely on to qualify for my own tournament!"
| Buy-in | Entry | Prizepool |
| --- | --- | --- |
| Freeroll | Password required | 50 x €1 Tickets |
| €1 | Cash or €1 Ticket | 10 x €5 Tickets |
| €5 | €5 Ticket ONLY | 2 x €25 Tickets (July 3rd: 6 x €25 Tickets) |
| €25 | €25 Ticket ONLY | |
Twitch Community Thriving
The Unibet Poker Community is a strong one, and has been for many years across both the live and online felt. It's that sense of community that Simpson says it the biggest appeal of his channel.
"Players may well be watching my table on the stream, but we're all railing each other throughout the night. It doesn't matter if it's a nano stakes player or a high stakes player, everyone is cheering each other on and supporting one another."
The impact of streaming poker is not to be underestimated however, with the community sometimes occupying a bit too much of Simpson's attention at the tables!
"I definitely misclick and time out at a higher frequency because I get distracted by something stream related! The extra attention the stream needs means I've got to play less tables. But it's all worth it, I love streaming and I love the camaraderie within our community."
Win Prizes in Unibet Poker's European Bounty Cup
Without the European Football Championships, due to start today, there's only one continent-wide championship taking place right now! That's right, it's the Unibet Poker European Bounty Cup!
Future Plans
There are still two more weeks of qualifiers, with Simpson obviously hoping to secure a place in the €25 Final on July 5th, but this type of promotion is something that Simpson wants to do more of in the future.
"It's the first time we've tried this, so we're going to do some analytics after it's done and assess the impact it has had. The freerolls help grow the stream and help feed the poker ecology. I'll be curious to find out if running them in this format is better for both those goals and how we might tweak the promotion to maximise its impact."
Unibet Freeroll
Each Saturday at 7:00 p.m. CET, any Unibet Poker player who has created their account via our links can take part in a PokerNews-exclusive freeroll that awards hundreds of euros worth of tournament tickets.
You can win tickets for Unibet Open satellites where you can travel the world playing for ludicrous sums of money. There are also SNG tickets, and tickets toHexaPro, Unibet Poker's take on jackpot SNG where you can win up to 10,000x your stake!
Unibet Poker Freeroll Payout Structure
| Place | Prize |
| --- | --- |
| 1 | 2x €50 HexaPro tickets |
| 2 | 2x €50 SNG tickets |
| 3-6 | 2x €25 Unibet Open satellite tickets |
| 7-9 | €25 HexaPro ticket |
| 10-12 | €25 SNG ticket |
| 13-15 | €25 Unibet Open satellite ticket |
| 16-21 | €10 HexaPro ticket |
| 22-27 | €10 SNG ticket |
| 28-33 | €10 Unibet Open satellite ticket |
| 34-39 | €5 HexaPro ticket |
| 40-46 | €5 SNG ticket |
| 47-57 | €4 Unibet Open satellite ticket |
| 58-72 | €2 HexaPro ticket |
| 73-86 | €2 SNG ticket |
| 87-100 | €2 Unibet Open satellite ticket |
!4
Sign-Up to Unibet Poker Today
Signing up to Unibet Poker via PokerNews entitles you to a welcome bonus worth up to €200. This bonus is released into your account when you reach certain rake milestones, which means you're constantly receiving more money as you play.
Once you rake €2 at the cash game tables or any tournament (or a combination of both), Unibet Poker places a €1 cash reward in your account. Rake €10 and an additional €4 cash is all yours. Once you've raked a total of €800, you'll have received €200 in your account, equivalent of 25% cashback, which is a pretty sweet deal.
| Level | Rake | Cash reward | Reward % |
| --- | --- | --- | --- |
| 1 | €2 | €1 | 50% |
| 2 | €10 | €4 | 40% |
| 3 | €50 | €15 | 30% |
| 4 | €150 | €40 | 27% |
| 5 | €588 | €140 | 25% |
The bonus expires 60-days after you create your account so get your grind on and see how much cash you can earn.
In addition to the welcome bonus, new players are invited to four weekly €500 freeroll tournaments, which run on Sundays, receive an €8 cash game ticket when you make a deposit and four €4 Unibet Open tickets. There literally hasn't been a better time to become a Unibet Poker player, so click the download link and start reaping the rewards straight away.
The €8 cash game ticket has a 500 flops seen playthrough requirement, after which, you can withdraw it or use it as you please.