partypoker MILLION Undergoes Major Transformation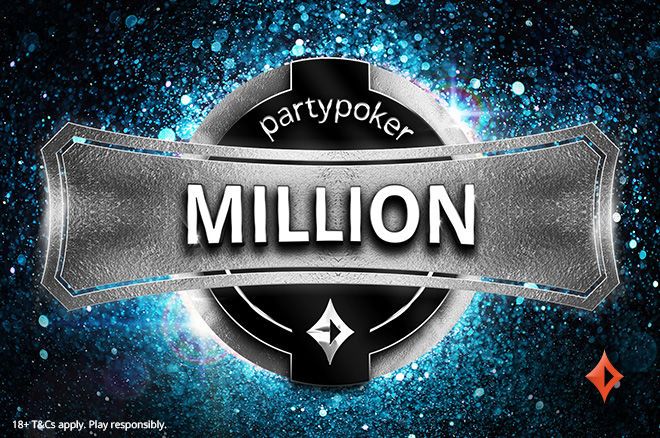 Table Of Contents
The $1 million guaranteed partypoker MILLION, the site's flagship tournament, has a different look to last week. partypoker has improved the overall structure of the tournament while making it simpler for anyone wanting to compete in it.
Players previously had the choice of dozens of Day 1s for the partypoker MILLION. Day 1s ran several times per day throughout the week and fed into the Sunday final. It was also possible to win your way into the Day 1s via phased tournaments starting at $2.20. The whole system grew overly complicated for the average user.
partypoker has gone back to basics and revamped the MILLION into a simpler format, almost going back to basics to create a better experience for the players.
It is still a multi-day tournament, but there are now only seven Day 1s, each costing $215 to enter. These shuffle up and deal at 6:30 p.m. BST Monday through Sunday. The final day is now on a Monday at 6:30 p.m. BST.
APAT and partypoker join forces in spectacular fashion
---
New and Improved Structure
Everyone buying into a Day 1 receives 1,000,000 chips and plays to a 20-minute clock where blinds start at 5,000/10,000/1,000a. This is double the previous blind levels, giving players more bang for their buck.
Play continues for 20-levels on Day 1 and anyone with chips in front of them at the conclusion of the 20th level automatically progresses to Monday's final. It's possible to play more than one Day 1 but the partypoker MILLION has a "best stack forward" policy, meaning only your largest stack is taken through to the final day, all other stacks are forfeited if you progress more than once.
The phased tournaments that used to feed into the partypoker MILLION Day 1s have been scrapped in favour of more traditional satellites. $22 buy-in partypoker MILLION satellites award $215 seats. You can win your way into these $22 buy-in satellites for only $2.20.
---
WPT Championship is heading to partypoker
Value-Packed Micro and Mini Return
Lower stakes players will be delighted that the partypoker Mini and partypoker Micro have returned following feedback from partypoker's players.
Both follow the same schedule as the bigger partypoker MILLION, but are a fraction of the cost.
The partypoker Micro is a $2.20 buy-in affair with $10,000 guaranteed. Its champion also receives a $1,050 WPT seat as an added extra. You can play for a share of a $100,000 guaranteed prize pool for only $22 in the partypoker Mini. Win this tournament and you'll also receive a $3,200 WPT seat for your troubles.
It's a brave move by partypoker in a climate where an increasing number of online poker sites are moving towards phased tournaments. It will be interesting to see how the new format affects the tournament's attendance. The partypoker MILLION used to run in this format when it first launched and it overlaid almost every week.
Five-thousands entrants are needed to hit the $1 million guarantee, meaning an average of 715-players per Day 1A is required. Only 220 players bought in on Day 1A on June 8 and 15 punched their final day ticket.
Join partypoker via PokerNews and see if you can become the champion of the new look partypoker MILLION.
---