POWERFEST Extended to May 3; Plays Out With Real Names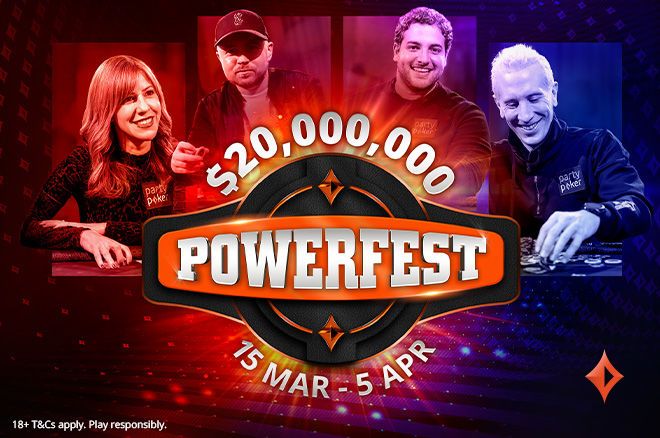 The partypoker POWERFEST has been extended until May 3 following requests from the site's tournament players.
partypoker had already extended the series after feedback from a Rob Yong poll and this second extension takes the series up to May 3, which, incidentally, is when the inaugural WPT Online Series shuffles up and deals for the first time.
The two-week extension comes with a twist in that players will be grinding with their real names displayed instead of their alias. Yong fired up a Twitter poll on April 15 asking if players would like another two weeks of the POWERFEST festival with real names on show. This followed the hugely positive feedback from displaying real names during the Irish Open Online.
Players in Favour of Real Names Being Displayed
Some 76.2% of the 6,260 voters were in favour of displaying real names. Partypoker acted on this feedback and now players have two more weeks of inflated guarantees all with actual names displayed on the tables and in lobbies.
Huge positive feedback for Real Name MTTs after @partypokerlive Sats @Irish_PokerOpen & Poker Masters

— Rob Yong (@rob_yong_)
Yong has long been an advocate for real names being displayed in high stakes cash games but now the feature has been added across all POWERFEST events for the next fortnight, even the lowest stakes' tournaments.
Players seem happy with the decision because they now know who they are facing off against. This wasn't possible since partypoker enforced an alias change last year. Large numbers of the higher stakes MTT specialists kept their new aliases secret.
Neutrals and poker fans are also happy with the unprecedented move because they get to rail their favourite players without wondering if Alias A is actually Player B in real life. It seems like a win-win scenario.
The Poker Masters Online Series has now crowned 20 of the planned 30 champions and it too is displaying real
---
names. It's much more exciting to see the game's super high roller specialists triumphing in these events than it is an anonymous alias.