Jivaro Hud in 2020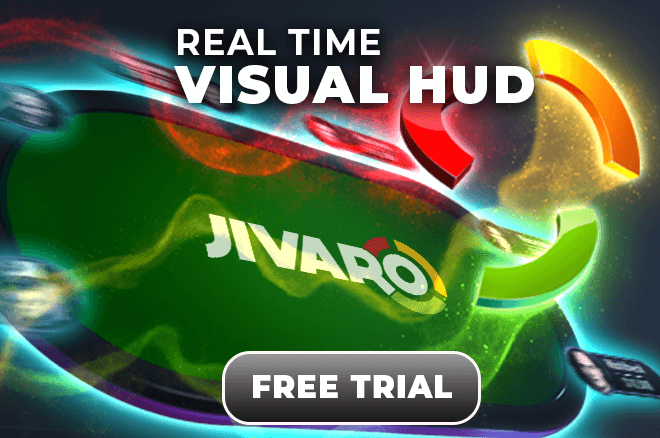 Five years ago, Jivaro made its grand entrance into the world of poker…....
Today, Jivaro has developed into a unique poker tool that offers a range of features including:
Heads-Up Display (HUD) for more simple and efficient use, any time you need it.
Hand Replayer in an aesthetically pleasing and user-friendly environment.
The Jivaro team has taken what was once a complex piece of software and has redesigned it into a user-friendly system that is easy to set up and simple to use. We are committed to providing bold, innovative solutions to your every pro and recreational player need!
Let's Get Started
The Jivaro system is an intuitive design that can be up and running in just minutes. To get started, simply sign up and choose one of the subscription options on Jivaro.com.
Using a powerful system like Jivaro doesn't mean that you need to pay large amount of money down. Our monthly subscriptions start at an affordable fee of $12.99. We get it: getting hooked on Jivaro is easy to do. That's why we made it easy and smart to make the switch to a 6-month recurring option for just $59.99.
Downloading Jivaro is a process that means effortless installation. While other software requires an abundance of time, a degree in biochemical engineering, and giving up your left arm, Jivaro makes it easy to install a program that is guaranteed to work for you.
Why Choose Jivaro?
The Jivaro experience is a bit different than your average HUD displaying software. Our intuitive design provides easy access to what is essentially an add-on to your poker experience. Our program was designed to **enhance your experience** while keeping the natural appeal of the game. Jivaro introduces new elements to poker without shifting the focus away from the core of the game.
The HUD has two mods:
The Core Mode
Jivaro's signature ring around the PokerStars player's avatar. This mode works best for a visual representation of three basic stats: VPIP (Voluntarily Put money In Pot), PFR (Pre-Flop Raise), and AFq (Aggression Frequency). This mode provides an excellent representation of the number of hands that you have played against certain players.
The Advanced Mode
This mode is indicative of the info panel that bring you hand-picked stats by the Jivaro team. These stats include three-bet and steal and fold-to-steal for your pre-flop decision. You have the option to switch easily between street specific stats in the Command Center.
Jivaro Command Center
The Jivaro Command Center is every tournament player's dream feature. This center allows tournament players a simpler way to play. This advanced technology that will significantly better your user experience looks something like this:
Having the Command Center allows you to play without opening a new tournament lobby (aside from registering). You won't ever miss a bubble and you won't ever have to juggle additional windows just to check the average stack of number of players remaining. No matter if you're an experienced, hardcore poker player or you just enjoy the thrill of a tournament for fun, Jivaro Command Center is the ideal feature to make any poker player's experience a whole lot better.
Jivaro Features
Command center
Displayed on each of your tables
Provides a general overview of the game that you are playing
Offers information on your entrants remaining, positions, prices, and live pot odds calculations
Graphical indicators
Found around each player's avatar
"Jivaro Core Indicators" or VPIP, PFR, and AFq designed to assist you in identifying your opponents' playing styles quickly and efficiently
Handpicked Statistics Package
Display used to give information on the most useful statistics when you need them
Provides information on statistics such as 3-bet, fold to 3-bet, c-bet, fold to c-bet, steal, fold to steal, and more
Information displayed is helpful when you find yourself in spots that require additional playing assistance
Real-Time recordings
Packed into hand replays to be viewed and shared at any point in time
Contain HUD built into the program for quality post-game analytics
Street specific statistics
Information offered on each street to view when you need it
Can be checked prior to playing by clicking on "The Street Selector" in the "Command Center"
Jivaro 2.0
Today, Jivaro is proud to announce the release of a brand-new engine with higher resolution graphics for a better gaming experience. Jivaro 2.0 Beta has the potential to speed up in development shortly with the arrival of a series of new and exciting features in coming months. The first of these features is the new visual labelling system that is intuitive and easy to use.
You can download the new Jivaro 2.0 from the Jivaro.com website.
Are you ready to get started on a better way to play? Download Jivaro today!
Sponsor generated content by Jivaro