Katie Stone Creates Discord Channel to Help Poker Employees Affected By Coronavirus Pandemic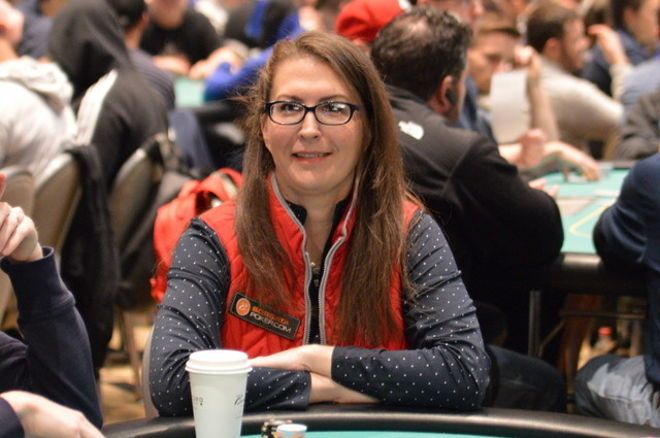 While online poker is thriving during the Coronavirus pandemic, there's no denying that the live realm has been decimated. Casinos are closed, cardrooms shuttered, and tournaments canceled. As a result, thousands of poker industry workers, from dealers to live reporters, are currently out of work.
Like much of the workforce in the United States and around the world, those who suddenly found themselves unemployed are concerned with how they'll take care of their bills and put food on the table.
Enter BorgataPoker.com Ambassador Katie Stone, who is one of several poker pros to step up to the plate in an effort to help. For her part, Stone created the Discord channel "Poker Peeps Affected By COVID19" and invited those in casino industry affected by recent shutdowns to join.
PokerNews recently caught up with Stone to learn more about her initiative and what it's like for those out there grappling with a new poker reality.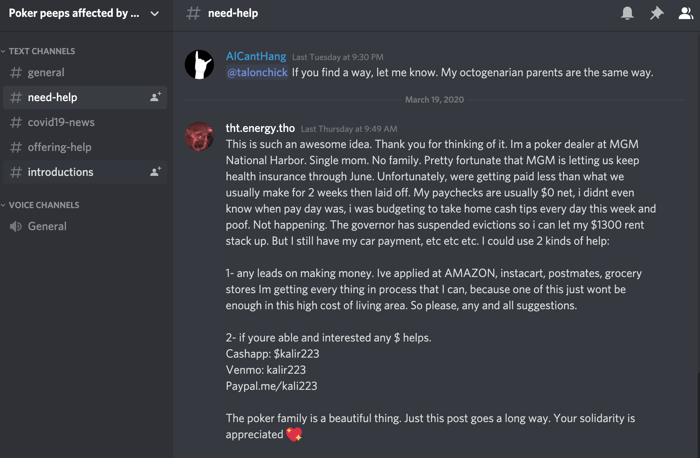 PokerNews: What inspired you to start this Discord channel?
Stone: Being home in self-quarantine is not that huge of a difference for me as an online poker player, and we decided to 'go inside' (with no symptoms) early on. So last week when Vegas started shutting down and everyone started losing their jobs, I felt like I was in the front row of a movie theater watching the lives of so many people I know get flipped upside down.
I realized how tough it was going to be for everyone to keep up with everything and everyone, with so much changing so fast. So, I messaged my friend Cy Watson, who has been very active on social media as well regarding Coronavirus, asking him if he thought it would be a good idea to start a chat for people in the industry to be able to connect with each other for help.
What has the reception to the channel been like thus far?
There are about 120 people in there so far, and more join each day. Everyone seems very happy to have a place to communicate in real time. Matt Savage has been active posting casino updates as well as other efforts he is involved in to help the community. Everyone seems to want to help each other, which is really great to see.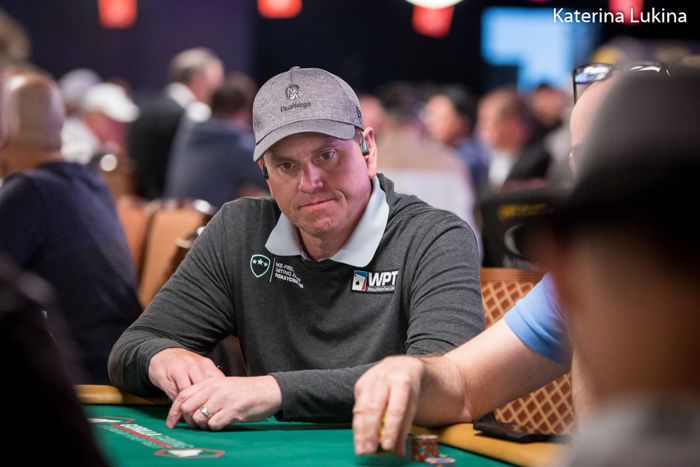 What sort of stories are you seeing in the channel thus far? Has anyone been able to help?
Right now, people are talking about their individual situations, because not every casino or company is handling this the same way. Some people are getting laid off while others are still being paid and have their health insurance. There's one dealer from MGM National Harbor who is a single mom and while she has insurance through June, she still really needs a job now and was asking for anyone with any leads. Lots of people are also posting info from other people on Twitter who are offering help, so it's helpful to have all these things of things in a central place right now.
What other poker pros have you seen be willing to lend a helping hand in some way?
Cy Watson started an incredible thread on twitter, essentially becoming a customer of anyone's side hustle, which has been awesome because so many small businesses have been showcased. Ryan LaPlante has offered to help anyone wanting to learn online poker or stream online. Alex Livingston has offered to help out people in need with kids right now in the Las Vegas area.
A few other poker players have also messaged me in private asking about helping anyone with dire financial needs as well, so I am aware of people like this too and we are working together to try and help out. Phil Galfond has offered a month of free poker training on his training site Run It Once as well.
"Taking the time to improve a skill, or learn a new skill whether it's a game or something else could be really beneficial not just financially, but mentally."
In what ways can players (and others) support those in the poker world who've been affected professionally by Coronavirus?
I think the main thing poker players and everyone can do is to keep an open mind. Understanding that this is unlike any situation any of us have encountered before, and so thinking outside the box can go a long way. Taking the time to improve a skill, or learn a new skill whether it's a game or something else could be really beneficial not just financially, but mentally.
It's impossible to not get stressed out if you spend your entire day on social media and watching the news, so taking time to focus on your overall health, well-being and your craft is more valuable than ever. People can help others by being an open ear and lending a helping hand when possible. Those who are financially comfortable or who have online-based businesses may find other areas they need help with now as well, so reaching out to the poker community is a great idea.
You represent Borgata. Do you think the current environment gives them an opportunity to take more poker online?
I think everyone who plays online poker is enjoying the traffic online right now! Numbers have been huge to say the least. Part of my job representing BorgataPoker.com and the other skins on the partypokerUS network is to communicate with the players regarding what they'd like to see offered on our network.
Last week I reached out to them, got some feedback and we are happy to implement and adjust based on this feedback. The partypokerUS network has been the only network in New Jersey that has consistently kept the guarantees intact, and we look forward to offering more exciting options in the weeks to come for players along with a special $320/$250kGTD next Sunday March 29.
For those interested in joining the Discord channel for affected industry members, see details in Stone's tweet below: