Galfond Challenge: Phil Galfond Returns from Hiatus, Posts Huge Win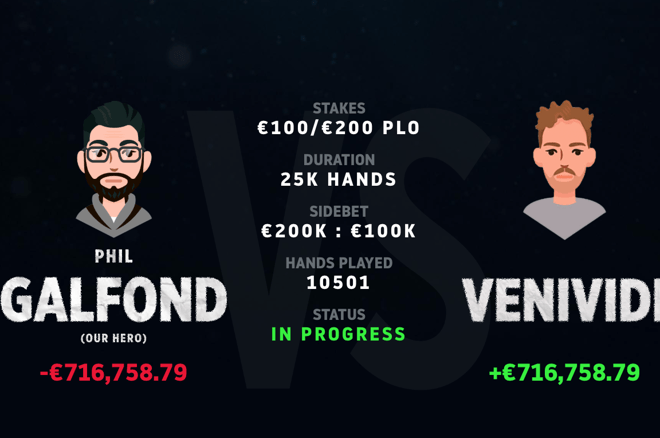 After spending several weeks mostly having his ass handed to him by "Venividi1993", Phil Galfond took some time away from the tables. He thought things over, mulling the possibility of waving the white flag down almost €1 million after just 40% of their €100/€200 pot-limit Omaha heads-up match.
He decided to keep playing, and he returned in emphatically triumphant fashion. One session in, Galfond recovered about 20% of his losses as he stormed through 574 hands on Run It Once Poker to post his biggest win yet.
With plenty of match left, Galfond can still meet his stated goal of winning from here on out, with an outside shot at still making Venividi sweat when it comes to their side bet on the outcome, Galfond laying €200,000 to €100,000.
SEE ALSO: PLO Poker: A Beginner's Guide to Pot-Limit Omaha
Day 16
The players eased back into the action after the time off, as they contested mostly smaller pots for the first 50 minutes. Finally, a three-bet pot developed with Venividi betting €1,200 on



and Galfond making it €3,600. Venividi called and each player checked the

for a

river. Venividi checked and Galfond potted for €10,797. Venividi shoved for about €14,000 more and Galfond called with




, beating a bare-ace bluff for a pot of about €60,000.
Galfond then dragged back-to-back massive pots a bit later. At one table, Galfond raised preflop and called a three-bet before betting all the streets ending in a river shove for just under pot on





. Venividi used nearly all of his time then called off €15K with




but was no good against




for the turned nuts. At the other table, Venividi value owned himself potting for €10,797 with second set of queens against Galfond's top set of kings. Galfond went into break up about €100,000.
After Venividi recovered a bit, he sent two more stacks Galfond's way. First, Galfond got it in on the turn with the nut straight and two pair against a wrap plus flush draw and faded the river. Then, a sick cooler developed as Galfond flopped quads while Venividi flopped top full house. Galfond shoved over a pot-sized river bet and got called for a €41K pot and was up €137K into the final break.
The players traded stacks as Venividi got there with aces and a flush draw versus Galfond's two pair and flush blockers, but couldn't hold with bottom set against Galfond's nut wrap. In between the big hands though, Galfond just won too many of the medium-sized pots and bolstered his win to a match-best €183K.
Afterward, Galfond said the win felt good and graded his play as B+.
Hands Played: 574
Results: Phil Galfond +€183,481.38
Full session video
Follow along with all the latest on the Galfond Challenge.