2019 WSOP Player of the Year Rob Campbell Joins CoinPoker.com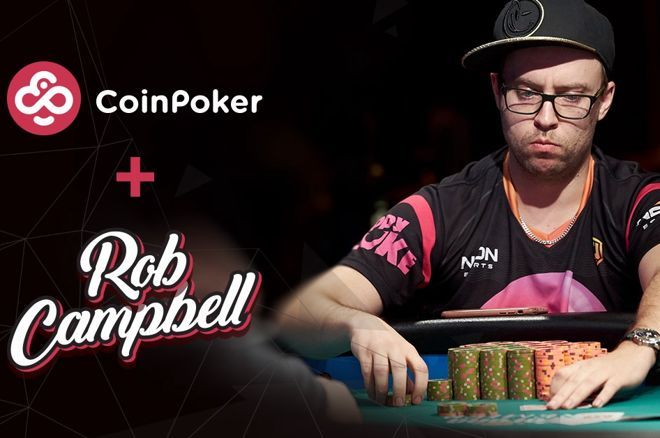 Table Of Contents
Just over three months after being crowned World Series of Poker Player of the Year in sensational fashion, Australian Rob Campbell has become the latest ambassador for CoinPoker.com.
CoinPoker.com is the world's largest cryptocurrency online poker room, and already boasts poker legend Tony G and Isabelle Mercier as representatives of their brand.
Campbell, who won two bracelets in mixed events at the 2019 World Series of Poker and reached five final tables, will soon be found on the online tables. under the username RobCampbell. His total live winnings exceed $1,360,000, with his 27 WSOP cashes accounting for $1,232,000 of those earnings.
Rob will make his debut playing at RobCampbell Bike Ride 1,000,000 CHP GTD event and will have a bounty of 0.25 BTC to his name. The event starts at 1 p.m. (AET) / 2 a.m. (GMT) and will run every Sunday.
CoinPoker.com & Neon Esports
Having previously worked as a stand-up comedian, as well as poker Campbell is currently the CEO of the Dota2 gaming team Neon Esports and the deal also features a tie-up with CoinPoker.com already featuring in their branding. 
"I'm thrilled to be joining Tony G and Isabelle Mercier on the CoinPoker.com roster," said Campbell. "I feel it is a good fit - I'm a big fan of the old school entertaining tv shows and mixed games as well being heavily involved in the e-sports space. 
"CoinPoker.com is an attractive proposition which makes poker accessible, transparent and decentralized and it is exciting that it allows you to play with BTC, ETH, or CHP. CoinPoker is not fully decentralized, only the RNG is. Players can impact the shuffle and verify it's all fair. I'm also excited about the marketing crossover opportunities between CoinPoker.com and Neon Esports." 
Position "Well-Deserved" Says Fellow Ambassador Tony G
Meanwhile, Tony G said that the partnership is more than Campbell deserved after an extraordinary year.
"I always say you get what you deserve and this is what happened with Rob," said Tony G. "If you win the WSOP Player of the Year you should get a sponsorship deal and it is brilliant to have him on board. CoinPoker.com is a revolutionary platform and we trust Rob's expertise will help us to continue delivering new developments for our community."