Industry Insiders: Mark Napolitano Reflects on Creation of PokerPages.com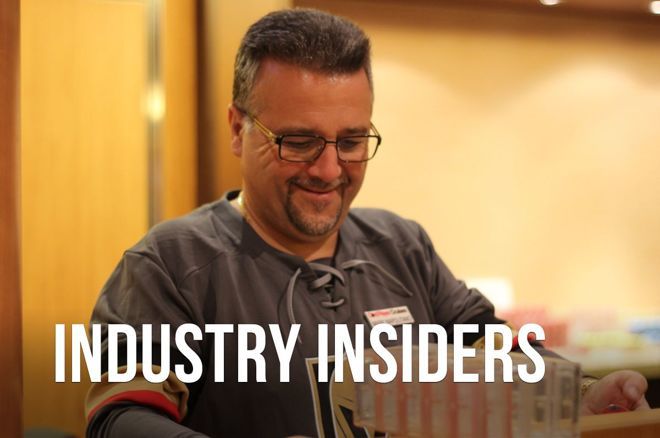 Table Of Contents
Mark Napolitano, 59, and his wife, Tina Napolitano, are veterans of the poker world. They broke into the industry after establishing one of the game's first successful sites in PokerPages.com, helped grow the game through various endeavors, and nowadays find themselves sailing around the world running CardPlayer Cruises alongside Linda Johnson and Jan Fisher.
Young and in Love
Mark and Tina, who've been married for 31 years, both grew up in the United Kingdom. They met in their London high school back in 1972, but it wasn't the love-at-first-sight tale you might expect. Instead, they were friends first and Mark even married someone else while Tina was engaged to marry one of his best friends. Six years later, Mark's first marriage ended while Tina's fiancé died in a tragic motorbike accident. They reconnected after that and wound up in a relationship.
As for poker, it's been a lifelong love affair for Mark after he was first exposed to 7-Card Stud in his younger days.
It was at that snooker hall that he discovered a game in the back, and before long he became an errand boy of sorts, fetching tea and sandwiches for tips.
"I started in poker in 1975. I was 15 years old. I used to play a game of snooker in a snooker hall, and those places were full of gambling," Napolitano explained. It was at that snooker hall that he discovered a game in the back, and before long he became an errand boy of sorts, fetching tea and sandwiches for tips.
"I used to make about £50 every Friday, which was a lot of money in 1975," he said. Eventually, he worked his way into the dealer rotation. "There were two dealers working 30-minute shifts. I asked the younger dealer if he could teach me how to deal. After the game broke around 9 a.m. each Saturday we'd have lessons for a few weeks. Eventually one of the guys didn't show up and I got in the rotation."
He continued: "I dealt for like 20 minutes and made £20. I thought this was my future. I was working three days a week and I was making £200 a night, £600 a week. My dad was making £150 a week in the lumber yard. From there I got into playing."
Bright Lights of Vegas
According to HendonMob, Napolitano has nearly $200K in tournament earnings dating back to 1997, which was the first year he paid a visit to Las Vegas. While staying downtown at Golden Nugget, he walked across the street to Binion's Horseshoe, which was hosting the World Series of Poker.
"They were playing 2-7 no-limit with big stacks of $100 bills," Napolitano said of his first taste of poker in Sin City. "It turned out, I didn't know at the time, it was Doyle Brunson, Erik Seidel, Steve Zolotow, they were playing six-handed. I stood on that rail for 12 hours and just watched it. I was fascinated."
Fascinated by what he was seeing, Napolitano vowed to return the following year to participate in the WSOP himself. After reading an article about satellites in CardPlayer Magazine written by Mike Caro, he jumped in a super satty and won a seat into the $10,000 Main Event.
"I finished 50th. I wasn't in the money, they paid 36 if I remember right. That was my first experience in the Main Event. Since then I've played it about seven times."
While he has never won a bracelet, Napolitano has won a tournament at the WSOP having taken down the Media Event in the past.
Origin of PokerPages.com
In 1999, Mark and Tina emigrated from the UK to Austin, Texas. They had businesses in England – one importing silk flowers from China – but opted to sell in favor of new entrepreneurial opportunities in America. At first, they wanted to start a restaurant that would be all healthy eating with fast-food flair. Their menu would show all the calories, which at the time was unheard of. Unfortunately, they had zero restaurant experience, and after looking into it decided against it.
"In late 1999, the internet poker was getting going," Mark explained. "Planet Poker was really the only one out there. I looked at that and I saw potential there. We knew nothing about software nor running an online business. We'd just gotten email, you know. My mind went to if a lot of people are going to play poker online, maybe we can use the internet to teach people how to play poker."
That was the seed that would grow into PokerPages, which launched as an educational site in 2000. Their webmaster suggested they create a general poker information website to attract the traffic and then point them to the educational side, so PokerPages soon became one of poker's earliest media sites.
"Tina came up with the name PokerPages and we decided we'd contact every poker establishment in the world, set up a database, and start promoting their schedules. They would fax over their results in the beginning. Tina used to painstakingly go through them every single day. Sometime she'd have to call 40 casinos to get their results to update the website."
"Tina came up with the name PokerPages and we decided we'd contact every poker establishment in the world."
Mark continued: "Then obviously there were all these players, so we started to focus on them. I was going to poker events and doing some videos to put on the website. We were fortunate that after a few months Yahoo! made us their website of the week. Our traffic went from a few thousand uniques to a hundred thousand in a month. Then we were able to start selling advertising. By this time Paradise Poker had launched, partypoker and PokerStars were not launched yet but they were in the works. We actually had conversations with both of them since we had all the traffic. We didn't manage to come to an agreement so they all became advertisers."
PokerPages took the safe and secure plan of selling advertising for the guaranteed income, though in hindsight Mark realizes the affiliate route would've likely been the more lucrative route.
"The people who made a ton of money were the ones who did affiliate work. We were literally living month to month, so when we'd sell a banner ad for $5,000 and they wanted to take six months for $25,000, we needed that money to keep going. So, we weren't ever in a position to take the chance of being an affiliate. We took the secure route."
Before long, the educational part of the site, Poker School Online, had 6,000 members paying $15 a month.
"Our model was that people on the site, we had all the education content – written back then, not video like it is today – but our school members would use the software to play," said Mark. "We then had leaderboards and the prizes for those were buy-ins to real poker tournaments."
Perhaps their most high-profile winners was Sweden's Mattias Anderson, who had won his seat into the 2004 WSOP Main Event via one of the leaderboards.
"He couldn't afford to go to Vegas," Mark recalled. "I told him to sell action among the thousands of members for funds. He sold 20 percent to cover expenses and then finished eighth for $575,000."
It was a great moment for PokerPages and the future was looking bright. In fact, at one point they even moved to Gibraltar to set up a real-money online poker site.
"We partnered with Victor Chandler, a sportsbook in Europe. They basically financed taking what we had and turning it into a real-money site. We launched a site called Bugsy's Club. Back then the big guys were so big it was hard to compete. They were paying $400 a player at one point. You couldn't compete with that, so it wasn't successful for us, but PokerPages and Poker School Online were successful for us."
While they weren't able to compete with their own online client, that didn't stop the "big guys" from sniffing around.
"In 2006 we were discussing a massive deal. Then in October, the UIGEA happened. Leading up to that we were almost at a deal where we could've retired. The UIGEA, as it did for everybody, knocked about 80 percent off our value. We sold to PokerStars about six months later."
As a part of the deal, the Napolitano's consulted with PokerStars – which lasted for six years – while Poker School Online was integrated into the PokerStars platform. Nowadays it's known as PokerStars School.
Life on the High Seas
Five years ago, Mark and Tina relocated to Las Vegas with their two kids. It was there that they reconnected with two old friends, Jan Fisher and Linda Johnson, who had advertised CardPlayer Cruises years before on PokerPages.
Given their poker industry experience and business acumen, the Napolitano's were asked if they'd be interested in helping run CardPlayer Cruises. In 2016, they went on some cruises and did a test run of running things for six months. It went well and they were asked if they wanted to buy the company at the end of the year while Fisher and Johnson stayed on as business partners and shareholders. Indeed, they did.
"I'm definitely on the poker side, Tina on the business side," Mark admitted. "We now cruise 6-8 times a year or more. When we're not cruising, we're planning for the next one. For the last three years, we've had very little spare time. It's mainly been about the business and making it into what it is."
Right now, CardPlayer Cruises has a half dozen cruises on their 2020 schedule and more coming in 2021, including their second edition of a RunGood Poker Series (RGPS) cruise. For more information, visit cardplayercruises.com.
Images courtesy of Mark and Tina Napolitano.