Five Easy Hotel Room Bodyweight Exercises You Can Do to Keep Fit!
Table Of Contents
Do you feel like you should hit the gym, but just can't seem to find the time? Or do you want to fit a bite-size workout in around your busy schedule, whether that's grinding online or on the road at another poker festival?
We know how intimidating going to the gym for the first time, so PokerNews has five easy exercises you can do in the comfort of your own hotel room - no equipment necessary!
Jumping Jacks
Before any workout, it's important to get warm and there's no easier way than jumping jacks. Put aside those sports lessons from your schooldays and focus on maintaining the rhythm.
Stand with your feet shoulder-width apart, and your arms by your sides. Jump out with your feet and bring your arms over your head. Reverse the movement as you lower your arms back to your sides.
Bodyweight squats
A bodyweight squat can be performed virtually anywhere, whether you're in the middle of the online grind or having folded under the gun at the live felt.
Again, stand shoulder-width apart and keep your eyes forward. Slowly bend at the knees and lower your hips, keeping your heels flat to the floor. Pause for a moment, before strongly pushing back to your starting position.
Push-Ups
Don't be scared of push-ups! They're an incredibly versatile exercise that when performed correctly help develop strength and definition in the chest, shoulders and arms.
You don't need us to tell you how to do a push-up but start on the floor with your hands slightly wider than shoulder-width. Lift your body up by extending the arms, before lowering the body by bending the arms.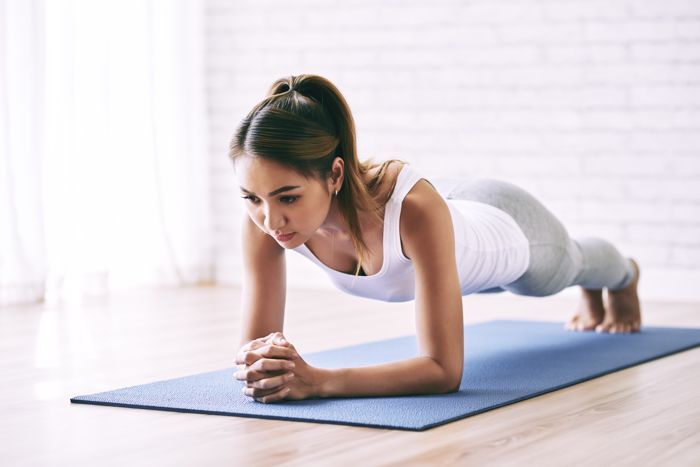 Plank
Forget crunches! The plank is a quick and easy way to build core muscles. Starting from the same position as a push-up, rest your weight on your forearms and lift your hips, ensuring your body forms a straight line from your shoulders down to your heels.
Maintain that hold for as long as possible, perhaps dreaming of winning the Sunday Million on PokerStars or another major tournament.
Lunges
A fundamental exercise for building leg muscles, some may prefer to hold on to a chair whilst lunging for extra stability. This exercise works the quadriceps, calves and hamstrings.
Keeping your abdominal muscles tight, take a long step and bend your front knee until your back knee almost touches the floor (being sure not to let your front knee extend over your front toe). Step back so that your feet are together and repeat on the other leg.