Artan Dedusha Wins the 2020 GUKPT London Main Event; Victoria Coren-Mitchell Fifth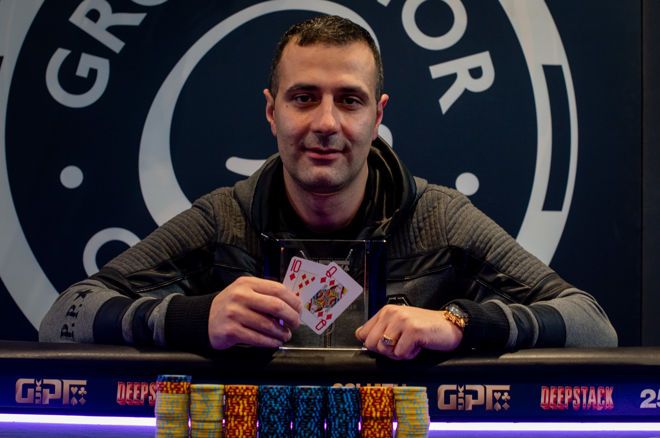 The Grosvenor UK Poker Tour (GUKPT) kicked off its 2020 season in style over the weekend when 379 players piled into The Poker Room at the famous Grosvenor Victoria Casino in the heart of London. These entrants created a mammoth £511,650 prize pool that was shared among the top 34 finishers and it was Artan Dedusha who got his hands on the lion's share of this money, namely a cool £137,430.
2020 GUKPT London Final Table Results
| Place | Player | Prize |
| --- | --- | --- |
| 1 | Artan Dedusha | £137,430 |
| 2 | Ben Winsor | £91,270 |
| 3 | Patrick Brandt | £55,670 |
| 4 | Mo | £35,100 |
| 5 | Vicktoria Coren-Mitchell | £23,570 |
| 6 | Damian Bell | £17,050 |
| 7 | Jack O'Neil | £13,040 |
| 8 | Oliver Bithel | £11,030 |
| 9 | Paul Siddle | £9,030 |
The money bubble burst just after 9:00 p.m. on Saturday's Day 2 and it was Pancios Ellianas who was the unfortunate soul to pop it. Down to 40,000 chips at the 3,000/6,000/6,000a level, Ellianas moved all-in with ace-six and Daniel Harwood called with pocket tens. Those tens held and Ellianas busted in 34th place.
Harwood would eventually bust in 24th place for a £3,510 score.
Jean Chanpan Cheong was the first player to collect some prize money for his efforts. The likes of Rick Trigg (32nd - £3,010), GUKPT regular Yiannis Liperis (29th - £3,010), and Haresh Thakker (23rd - £4,010) followed suit.
Day 2 concluded with 17 players in the hunt for the title and Dedusha in the driving seat being the only player with a seven-figure stack.
Paul Tedeschi was a high profile bust out at the start of Day 3. The talented Frenchman got his chips into the middle with king-queen only to run into the queen held by Patrice Brandt. The queens remained the best hand and Tedeschi crashed out in 14th place for £5,310.
Another elite player fell by the wayside when Phil Souki headed to the cashier's desk with a slip awarding him 13th place money.
The final table was set three hours after Day 3 began. Emrah Cakmak jammed for 11 big blinds with king-ten and Brandt called with ace-queen. Cakmak soared into the lead courtesy of a ten on the flop, but an ace on the river, known as a Greenstein after the legendary Barry Greenstein, sent Cakmak to the showers.
2020 GUKPT London Final Table Chip Counts
| Place | Player | Chips |
| --- | --- | --- |
| 1 | Patrice Brandt | 2,045,000 |
| 2 | Artan Dedusha | 1,225,000 |
| 3 | Damian Bell | 1,120,000 |
| 4 | Ben Winsor | 815,000 |
| 5 | Mo | 740,000 |
| 6 | Victoria Coren-Mitchell | 625,000 |
| 7 | Oliver Bithell | 490,000 |
| 8 | Paul Siddle | 280,000 |
| 9 | Jack O'Neill | 240,000 |
Paul Siddle's appearance at the nine-handed final table was short-lived. He committed 21 big blinds with ace-king only to lose to Ben Winsor's pocket tens. Siddle has recently won the $2,200 partypoker LIVE MILLIONS UK Warm Up for $23,835.
Oliver Bithnall busted in eighth-place and became the first player to collect a five-figure prize. Bithnell was all-in with king-four on a king-high flop for his last seven big blinds but was out-kicked by the king-jack in the hand of Dedusha.
Seventh-place and £13,040 went to Jack O'Neill. He looked down at ace-trey in the small blind and open-shoved for 17.5 big blinds. Unfortunately for O'Neill, Dedusha was dealt pocket sevens in the big blind and he called. The board ran void of drama and the players at the final table gained a little more elbow room.
Then came the demise of Damian Bell in sixth-place. A seven-high flop with two diamonds was enough for Bell to get his stack in with king-jack of diamonds. A player referred to simply as "Mo" called with ace-queen of diamonds. Neither player improved, but Mo didn't need to. Game over for Bell.
Coren-Mitchell Loses Coinflip To Bust
Two-time European Poker Tour Main Event champion Victoria Coren-Mitchell is no stranger to The Poker Room in London and she would have made a very popular GUKPT London champion. It wasn't to be, however, as she lost a crucial coinflip against Dedusha. Coren-Mitchell was all-in with ace-king against Dedusha's pocket threes. The flop gave her an inside straight draw, but the turn and river bricked to send the Only Connect quiz show host to the rail in fifth-place, good for £23,570.
The man with no surname was the next to bust. He lost a huge pot at the hands of Dedusha when his aces were cracked by Dedusha's set of seven. Tha left Mo with nine big blinds and he busted soon after, while Dedusha stacked up 4,200,000 of the 7,500,000 chips in play.
Heads-up was set 20-minutes later when Dedusha sent Brandt into the dark London night. Brandt pushed his 15 big blinds into the middle with ace-eight and lost to the hot-running Dedusha's king-queen. Third-place locked up £55,670 for Brandt.
Dedusha held a massive 6,000,000 to 1,500,000 chip advantage over Winsor going into heads-up and it proved too substantial a gap for Winsor to bridge.
It was a coinflip then brought an end to proceedings. Winsor, who last year became the first player to win two GUKPT Grand Finals, chose pocket fives to jam his last 15 big blinds in with. Dedusha called with queen-ten and the race was on. A ten on the turn proved more than enough for Dediusha to win, which resigned Winsor to the £91,270 consolation prize.
Next up for the GUKPT is a journey north to Manchester from February 23rd. The Main Event here is a £1,110 buy-in affair with £200,000 guaranteed.