Alex Foxen Leads Aussie Millions A$100K Challenge After Turbulent Day 1
Day 1 of the A$100k Challenge at Aussie Millions saw immense action straight from the opening minutes, and that's when Alex Foxen immediately vaulted into the lead. He knocked out Stephen Chidwick to send him to the registrations again, and while Foxen wouldn't hold onto the leading stack for the rest of the day, he still managed to catapult himself back at the top when play halted.
Foxen leads 21 advancing players from a field of 40, having amassed 853,500. Late registration will be open for one more level at the start of Day 2, and while the starting stack will be worth only a little more than 20 big blinds, the heavyweights at Crown Melbourne didn't seem to have a problem jumping in with shallow stacks.
2020 Aussie Millions $100K Challenge - Top 10 Stacks After Day 1
| Place | Player | Country | Chip Count |
| --- | --- | --- | --- |
| 1 | Alex Foxen | United States | 853,500 |
| 2 | Aaron van Blarcum | United States | 824,500 |
| 3 | Stephen Chidwick | United Kingdom | 745,000 |
| 4 | Seth Davies | United States | 646,500 |
| 5 | Sam Grafton | United Kingdom | 635,500 |
| 6 | Junichi Nakanowatari | Japan | 632,000 |
| 7 | Bryn Kenney | United States | 584,000 |
| 8 | Kahle Burns | Australia | 545,000 |
| 9 | Dan Smith | United States | 519,000 |
| 10 | Timothy Adams | Canada | 505,000 |
Chips Flying Around; Chidwick Rebounds
The action was incredibly entertaining—mainly thanks to the 40-minute levels—and the chips were swinging from one side of the table to another practically nonstop. Big pots were more common than small pots and one major win wouldn't guarantee anyone anything. There was no room for errors as the punishment was looming right around the corner. Many players would accumulate a solid stack only to see it vanish in the blink of an eye.
Foxen had not only the best possible start to the day but also a strong finish, dragging a ton of chips off Jorryt van Hoof with kings full during the last level.
Second in chips—only a couple of blinds behind Foxen—is Aaron van Blarcum with 824,500. Van Blarcum's nine-level adventure was as turbulent as it gets, underlining the theme of the dynamic structure on Day 1. Van Blarcum got off to a brilliant start, busting Michael Addamo and Dan Smith early. Then he hit the skids and dropped to a half of the starting stack midway through the day. However, the final stretch saw van Blarcum bounce back, thanks to his encounters with Michael Soyza. Van Blarcum hit two flushes against the Malaysian player and then picked him off to climb back among the top stacks.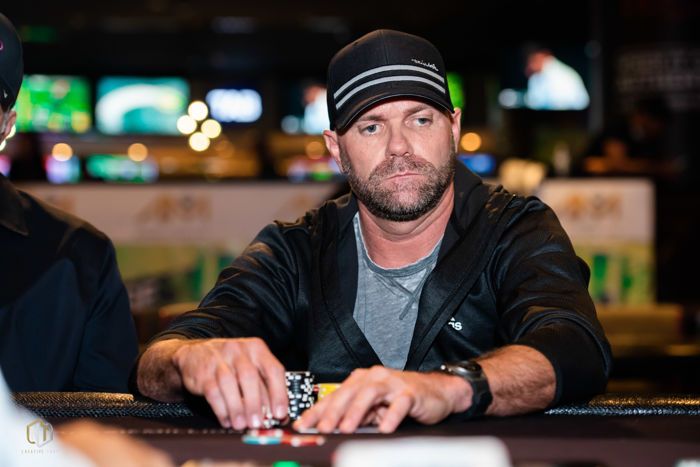 Even Chidwick, who had been the first dismissed player, managed to turn his fortune and report 745,000. He's in third place ahead of Seth Davies who was able to skyrocket through the rankings thanks to a giant double through Orpen Kisacikoglu on one of the final hands of the day.
Such was the character of the opening stage and the likes of Sam Grafton, Junichi Nakanowatari, Bryn Kenney, Kahle Burns, Dan Smith, and Timothy Adams can all be satisfied to navigate through the wild rollercoaster to find a spot in the top 10.
Those who weren't so fortunate included the Greenwood brothers, Rainer Kempe, Elio Fox, and Mikita Badziakouski who haven't made it to the bagging procedures. As noted before, they may still appear tomorrow.
Day 2 should see the action slow down to some degree, with 60-minute levels coming up next. Nonetheless, it will be the final day of the tournament so plenty of dramatic moments lie ahead for those competing at the top-shelf poker scene. Tune to PokerNews at 12:10 p.m. local time to find out who will take down the highest buy-in tournament on the 2020 Aussie Millions schedule.