Poker Industry Veteran Rosilyn "Roz" Jordan Passes Away at 46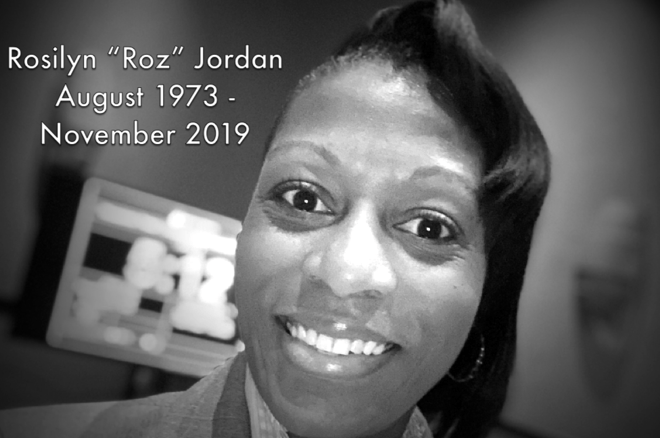 At the end of November, the poker world received the sad news that well-respected industry professional Rosilyn "Roz" Jordan had passed away at the age of 46. A cause of death has not been revealed.
Originally from New Orleans, Louisiana, Jordan was a familiar face on the poker circuit working events around the world, on cruises, and being a staple during the summer series at Planet Hollywood in Las Vegas.
Jordan's employer, Deuces Elite Poker Professionals (DEEP), broke the news on their website:
Roz was an irreplaceable part of DEPP, and we will miss her vast knowledge of both poker and life every single day.

Roz was the kind of person who made those around her better. Roz was smart, kind, thoughtful and damn funny. People who had the good fortune of knowing her all agree that her zeal for life was unparalleled. Roz loved her friends, traveling, days on the beach, animals of all kinds (except maybe geese—you will have to ask Luis and Wayne about that one), a good drink, and her New Orleans Saints.

For the last ten plus years, Roz had been on the road, traveling to different venues in order to bless each Poker Event with her world-class knowledge and skill. She was one of the OG's in every sense of the phrase. In all those years on the road, many of her colleagues were lucky enough to become family. Her passing is reminder to those she left behind that we need to look out for and check in on one another; and most importantly, never take our loved ones for granted.

DEPP would encourage well-wishers to write a note of farewell on a bottle of Tito's, Hennessy or red wine and drink it in her honor and celebration of a life well lived. And if she owed you drink, when you find her in Heaven, we are sure that she will gladly allow you to buy her another!

All whom loved her dearly will never forget her tenacity, wit, charm, grace and undying love and care for them. Roz, you will be greatly missed.
Poker World Reacts
News of Jordan's passing sent shockwaves through the poker community. Many players and industry workers were in disbelief, and once the shock wore off others offered their condolences and shared fond memories of Jordan.
"She could control a room of a thousand with her attitude and smile."
"I'll always remember her smile and how she was respectful to players," Allen Kessler told PokerNews. "One of the few people in the industry that you only heard positive feedback regarding. She was loved throughout the poker community."
Brendan Taylor, who was one of many dealers and floor staff trained by Jordan over the years, wrote the following: "This lady taught me how to deal with humans in the most sincere and professional way. She could control a room of a thousand with her attitude and smile."
Floorman John Hagberg offered: "I feel privileged to have known her, worked with her, shared a meal and drink with her, and called her a friend."
Poker player Jeff Grimes was used to seeing Jordan at Heartland Poker Tour (HPT) stops: "Damn, damn, damn. One of the good ones in the game. Loved Roz and the professionalism she brought every day."
HPT tournament director Jeremy Smith had this to say: "Roz was such a hard worker and never complained about anything. Roz went above and beyond with everyone she worked with. You will be greatly missed."
Veteran poker media member Dan Ross, who worked countless events with Jordan, wrote the following: "There's just no words .... damn ... I had so much fun working with Roz, the jokes, the professionalism ... and the occasional glass of wine when a flight wrapped up. My best to her family, and the entire team."
PokerNews joins the multitudes in offering their condolences to Roz's family. The poker world is less without her.