Jan 'TheFan83' Veit's Road to Legend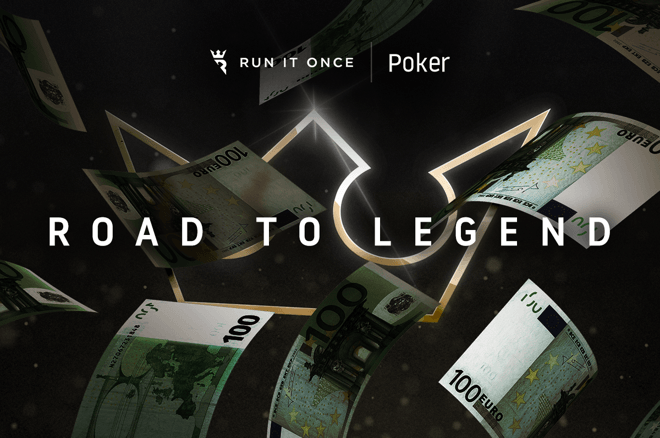 Table Of Contents
Like your average poker player, a normal day for Jan Veit aka 'TheFan83' starts with a not-so-early rise from his slumber around 11:00 am. He generally follows that with some off the table work until his girlfriend gets home, some one-on-one time for a few hours, and then a mix of tournaments and cash games until 2:00-3:00 am to end the day.
The week of November 25th shook that routine up with the launch of Run It Once Poker's new Legends reward program though.
Never having been one to back down from grind-related challenges, he quickly set his eyes on the top level of the rewards program and wanted to be the first to get there.
A New Online Challenge
"I found myself waking up at 7am," Jan recounted. "And the first thing I found myself wanting to do was to get those legend points up, so I did! It was very motivating, especially because I like new things where everybody gets a fresh start.'
Grinding all the way up to the top tier took him less than three days to complete and by the end of the week he had racked up Legends rewards of over €2,000. As if playing that many hands in that short amount of time wasn't tough enough, Jan casually accomplished the feet while streaming the majority of his hands and interacting with an audience on his Twitch channel.
How did Jan get to a point where he could make a volume challenge like this look relatively easy? Spoiler, it takes practice. He has been playing poker since all the way back in 2006. 2006, as a reminder, is only 3 years removed from when Chris Moneymaker won the Main Event and is closer to the 1998 Planet Poker launch of online poker than it is to current day.
Back in the old days of poker, he used to play 100NL cash games before winning a $0.50 qualifier to EPT Monte Carlo that he parlayed into a 14th place finish for $50,000. From there, he was off to the races, quickly moving up to $1k NL where he became one of the biggest winners on Pokerstars in 2007 and 2008.
The Comeback Kid
In 2009, he completed one of the toughest volume challenges in poker, the now-defunct Supernova Elite program on Pokerstars. Shortly after that, he took some time away from poker to focus on school, earning himself a masters degree in computer science.
Like all good stories though, this one features a comeback. By 2016, he realized that he missed the game. He soon got back on the felt, shook off the rust, and by the time Run It Once Poker launched, he was ready to focus the majority of his cash game volume there, instantly becoming one of Run It Once Poker's most recognizable streamers.
By the time that he came back to poker, streaming video games and even poker itself had become fairly popular on platforms such as Twitch and YouTube. Though Jan mostly watched non-poker streamers like nl_Kripp and Quin69, he admired their work ethic and thought to himself, "I am playing 8 hours+ a day anyway, I might as well stream it". So stream he did. Over the years, he has amassed an impressive resumé of streaming highlights, having previously won Pokerstars' Sunday Million on stream and hitting the front page of Twitch during the Run It Once Charity Stream.
"The Golden Level"
His most recent streaming highlight though, came on November 28th, with the majority of the Run It Once Poker team huddled around a much-too-small for the occasion monitor, waiting for him to hit the top level of a rewards program that had launched only days earlier. "Ohhhh and the golden level. I love the colouring on the whole Legend program, it's legendary!" he exclaimed as he collected the final 7 points of the 90,000 required to officially earn the golden crown that comes with hitting Legend status for a week.
What drew Jan to start playing on Run It Once Poker in the first place? It was initially due to the low rake, a factor that has always been on his mind, even as far back as those 2006 days when he first started playing. Low rake by itself doesn't change poker players' habits though. He quickly fell in love with the software saying "It was fun to play, which is rarely the case for me. Usually, I hate any poker software that I'm not used to. " Active in the games since the February 6th launch, he quickly became one of Run It Once's most popular streamers as a member of their streamR program, joining other mainstays like NutRaisin and Andreas Froehli.
Streaming didn't always come easy to Jan though. Like many online poker players, he used to be quiet and hated public speaking but decided to read up on the subject which "sparked some interest in trying new things, and then before I knew it, I didn't mind it at all and eventually started streaming for fun."
Streaming Advice
Asked what advice he would give people thinking about streaming, "Nowadays, to get viewers, you probably want to be really good or unique in whatever you are streaming, so focus on that," Jan explained. "Other than that, don't worry too much, just show up, start streaming, and figure things out later."
As far as his plans after poker, Jan is open to a variety of paths. "My goal is to make enough money to feed my family and me until I am old without the help of the government. After that, I would like to follow my interests, whatever they might be at the time, because I feel most efficient when I am doing something I really want to do. I can see myself being a basketball coach, VR programmer, or still just playing more poker. We will see, things change."
One thing we know for sure, Jan will keep finding new ways to challenge himself, both on and off the table.
You can watch Jan play on his Twitch channel here.
Check out Run It Once Poker's new Legends reward program here to find out how you can get more rakeback than ever while still enjoying Splash The Pot.