Grosvenor UK Poker Tour Announces Schedule For 2020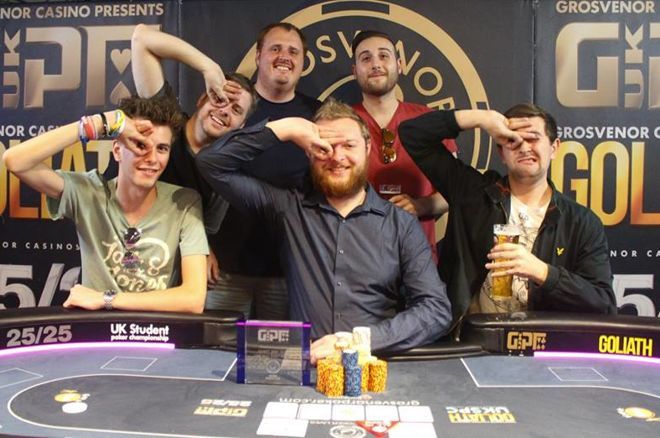 Table Of Contents
The Grosvenor UK Poker Tour (GUKPT) heads into its 14th season when 2020 kicks off and it looks like another action-packed season is on the cards.
GUKPT has unveiled the dates for the 2020 season and you're in for a treat if you though last season's schedule was perfect because it is more of the same from the guys at Grosvenor.
The 2020 schedule is almost a perfect match for 2019's with the only difference being the Luton and London legs have switched around. Last year, the GUKPT travelled to Luton on the fourth leg and then onto London for Leg 5. In 2020, London is the fourth leg with Luton taking place at a slightly later date.
You also need to pencil in July 29th through August 9th if you want to get involved in the massive Goliath event. No details, apart from the dates, have been announced, but we would expect at least a £500,000 guarantee for a small buy-in based on previous events.
Lee Reynolds triumphed in the 2019 Goliath after outlasting a record-breaking field of 7,583 opponents. Reynolds walked away with £64,61 after a five-handed deal involving Tom Jones, Cristian Tamas, Derek Borwick, and Christopher Bartlett. You can check out a recap of the 2019 Goliath action here.
2020 GUKPT Schedule
| Leg | Dates | Venue |
| --- | --- | --- |
| Leg 1: London | Jan. 23 to Feb. 2 | The Poker Room, Grosvenor Casino Victoria |
| Leg 2: Manchester | Feb. 23 to Mar. 1 | Grosvenor Casino Bury New Road |
| Leg 3: Edinburgh | Mar. 22-29 | Grosvenor Casino Edinburgh |
| Leg 4: London | May 17-24 | The Poker Room, Grosvenor Casio Victoria |
| Leg 5: Luton | Jul. 5-12 | Grosvenor Casino Luton |
| Leg 6: Leeds | Sep. 6-13 | Grosvenor Casino Westgate |
| Leg 7: Luton | Oct. 4-11 | Grosvenor Casino Luton |
| Leg 8: Blackpool | Nov. 1-8 | Grosvenor Casino Blackpool |
| Leg 9: London | Nov. 21 to Dec. 6 | The Poker Room, Grosvenor Casino Victoria |
GUKPT Season 13 Main Event Results
The 13th GUKPT season was highly successful with all eight Main Events, and the Grand Final, surpassing their guarantees. There's definitely still a demand for mid-stakes live poker tournaments with solid structures in the United Kingdom and the players came out to support the tour.
An anonymous player took down the opening event in London and walked away with £100,000. How they'll cash the cheque with "Anon" written on the front is anyone's guess.
Other 2019 GUKPT champions included Bernar Maregedze who won in Manchester, Nathan Slater, Chris Louch, Cheuk Lee, and Brett Angell who was the Leeds champion. Vikrum Mehta and Matt Eardley were victorious in Luton and Blackpool respectively.
Ben Winsor enjoyed the most impressive result on the 13th edition of the GUKPT. Winsor won the £2,650 Grand Final Main Event to pad his bankroll with £188,610 this becoming the tour's first-ever double winner of the Grand Final. No doubt he'll be going for the hat-trick in 2020.
| | | | | | |
| --- | --- | --- | --- | --- | --- |
| *Leg | Event | Buy-in | Entrants | Champion | Prize |
| 1 | London | £1,100 | 467 | Anonymous | £100,000 |
| 2 | Manchester | £1,100 | 302 | Bernar Maregedze | £69,470 |
| 3 | Edinburgh | £560 | 319 | £151,410 | Nathan Slater |
| 4 | Luton | £560 | 382 | £187,200 | Chris Louch |
| 5 | London | £560 | 488 | £239,150 | Cheuk Lee |
| 6 | Leeds | £560 | 382 | £187,295 | Brett Angell |
| 7 | Luton | £1,100 | 307 | £300,860 | Vikrum Mehta |
| 8 | Blackpool | £1,100 | 367 | £367,000 | Matt Eardley |
| 9 | Grand Final | £2,650 | 273 | £668,850 | Ben Winsor |