[REVIEW] Learn Game Theory Optimal Poker with 'Simple GTO Trainer'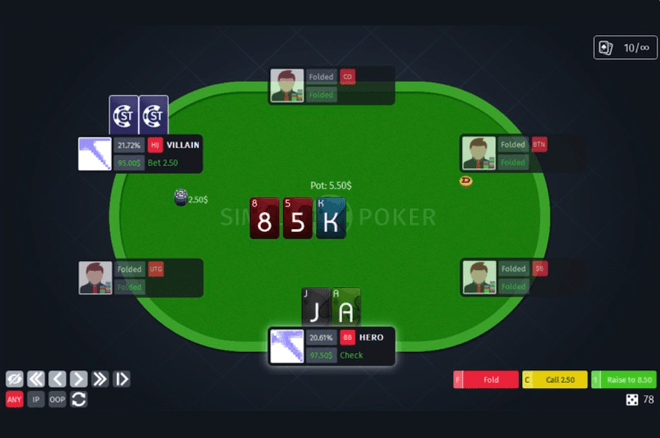 By now we've all heard a lot about "game theory optimal" poker and its impact on the development of poker strategy, generally speaking. For a good while the use of "solvers" and other applications of GTO strategy was mostly confined to a small group of expert professionals, many playing for the highest stakes. That's starting to change, however, as others have begun to provide more accessible means to learn what GTO poker is and how it can apply to various approaches to the game.
Along those lines, Simple Poker has created an especially useful program called Simple GTO Trainer that provides a great hands-on learning tool for players of all backgrounds to teach themselves the ins and outs of GTO strategy. Simple GTO Trainer is indeed a product that can be useful for beginner poker players and provide a primary working tool for advanced regular players.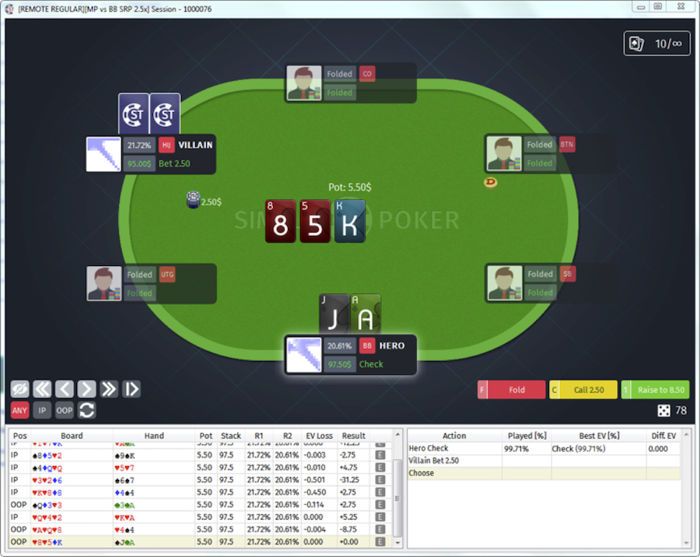 Background to Simple GTO Trainer
Simple Poker was first created in 2012 and since then has created a number of popular and useful tools in the poker software market, in particular gaining a strong reputation in Russian-speaking countries where poker's popularity has been booming over recent years. The company has produced a wide selection of advanced programs for calculating, analyzing, and studying optimal strategies in poker, with the Simple GTO Trainer having emerged as one of its most successful programs.
Simple GTO Trainer was introduced in early 2017 as the first software program to give users the ability to play against a GTO AI as a training tool based on calculated solutions from the solver. Since its introduction the program has gained many fans, with its intuitive and easy-to-use interface making it great both for players of all experience levels.
Below we'll explain just what Simple GTO Trainer is and provide some additional details about the functionality of the program.
What is Simple GTO Trainer?
In modern poker, knowledge of the basics of equilibrium strategies is necessary in order to be successful. Playing poker in a GTO style makes you unexploitable and ensures that mistakes made by your opponents will bring you additional EV. In fact, having a knowledge of GTO strategy can be thought of as fundamental to success in poker, especially for those competing at the highest levels.
The software for calculating optimal poker strategies has evolved significantly over recent years. The development of increased computing power has made it possible to develop software that can quickly calculate optimal strategies even in complex and difficult situations with many variables that often occur by no-limit hold'em.
The main idea of the Simple GTO Trainer program is to provide users a way to train in different modes based on solutions calculated in solvers, enabling them to increase their familiarity with GTO-style poker by playing and adding to their knowledge as they go.
The program analyzes in real time your actions during the training regarding the optimal strategies, reports errors, and shows the losses that the player suffers due to errors. By analyzing those training sessions, the player can then plug leaks and eliminate his mistakes.
Regular training in Simple GTO Trainer allows you to gradually reduce the number of errors made and on an intuitive level to memorize the game according to optimal strategies.
Program Functionality
We've discovered the fastest and easiest way to get started with the program is to purchase a ready-made pack of trainings compiled by professional players and game theory specialists. Simple GTO Trainer currently makes available training packs for various poker formats, including 6-max. cash games, heads-up cash, Spin & Gos, and multi-table tournaments, and is gradually adding new training packs as well.
In fact, training is also available for all major poker disciplines, and in fact a "test training" pack on pot-limit Omaha is available to all users. The PLO training was created using calculations from Simple Omaha Solver, the Omaha postflop solver on the market that performs calculations without abstractions.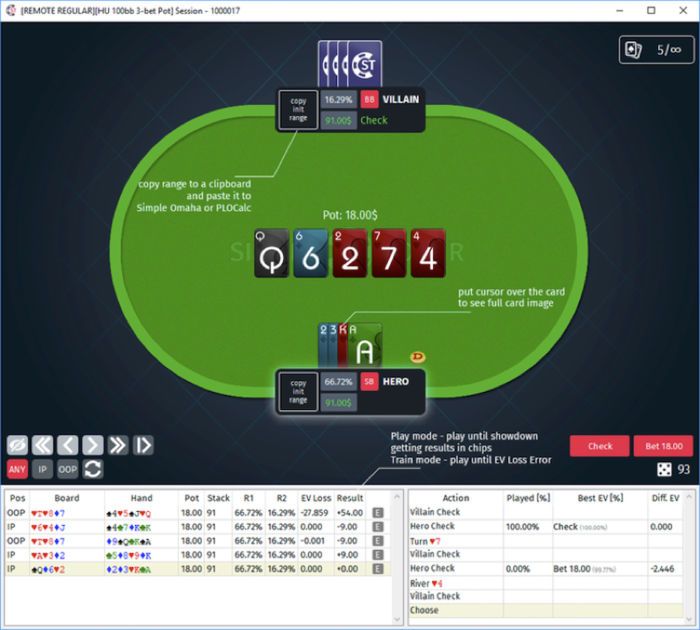 Trainings
There are two different formats of trainings in the packs that come with Simple GTO Trainer — "regular" and "drill."
"Regular"
"Regular" training is actually a game format training in which the opponent plays strictly according to the GTO decision while the user gets to select between proposed actions while playing against it. The program then compares the our decisions with GTO strategy and informs us about our mistakes in real time.
These "Regular" trainings in preconfigured training packs come in two different modes — "Play" and "Train." The difference in the modes is that in the "Train" mode we continue playing the hand until significant mistake is made, while in the "Play" mode we get to keep playing hands out while keeping track of the chips won. Each played hand can then be analyzed using the easy-to-use "Evaluate" analysis interface.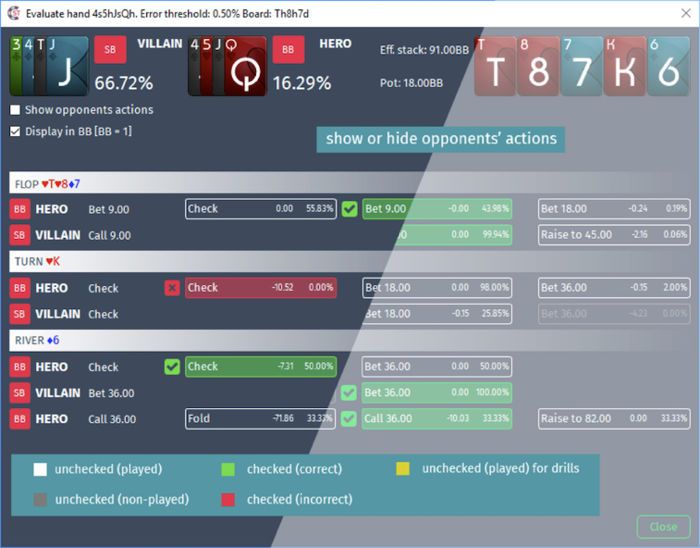 There is also the possibility to replay the hand to help go over decisions and mistakes made.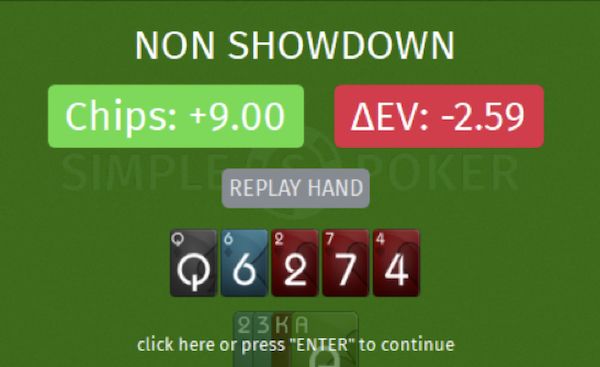 "Drill"
"Drill" training gives users a way to practice some specific action in a specific, often-faced situation. For example, you can train specifically how to defend against continuation bets on the flop. In "drill" training, when we make our decisions in hands we are made to indicate with what frequencies we should play each action according to the GTO strategy — yet another ingenious way of helping "drill" into our minds how such percentages should break down as dictated by a GTO style.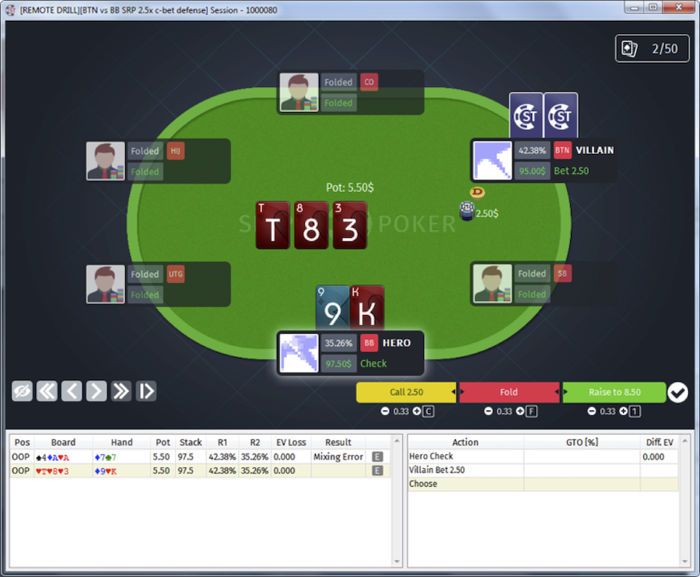 This is a great tool for those who are just getting introduced to game theory optimal poker. More advanced players will likely want to go beyond the preconfigured training packs included in the basic program — e.g., they might want to train themselves in other spots or to experiment with different bet sizings and ranges.
Such players can purchase a PRO license which makes it possible to create customized "regular" and "drill" trainings that are again based on calculated solutions in the solver. To work with the PRO version, the user will obtain a license for the solver as it integrates with the trainer to perform dynamic calculations during training.
Conclusion
Regular practice with Simple GTO Trainer can genuinely help players of all levels take their games to new levels and help them eliminate all sorts of egregious errors and leaks. The way the program allows the user to track statistics for each training session is also very helpful, and can be satisfying, too, in the way it helps us visually see progress being made.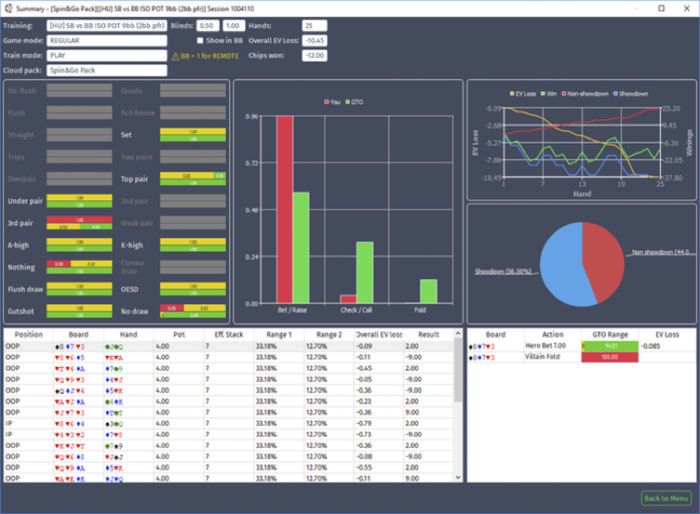 Simple Poker is also constantly working to develop Simple GTO Trainer further to improve the program, with updates and news provided on the Simple Poker website where one can access all of their useful programs for poker players.
Those looking for an elegant and intuitive way to learn GTO strategy on their own should certainly consider giving Simple GTO Trainer a try.