Philanthropist Lance Funston Looks to Put the Fun Back in Poker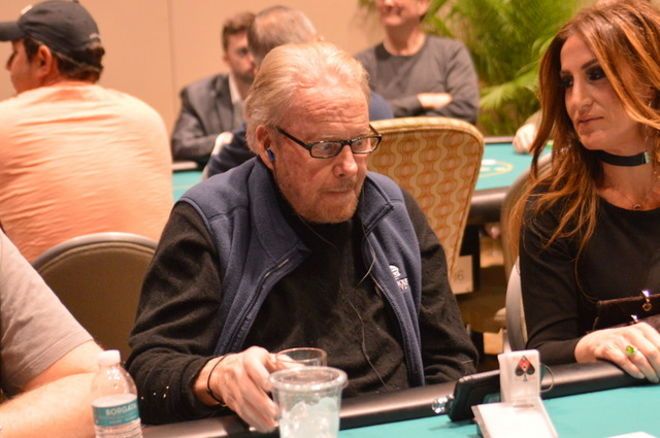 If you play many charity poker events there's a good chance you've rubbed elbows with Lance T. Funston. What you might not know is that he's a noted businessman and philanthropist.
Funston, who graduated from the University of Houston in 1967 and later attended Harvard business school, serves as CEO for both Core Care America (CCA) and Ultimark Products (he founded the latter in 2000). In 1993, he founded TelAmerica Media, and before that he founded a merchant banking firm that acquired over $500 million in corporate properties in the 1980's.
A successful investor and businessman, Funston also has a passion for both poker and charity.
How a Businessman Found Poker
"I think ESPN told the story best," Funston told PokerNews when asked how he learned poker, which he came to later in life. "A friend of mine, Brian Haverson, who was at the time playing a lot, was a guy I identified as someone I wanted to run one of my companies. I said, 'Brian, you don't have a real job, come run one of my companies.' He responded: 'You don't think poker is a real job? Come with me to the World Series.'"
"Everyone was curious how someone who didn't know poker could get the chip lead."
Funston took him up on it and in 2005 went to the WSOP for the first time. He observed Haverson for a bit, and then without having ever played the game before, he plunked down $10,000 to fire the WSOP Main Event.
"I called him up and he said just play aces, ace-king, or a pair bigger than jacks, that's it," said Funston. "Needless to say, I didn't even last the first day."
Even so, the hook was set and he continued to play poker while taking lessons from Haverson.
"I go to his house the night before a big tournament just to make sure I get a 30-minute lesson," Funston said of another tournament. "I did pretty well. At the end of the first day we're riding back to his house and he's looking on PokerNews. He told me, 'You have the chip lead.' Everyone was curious how someone who didn't know poker could get the chip lead. It was nothing more or less than using the investment practices I use in my business. What do I have to invest, what's my expected return based on the probability I'll get the cards I need."
He added: "I did learn the hard way not to go in with one of those hands based on an investment basis with multiple people in the hand. So, I try not to enter a hand unless I'm going to raise. There was a Harvard Review article that said, 'I put the fun in Funston.'"
Love for Charity Events
Like many businessmen, Funston doesn't get to play as often as he likes and has watched the game change considerably over the years. Nowadays, he doesn't find tournaments as fun as he did back in 2005. For him, players are too robotic and simply put it's not fun anymore.
"I think it comes from years ago. We wanted the game to be considered a sport. In the process it wound up becoming way too serious. It stopped being fun for me. If you look back at my 2005 performance, not knowing anything about what I should do, I became one of the most unpredictable players in the game. Every time somebody would say that they were the best player I'd wind up asking, 'Don't the cards play a role?' I think they do, and it's fun to let them play their role."
Things becoming stale isn't really a problem in charity poker tournaments, which is why Funston has developed an affinity for them.
"In charity tournaments I know it's going for a good cause, I'm happy to put the money in."
"They're principally different than standard poker," he said. "I keep asking the pros, I have a lot of good friends who are professionals, what I should do. They say don't show your cards, only play premium hands, keep a legitimate range based upon position and chip stacks. Well screw that, I'm sorry, that's no fun. I guess I'm blessed with the financial resources that permit me in cash games to buy more chips or in charity events to rebuy."
Indeed, charity events allow Funston to play his preferred style, which is pretty much any two cards.
"I really have only 38 hands that I'll limp," he said with a smile. "In charity tournaments I know it's going for a good cause, I'm happy to put the money in. Cash games are similar except if I sense the player is going to be hurt by my play, I never really shove a hand when I think I have the nuts. If a player looks to me like he's concerned about how much money he has on the table, I usually won't try to bust him."
Funston has had his fair share of success in charity events having won the Save the Mind Foundation event nine out of 10 years, even beating Men "The Master" Nguyen heads-up once. That resulted in a friendship that saw Funston partner with Nguyen for charity expeditions in Vietnam.
More recently in February of this year, Funston participated in the Charity Series of Poker (CSOP) tournament at the Borgata Winter Poker Open where he received a trophy and $1,000 bonus (which he donated to the charity) for most rebuys.
"I have the distinction of having the trophy that was awarded in Borgata in Atlantic City for the most rebuys," Funston stated. "They kept track of it. I've got a big trophy and I'm very proud of it."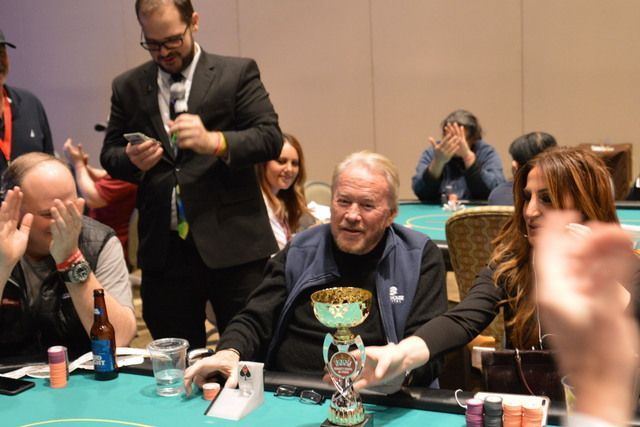 Playing with the Pros
Given his love of the game and deep pockets, it's no surprise Funston has rubbed elbows with some of poker's biggest names. In fact, many of them have traveled to his home in the south of France to play in his home game.
"Gus Hansen was at my house and gave me a little tutorial on suited connectors," Funston said. "We ran several hands and he proved to me you're not getting a flush nor straight 60% of the time. I only win two hands out of ten."
He's also squared off against Phil Hellmuth in a tournament before and acquired the wrath of the "Poker Brat."
"Hellmuth and I were in a battle at a tournament and I sensed that he was overvaluing his hand, so I called," Funston recalled. "He three times the bet and I call. He six x's on the turn and I call. There's junk on the table, no straights and no flushes, nothing for me. I have a king high. I kept going at him. He was firing like he had pocket aces, but he didn't have shit. When I called the final bet, he showed his hand in disgust and my king high won. The table went crazy."
"It's a great game and I hope that people remember it's a game at some point."
When playing with the pros, Funston is also known for tossing chum into the water so to speak.
"One time each night I'm in dark, I don't look at my cards," he explained. "I announce to everybody that I'll call a reasonable raise without looking. The only time it's backfired was in Macau at The Venetian. Everybody was coming after me, they got it in, I called, and I turned over an ace followed by another ace. The players were upset and said to kick me out. Honest to god I didn't look."
Funston is the first to admit that even a blind squirrel finds a nut every now and then.
For Funston, poker isn't about the money, it's about having fun.
"It's really a matter of do you want to grind small pots, good hands, and a narrow range, or do you want to win with that sleeper that nobody expects," he concluded. "It's a great game and I hope that people remember it's a game at some point."
For more on Funston, check out this highlight video of some of his biggest TV poker hands: