More than 135 King's Resort Players Won Free Seats to the WSOP Europe Main Event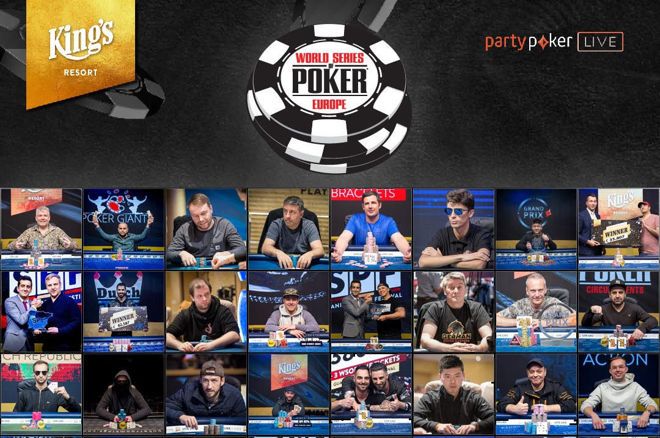 The World Series of Poker Europe (WSOPE) is just days away at King's Resort, located on the German border in Rozvadov, Czech Republic, on Oct. 13 to Nov. 4. The festival will award fifteen gold bracelets and at least €23 million in guaranteed prizes.
Many big names have confirmed they will be in attendance, including 2019 WSOP Main Event Champion Hossein Ensan, fifteen-time bracelet winner Phil Hellmuth, ten-time bracelet winner Phil Ivey, and six-time bracelet winner Daniel Negreanu.
Negreanu heads to Rozvadov in third place in the 2019 WSOP Player of the Year just behind two-time bracelet winner Robert Campbell and four-time bracelet winner Shaun Deeb. Two-time bracelet winner Phillip Hui and six-time bracelet winner and 2017 WSOP Player of the Year Chris Ferguson also hope for significant results in the WSOPE for a chance at this prestigious award.
These players will be joined by many others, including players winning a WSOPE Main Event seat from King's Resort and qualifying to the event via partypoker.
At Least 135 WSOPE Main Event Winners From King's Resort
The highlight of the WSOPE is easily the €5 million guaranteed WSOP Europe €10,350 Main Event on Oct. 25-31.
Numerous players have already secured their ticket to the Main Event! Throughout the year, winning or in some cases finishing in the money in thirty big events held at King's Resort this year netted them their entrance. The amount of value is staggering, with 117 players winning a free seat to this colossal event heading into the WSOP Circuit Fall Edition currently ongoing at King's Resort. Another eighteen seats will be awarded by the time the WSOP Circuit concludes, bringing the total to 135 players securing free seats.
Of course, this is just the start as King's Resort has been hosting WSOP Europe Main Event qualifiers starting at just €100, with many more to take place throughout the WSOP Europe festival.
Dozens More From partypoker
Many more players have secured their WSOP Europe Main Event tickets online at partypoker with satellites still taking place.
partypoker is hosting a $1,050 satellite every Sunday at 8 p.m. CEST that guarantees at least ten players a seat to the WSOP Main Event.
This might still prove to be a hefty price tag for some to qualify into the Main Event. The good news is that partypoker is hosting $109 Semi-Final phased tournaments feeding into the big Sunday satellite. And, as expected, there are $11 and $22 qualifiers into the $109 event, meaning a player can compete in the WSOPE Main Event for just $11.
partypoker is also hosting a promotion where the first hundred players to buy into the WSOP Europe Main Event Day 1a will automatically receive €1,000 in their partypoker account for expenses.
2019 World Series of Poker Europe Schedule
The PokerNews Live Reporting Team will be on hand to cover all 15 bracelet events. Here is a look at the schedule and see you in RozVegas!
| Date | Time | Event Number | Tournament | Guarantee |
| --- | --- | --- | --- | --- |
| Oct. 13 | 6 p.m. | 1 | €350 Opener No-Limit Hold'em A | €220,700 |
| Oct. 14 | 4 p.m. | 2 | €550 Pot-Limit Omaha (Eight-Handed) A | €100,000 |
| | 6 p.m. | 1 | €350 Opener No-Limit Hold'em B | €220,700 |
| Oct. 15 | 4 p.m. | 2 | €550 Pot-Limit Omaha (Eight-Handed) B | €100,000 |
| Oct. 16 | 2 p.m. | 3 | €1,350 Mini Main Event No-Limit Hold'em A | €551,750 |
| | 3 p.m. | 4 | €250,000 Super High Roller No-Limit Hold'em | €5,000,000 |
| Oct. 17 | 2 p.m. | 3 | €1,350 Mini Main Event No-Limit Hold'em B | €551,750 |
| Oct. 17 | 4 p.m. | 5 | €2,500 8-Game Mix | €250,000 |
| Oct. 18 | 2 p.m. | 3 | €1,350 Mini Main Event No-Limit Hold'em C | €551,750 |
| | 4 p.m. | 6 | €25,500 Short Deck High Roller | €2,500,000 |
| Oct. 19 | 4 p.m. | 7 | €1,100 Turbo Bounty Hunter No-Limit Hold'em | €200,000 |
| Oct. 20 | 3 p.m. | 8 | €25,500 Platinum High Roller No-Limit Hold'em | €1,000,000 |
| | 4 p.m. | 9 | €1,650 PLO/NLHE Mix | €200,000 |
| Oct. 21 | 4 p.m. | 10 | €25,500 Mixed Games Championship | €1,000,000 |
| Oct. 22 | 2 p.m. | 11 | €2,200 Pot-Limit Omaha | €200,000 |
| Oct. 23 | 2 p.m. | 12 | €100,000 Diamond High Roller No-Limit Hold'em | €5,000,000 |
| Oct. 24 | 4 p.m. | 13 | €2,500 Short Deck | €250,000 |
| Oct. 25 | 12 p.m. | 14 | €10,350 Main Event A | €5,000,000 |
| Oct. 26 | 12 p.m. | 14 | €10,350 Main Event B | €5,000,000 |
| Oct. 28 | 6 p.m. | 15 | €550 Colossus No-Limit Hold'em A | €1,000,000 |
| Oct. 29 | 6 p.m. | 15 | €550 Colossus No-Limit Hold'em B | €1,000,000 |
| Oct. 30 | 6 p.m. | 15 | €550 Colossus No-Limit Hold'em C | €1,000,000 |
| Oct. 31 | 12 p.m. | 15 | €550 Colossus No-Limit Hold'em D | €1,000,000 |
| Oct. 31 | 6 p.m. | 15 | €550 Colossus No-Limit Hold'em E | €1,000,000 |
| Nov. 1 | 12 p.m. | 15 | €550 Colossus No-Limit Hold'em F | €1,000,000 |
| Nov. 1 | 6 p.m. | 15 | €550 Colossus No-Limit Hold'em G | €1,000,000 |
| Nov. 2 | 12 p.m. | 15 | €550 Colossus No-Limit Hold'em H | €1,000,000 |
| Nov. 2 | 6 p.m. | 15 | €550 Colossus No-Limit Hold'em I | €1,000,000 |