Jeff Gross Brings Flow Show to PokerNews Podcast Network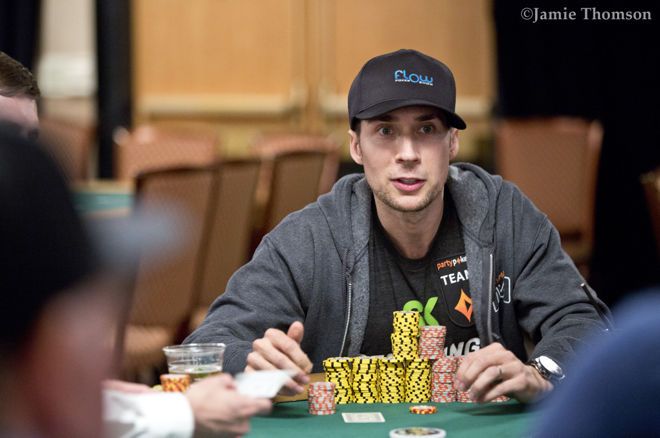 Jeff Gross has carved out a unique reputation in the poker world as a man who wears many hats. Poker player, blogger, streamer, entrepreneur, "professional best friend," and also — podcaster.
It's the latter role that brings Gross to the PokerNews Podcast Network, carrying his Poker Flow Show with him. PokerNews readers can now add another pod to their listen-list as Gross uses his extensive network to bring several interesting guests from poker and beyond.
He's already released over 30 podcasts across his YouTube channel, Podbean, Spotify, iTunes and Google Play. His first pod guest was "BenCB" of Raise Your Edge back in December 2018, a good indication of the high-quality guests you can expect on his show going forward.
Keeping Busy
The Michigan native with over $3.2 million in live tournament earnings was one of many popular streamers who parted ways with PokerStars in early 2019, later joining partypoker's Team Online. Reflecting on his decade-plus in the poker industry, Gross has plenty to be proud of.
"My biggest accomplishments are building a Twitch channel from scratch to close to 60,000 [subscribers] as well as a successful YouTube channel and getting my dream job at partypoker.
"I am really proud about being one of the primary shareholders of StakeKings and how much the site has grown over the last few years."
"To me poker is life and you can apply many life skills from poker and vice versa."
Gross is known for his high energy and passion in poker and in content creation, and even with a new home in South Florida and a six-month-old baby in tow he doesn't plan to slow down any time soon.
"Some upcoming goals are to get back into a consistent rhythm on Twitch. It has been a crazy year with a new job, new house, and my wife Emilia and my first child (Joseph) being born. Everything is in order for the most part so I'm ready to turn it up and fire on all cylinders."
While his podcast will focus largely on poker and guests from the poker world, Gross sees value in branching out to a variety of industries and plans to do plenty of that.
"I love poker and always will but I don't want to be pigeon-holed to one space," Gross explained to PokerNews. "I enjoy connecting with people in all industries. Although it will be primarily poker, there will be athletes, celebrities and business gurus mixed in. Already I have had some interesting non-poker guests and hope to have a nice mix. I believe this is important to have non-poker guests because to me poker is life and you can apply many life skills from poker and vice versa."
Fellow podcasters Gross has drawn inspiration from include Joey Ingram and Lewis Howes. With so many poker podcasts out there nowadays, he believes his Flow Show offers something unique that can have a far reach for listeners of a wide variety of interests.
"I am really looking to fill the niche on showcasing people's journey and path to what has had them be successful in whatever craft they have chosen — poker players and others," Gross said. "I love the saying 'find a job you love and you will never have to work a day in your life.' I want to speak to people who love what they do and find a way to the top of their industry passionately."
Upcoming Podcasts
Asked why listeners should check out his upcoming episodes, Gross had this to say:
"People should tune in because I bring the energy always and have relationships with lots of these people which gives a unique vibe to the conversation."
He plans to release podcasts weekly and has many exciting guests in the queue. Among those planned for the near future are Patrick Antonius, Matt Staples as well as the return of Bill Perkins.
You can check out the Poker Flow Show on the PokerNews Podcast Network once episodes are released.
Follow Gross on his social media channels listed below: