$75K Score for Rob Tinnion in Bounty Builder Series Main Event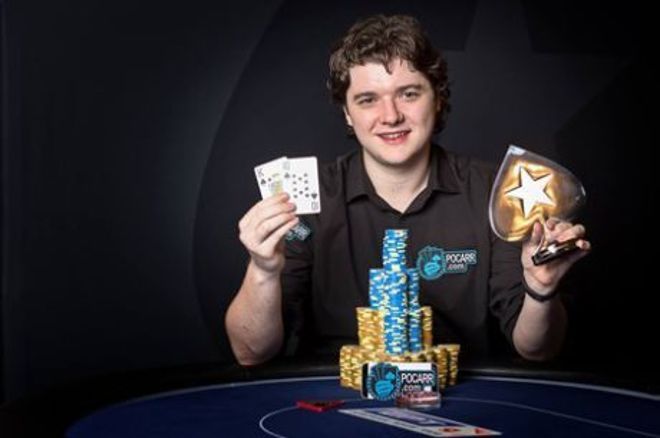 Rob "robtinnion" Tinnion is no stranger when it comes to large field online poker tournaments. The british star thrives in situations where he has to battle his way through thousands of players.
Tinnion has won the PokerStars Sunday Million not once but twice in his illustrious career. He topped a field of 7,133 entries in the August 31st edition of the Sunday Million in 2014 and scooped $213,994. Less than six months later, Tinnion came out on top of a 6,579-strong field to win his second Sunday Million title and another $200,136.
In the earlier hours of this morning, it looked likely Tinnion was going to repeat his heroics in the Bounty Builder Series 173: $530 NLHE 8-Max Main Event as he'd navigated his way through the majority of the 5,573 entrants and reached the final table.
Sebastian "p0cket00" Sikorski of Canada burst the final table bubble as he crashed out in ninth-place. Germany's "SwalzB" was the first final table player to bust and they were joined on the raise by "DissForYou" of Russia. Greece's "gorgona66ret" then fell by the wayside in sixth-place before Matas "bebaimis777" Cimbolas ran out of steam and saw his tournament end in a fifth-place exit.
Tinnion was now only three eliminations away from another epic victory, but it all went wrong for him. His luck ran out and he had to make do with fourth-place this time around, banking $68,456 from the main prize pool and an additional $7,109 worth of bounty payments.
The final three players all walked away with six-figure prizes. Andorra's "Aina_0818" was the third-place finisher with "ImBluemagic" of Mexico being the final elimination of the tournament. This left China's "vesaaaa_1" to be crowned champion, an accolade that came with a total prize weighing in at a monster-sized $319,872.
Bounty Builder Series 173: $530 NLHE 8-Max Main Event Final Table Results
| Place | Player | Country | Prize | Bounties | Total Prize |
| --- | --- | --- | --- | --- | --- |
| 1 | vesaaaa_1 | China | $198,082 | $121,790 | $319,872 |
| 2 | ImBluemagic | Mexico | $139,004 | $15,928 | $154,932 |
| 3 | Aina_0818 | Andorra | $97,548 | $12,926 | $110,474 |
| 4 | Rob "robtinnion" Tinnion | United Kingdom | $68,456 | $7,109 | $75,565 |
| 5 | Matas "bebaimis777" Cimbolas | Lithuania | $48,040 | $17,002 | $65,042 |
| 6 | gorgona66ret | Greece | $33,713 | $26,322 | $60,035 |
| 7 | DissForYou | Russia | $23,658 | $15,933 | $39,591 |
| 8 | SwalzB | Germany | $16,603 | $4,564 | $21,167 |