Sixteen Players Chop $294K in WPT Side Event at Live! Casino & Hotel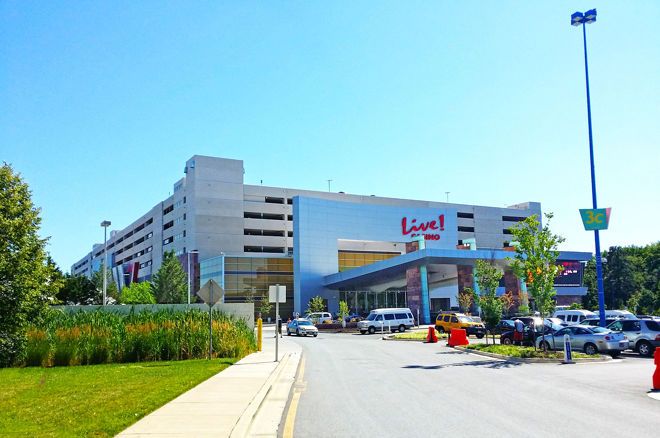 Take a glance through poker Twitter, and it will quickly become clear that it can be hard to get two poker players to agree on something, much less 16. That's why anyone browsing through recent tournament results had to do a double-take upon seeing what happened in the $360 No-Limit Hold'em Multi-Flight at Live! Casino & Hotel in Maryland.
"It's their money; they can do whatever they want with it."
The tournament, closing out the venue's World Poker Tour schedule a few days after the Main Event wrapped, ended with a rare 16-way chop on Monday night. Each player in the deal took home $18,386, divvying up just over $294,000 in prize money.
"It's their tournament — that's always our philosophy here at Live!" said Tournament Director Jason Heidenthal. "It's their money; they can do whatever they want with it."
A Late Night Cut Short
The 10-flight event drew 1,652 entries, leaving it just a handful of entries shy of the $500,000 guarantee, according to Heidenthal. However, given the overlap with WSOP Circuit Horseshoe Baltimore a mere fifteen minutes up Highway 295, Heidenthal said he wasn't losing any sleep over the slight miss.
While Heidenthal wasn't working that night, he was monitoring the tournament from home and found himself a bit worried about taxing the players and staff with a marathon final day. Around 11 p.m., there were still two tables left, and Heidenthal did some quick math on the blinds. He expected the tournament to last another four or five hours.
However, shortly after that, he received a curious text from the tournament supervisor on site.
"Hey, they're actually just talking about a possible 18-way chop."
"Hey, they're actually just talking about a possible 18-way chop," the supervisor said.
Evidently, there were a few holdouts, but perhaps they were among the next two eliminated because when the tournament was down to sixteen players, deal talks recommenced.
Heidenthal received another text from the supervisor, one even more surprising than the first: the clock was paused, and everyone left had asked for an even chop.
"I actually called him," Heidenthal said with a laugh. "I said, 'If that's what they want, pay 'em out and send them on their way.'"
WPT Event #21 $360 / $500K GTD! Winners List for top 36! @LivePokerRoom https://t.co/ytEsfdT1PE

— Jason Heidenthal (@NittyJayTD)
Unique Case, Says Long-Time TD
Heidenthal was happy to get the tournament wrapped up, but he said he was as shocked as everyone else at the outcome. Live!, he said, does facilitate chops, and has furthermore helped the players out by showing them chip chop and ICM numbers.
Still considering the relatively light experience level of most of the competitors, one can see why they wanted to lock up the nice chunk.
The sixteen players averaged around $100,000 in cashes, according to The Hendon Mob. That's propped up by a handful of them with $200K-plus and Mitchell Mantin's roughly $600K. For all but four of them, the $18,386 represents a lifetime best score.
Heidenthal said in his decade-plus doing this job, he's never seen a chop comparable for that kind of money.
Heidenthal has been running poker tournaments since 2007 when he began working at Isle Casino in Florida. He took the helm at Live! when the room opened in 2013, and he said in his decade-plus doing this job, he's never seen a chop comparable for that kind of money.
The only similar case he could recall was when 30-plus players chopped a promotional freeroll the room ran, but the money involved was considerably less, and the situation a bit different since it was a bunch of cash players basically looking to lock up four figures of rakeback.
16 way even chop- amazing! Most I've ever done was 7 way, quite impressive getting so many to agree. Also, apprecia… https://t.co/mYq2ChpoeC

— Ari Engel (@AriEngelPoker)
More Events Upcoming at Live!
Speaking of Live!'s promotional dollars; more has been promised to players over the coming months. Starting Oct. 1, players can qualify for a $250,000 freeroll by clocking 200 hours in the cash room before year's end, with another $250,000 given away via drawings. Players get tickets in the drawings for every 50 hours played.
Heidenthal will also be busy with two more big tournaments. First, there's a CPPT event with a $1,100 Main Event in November. Then, the proprietary Maryland State Poker Championship will take place for the second time, in January.
As always, Heidenthal will be ready to help facilitate any deals, no matter how many players are looking to chop up the dough.
Photo courtesy of A. Bailey/Wikimedia Commons.