Two Tables Remain in Winamax Poker Open Main Event; Guillou Bags Monster Chip Lead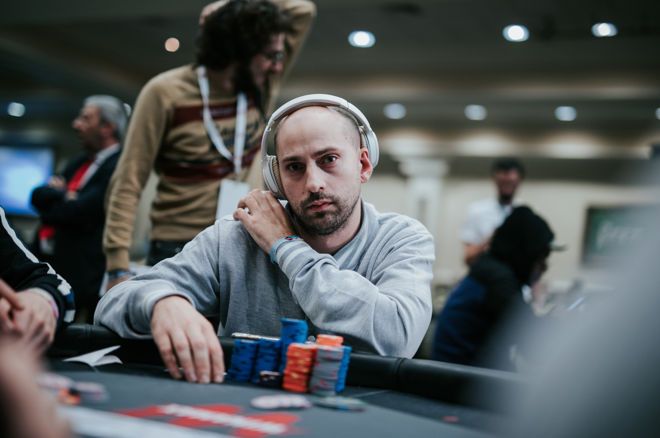 Not content with a third-place finish in the High Roller, Philippe Guillou clearly feels he has some unfinished business at the Winamax Poker Open Dublin festival. On Day 3 of the Main Event, he steamrolled through the latter stages to bag a 13,600,000 and a huge chip lead ahead of the tournament's conclusion on Sunday 29th September.
The Frenchman took home €20,730 for his efforts in the High Roller and has now guaranteed himself €6,200 for making it through to the tournament's final day. A handsome sum of €86,000 awaits the winner of this record-breaking WPO Main Event.
There is a long gap behind him to Nicolas Merceron (7,845,000) and Sacha Thery (6,860,000) who will be hoping the cards go their way early on Day 3 to bridge the gap to Guillou.
Short-stacks Alexandre Blanc (3,235,000), Raul Patron (3,320,000), Kevin Goillot (3,460,000), Simon Thomas (3,650,000) will all start the day with between 25 and 30 big blinds, with plenty of play still in the tournament.
Other players through to Day 3 include 2016 final tablist Sven McDermott (5,880,000) and Fraser Macinyre (4,685,000).
Winamax Poker Open Dublin Chip Counts Heading Into Final Day
| Player | Country | Chip Count |
| --- | --- | --- |
| Philippe Guillou | France | 13,600,000 |
| Nicolas Merceron | France | 7,845,000 |
| Sacha Thery | France | 6,860,000 |
| Ibrahim Senoussi | France | 5,950,000 |
| Sven McDermott | Ireland | 5,880,000 |
| Vincent Descamps | France | 5,720,000 |
| Nicolas Plantin | France | 5,320,000 |
| Fraser Macintyre | United Kingdom | 4,685,000 |
| Simon Thomas | France | 3,650,000 |
| Kevin Goillot | Portugal | 3,460,000 |
| Raul Patron | Spain | 3,320,000 |
| Alexandre Blanc | France | 3,235,000 |
Winamax Poker Open Dublin Day 2 Recap
The day began with 266 players all vying for a place in the money. A total of 197 places were paid, and the bubble burst less than two hours into the day.
Some players to miss out on a payout included 2018 High Roller champion Peter Jaksland, Elisabeth Loiseau, Winamax Team Pro Guillaume Diaz, and 2019 High Roller final tablist Gabor Szabo.
The unfortunate bubble boy was Quentin Brochard who looked set for a double when he got it in with jacks against eights, only for an eight to appear on the flop for his opponent to send him home short of the money. By the first break, over a hundred players had been eliminated in just over ninety minutes of play.
The eliminations kept coming, with Samuel Baneham (157th - €1,050) and Aladin Reskallah (125th - €1,100) early casualties alongside Ivan Deyra (120th - €1,100), Leo Margets (104th - €1,100), Adrian Mateos (80th - €1,350), and Gaelle Baumann (78th - €1,350.)
By this stage, several players had surpassed a million in chips, but it was Fraser Macintyre who soared ahead of the pack with over triple average.
He was soon joined by the likes of Kevin Goillot and Ibrahim Senoussi as the evening progressed. Davidi Kitai and Pierre Calamusa were the last Winamax Team Pros to bust, with the former champion eliminated in 58th place, one behind the Belgian birthday boy in 57th.
By dinner, it was Guillou alone at the top of the proceedings, and on his return, he tightened the screw. Relinquishing his chip lead to Nicolas Plantin momentarily, Guillou rode a wave that would see him top 13 million chips by the time play halted with two tables left.
Winamax Poker Open Dublin Remaining Payout
| Position | Prize | Position | Prize |
| --- | --- | --- | --- |
| 1 | €86,000 | 6 | €17,500 |
| 2 | €61,500 | 7 | €13,000 |
| 3 | €44,440 | 8 - 9 | €10,000 |
| 4 | €32,000 | 10 - 11 | €6,650 |
| 5 | €23,500 | 12 | €6,200 |