Hellmuth and Matusow 'Go South' During Live At The Bike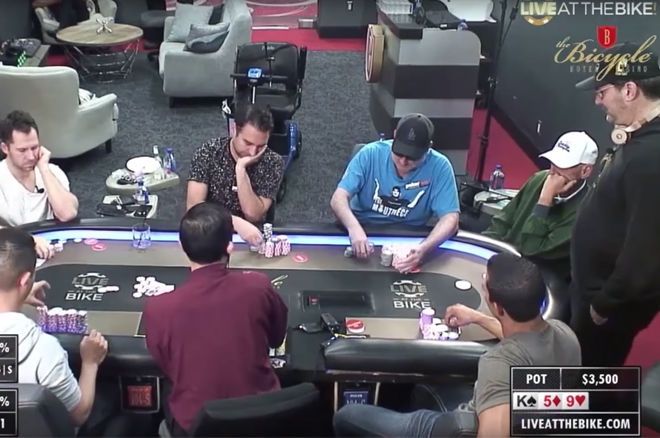 Phil Hellmuth and Mike Matusow find themselves at the center of a debate after "going south" during a televised cash game at the Bicycle Casino in Los Angeles.
The pair are in Los Angeles for the WPT Legends of Poker festival but took some time away from the tournament grind to play the televised cash known worldwide as Live At The Bike. Hellmuth and Matusow were playing $50/$100 no-limit hold'em on a live feed and Matusow was showing a profit.
The Incident
Fifteen-time World Series of Poker bracelet winner Hellmuth got up to leave mid-session and it quickly became apparent he had staked Matusow, or at least bought some of his action.
"Mike, I'm going to have to quit, bro," Hellmuth said as he gathered his chips from the table, before adding, "It's only fair I can get off, bro. The first one is your money, so just give me half, bro."
As Matusow was cutting Hellmuth's share of his stack, one of the players at the table asked what was going on. Hellmuth explained that Matusow was not quitting, he would still be playing. Matusow confirmed this and continued to count out chips from his stack.
While this was going on, Nick Vertucci and Dan "Jungleman" Cates were battling heads-up in a hand and the pot had grown to $5,600. Cates held the advantage with pocket aces versus king-six with the board reading king-high by the turn. Vertucci eventually folded and Cates scooped the pot.
"The first one is your money, so just give me half, bro."
Eventually, Matusow paid Hellmuth what appeared to be approximately $20,000, and "The Poker Brat" exclaimed, "Woo hoo hoo, yum yum yum!"
One player sounded disappointed that Hellmuth had removed chips from play while the game was proceeding, stating they were all deep-stacked before Matusow halved his stack.
"You can quit if you like," Hellmuth said.
Matusow then said Hellmuth should have asked the other players for their thoughts before taking chips off the table.
'That's Not a Cool Move'
Doug Polk spoke on his YouTube channel about the incident.
"Personally, I don't think this should have happened," he said. "I don't think you should be able to end someone's share of an event in the middle of it while they're still playing and then take their money off of their stack and off of the table. That's not a cool move."
Members of the TwoPlusTwo forums seemed split in their opinions on the situation. "Andrew44" pointed out it wasn't much different than if both cashed out and then Matusow bought back in with his own share.
"I don't think you should be able to end someone's share of an event in the middle of it while they're still playing."
Another poster, "Lozgod" explained a situation he had been part of at the Borgata in Atlantic City where a player at his table attempted to "go south" by giving chips to his wife. He was told chips could not leave the table unless he was tipping or paying the waitress.
Other forum posters highlighted that none of the other players at the table kicked up a fuss, with some suggesting the only reason for not making a big deal of the situation was so Matusow stayed in the game.
The 'Going South' That Never Was
Going south, or taking chips off the table, is frowned upon in the live poker community and seen as poor etiquette.
Recently, PokerNews' Martin Harris described about an incident of "going south" with Freddy Deeb in an old episode of "High Stakes Poker". Deeb didn't actually go south but took offense and grew increasingly impatient as his opponents joked about his integrity.
What Should Have Happened?
How do you think the situation should have been handled? Was it wrong for Hellmuth to remove chips from Matsow's stack? Should Matusow have been forced to quit the game? Let us know your thoughts in the comments box or on our social media channels.