A Farewell to the PCA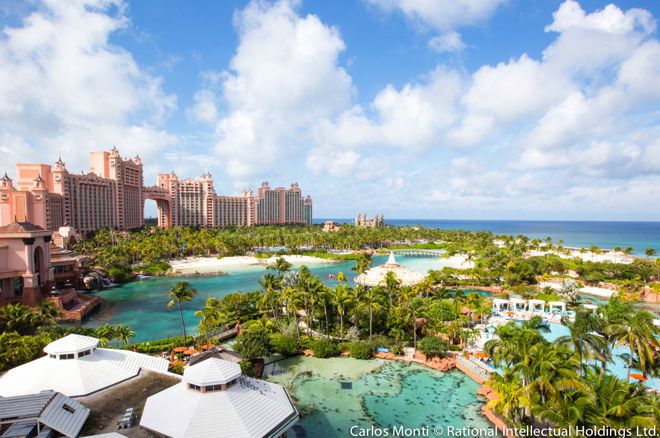 Last week, news dropped that the PokerStars Caribbean Adventure was being discontinued after 16 years, the last 15 of which took place at Atlantis Resort in Paradise Island of the Bahamas.
I wouldn't say I was in my feels about it — I won't really miss the PCA, as I'll explain — but it did make me reminisce a bit and prompted me to get down some thoughts on the long-running event in the form of an op-ed piece. I may not have gotten to every PCA for nearly two decades — you can read Brad Willis' ode to the event for that perspective — but I've covered four out of the last five PCAs and tried to qualify for a bunch more as a player on PokerStars back in the day, so I did have some thoughts to share.
My Introduction to the Big Leagues
Basically, what fond memories I do have of the PCA come from the fact that it was the first "destination" event I ever worked.
When you get into the business of reporting on poker tournaments, it's pretty much a given that you're going to start out working the smaller, less desirable events while the more senior reporters get to go to all the sweet places like Prague and Barcelona. And, like most people who grinded out $33 rebuy qualifiers on Stars, I definitely thought the PCA was in a cool place.
After a year of traversing the Midwest to cover small regional tournaments, I was ecstatic when my old boss Donnie Peters asked me if I could report for the 2015 PCA. Of course, I snapped up the offer. Not only would I get to work a huge event and continue to build myself up as a reliable reporter, but I'd also get a bigger check than I was used to from just working weekend gigs, and I'd do it while hanging out at the beach. All while Omaha got truckloads of snow dumped on it. Yeah, let's go.
I had a blast working with live reporting legends and good friends like Mickey Doft and Josh Cahlik, hitting the water slides and the beach in my spare time while trying to nit my way through meals enough that I wasn't going over my $70 per diem. As anyone who has been to Atlantis knows, that isn't easy.
When some guy I had never heard of named Kevin Schulz — I actually covered him this year, in the WSOP Main, for the first time since that trip — won the Main Event, the fun was over and I just hoped I'd be able to return.
Seeing the Warts
Return I did as I was fortunate enough to become a full-timer at PokerNews and work three of the next four PCAs, the only exception being 2018 when I did Aussie Millions instead.
To be sure, I have plenty of good recollections of the stop. The PSPC was a one-of-a-kind event — or so it seemed at the time — and covering novices in a $25K playing for $5 million was kind of surreal and reminded me how crazy poker can really get. I wrote some memorable pieces, like my feature on poker superfan Bruno Malavazzi winning a package courtesy of Bill Perkins and the time I got to interview golf great Sergio Garcia.
Still, anyone who has spent a decent amount of time at Atlantis can likely attest to the sheen wearing off after your first wide-eyed visit.
For one thing, the locals are definitely on "island time" which can be a huge pain in the ass when you're trying to get in and out of a restaurant before the dinner break ends. Customer service in general just isn't really a priority, as I was reminded at this year's PCA when I had a billing issue with the Comfort Suites hotel that never got resolved.
And basically everything is massively overpriced. It's tough to get a decent meal for under $40 at Atlantis, with high starting prices and VAT added to every purchase. Going over per diem and dipping into my pocket for meals happened on a regular basis. Even something as basic as a box of granola bars from the local convenience store will run you double what it costs stateside.
Speaking of pricy, if you want to get a workout in and you're staying off property as we always did, that'll be $50 for the week, thank you very much.
The weather also rarely cooperated as my next two PCAs were storm-filled affairs in which I saw little, if any beach time. And the time I did see involved nearly drowning in some rough surf, which I think photographer Danny Maxwell still has on video somewhere.
And these annoyances that I and many other travelers experienced with the PCA pale in comparison to some of the true horror stories that have floated around, one of which stuck with me ever since I read it on TwoPlusTwo.
Rich History and a Fitting End
Despite its problems, the PCA became one of the biggest and longest-running poker tournaments in the world for a reason.
There was something special about traveling to an exotic locale for a tournament filled with online qualifiers, both young whizzes and recreational binkers. I know as a player I dreamed of qualifying in one of the many satellites on PokerStars, and I remember how excited (and jealous) I was when my buddy Kyle "ka$ino" Schroeder won a seat in a $33 rebuy.
Furthermore, something about the place just seemed to bring out the best in players. Many legendary hands went down at Atlantis, some of the most memorable in poker tournament history. Who can forget Isaac Haxton's legendary rebluff versus Ryan Daut, Galen Hall's huge fold against Chris Oliver, and Harrison Gimbel bluffing Ty Reiman off the flopped nuts:
Given the rich history of the PCA, it was a little sad to see the slide up close as numbers dwindled even as PokerStars tried gambits like cutting the buy-in and drastically increasing satellite offerings.
Of course, this year it got a major shot in the arm with the PSPC. Looking back now and knowing this was likely the last PCA, it's fitting that a small-stakes qualifier shipped the biggest prize ever doled out there when Ramon Colillas banked over $5 million.
Farewell, PCA
A final thing I wanted to touch on is the recent and devastating effect of Hurricane Dorian on the Bahamas. The destruction left hundreds dead or missing and wrought untold millions in damage. I don't know what effect if any that had on this decision, but I think we can all agree it's incredibly sad and I didn't want to completely gloss over it. Relief efforts are underway and I hope everyone who can afford to make a difference can find a way to donate or otherwise help.
Some have speculated that the PCA could possibly still make a return, perhaps to a different venue, and maybe this isn't the end.
I'd be surprised. Rumor had it PokerStars extended their relationship with Atlantis on a short-term basis prior to the last running or two of PCA. The official company word mentioned player feedback as one of the reasons for ending the event, indicating the appetite for traveling to the Bahamas for a $10K had perhaps slipped past the point of feasibility.
And if a long-time PokerStars guy like Brad Willis is writing a piece about "closing the book," I'm going to take that to mean the PCA as we know it is finished.
It felt like the shine had worn off and it was time to close up shop for PokerStars. And while I'm going to miss getting out of the Midwest in January, there are a lot of things about PCA that I won't really miss.
Given that it was one of poker's biggest events for over a decade, though, I'm glad the PCA went out with a PSPC bang rather than the 300-entry whimper toward which it seemed to be trending.
The Stars Group owns a majority shareholding in iBus Media.