Sami "LarsLuzak" Kelopuro Wins $1.3 Million in Eight Hours Playing PLO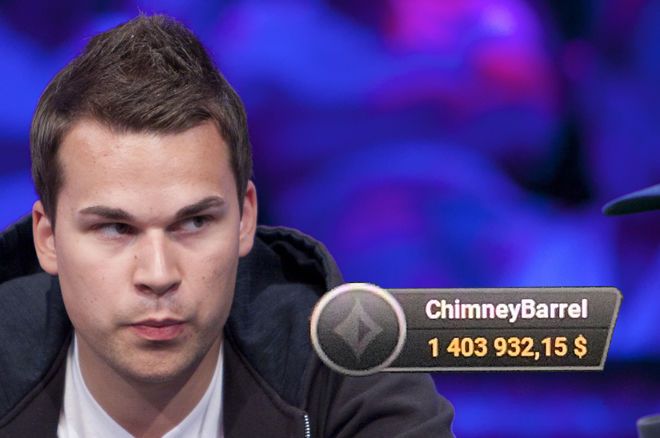 Sami Kelopuro, known as "LarsLuzak" in the world of online poker, has been a staple on the high stakes online grind. When Full Tilt Poker dominated the high stakes action, he could regularly be found on the $500/$1,000 tables battling with the best of them. While the days of high stakes action on FTP are long behind us, Kelopuro has not backed down. Au contraire, he still finds himself in the highest echelons of online poker, now taking place at partypoker.
The Finnish online legend has recently gone on an amazing run, winning more than $1.3 million in the space of eight hours.
Kelopuro has been writing a blog on Finnish site pokeritieto.com for a couple of weeks now and it has been having readers glued to it. It's not often you get to have a proper look into the world of high stakes poker players, especially one as candid as Kelopuro's.
Kelopuro wrote first how he won his biggest pot of the year in a three-handed Pot-Limit Omaha cash game at PokerStars. The pot weighed in at $111,285, but the best was yet to come, as noted by headsuphyper.com.
$100/$200 PLO Battle With a Random Player
Aug.1 saw Kelopuro grind the high stakes tournaments at partypoker as the POWERFEST was in full swing. The Finn profited to the tune of $235,000, yet it was the following day that will forever be remembered by Kelopuro.
Playing as "ChimneyBarrel" after the enforced alias changes, Kelopuro was seated at a heads-up $100/$200 PLO table when an unknown player sat down. Kelopuro did not recognize the alias but played them anyway. The session didn't go Kelopuro's way at first, and he found himself $85,000 in the red.
Then things began to turn.
Kelopuro called the game "terrific" and stated that almost every hand was three- and four-bet with five and six-bets not being uncommon. The turning point came when Kelopuro won a $227,000 pot with




against his opponent's




. Kelopuro now sat with more than $424,000 in front of him and his opponent was armed with $20,000.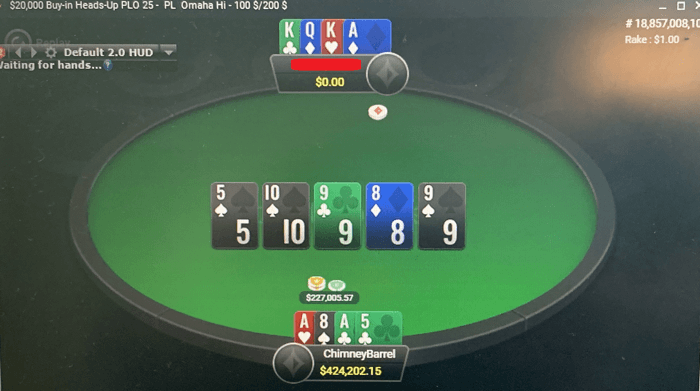 According to Kelopuro, his opponent just kept reloading with $20,000 every few minutes and was eventually flipping with any four cards, which Kelopuro said was like running his own casino with a five-percent edge, referring to the 55/45 equity PLO coinflips tend to create.
$1.3 Million (65 buy-in) Profit in Eight Hours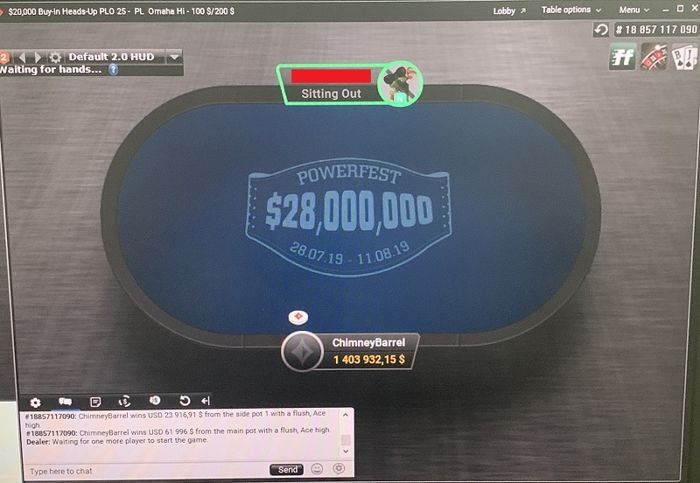 Finally, after eight hours of extremely loose action, Kelopuro's opponent quit, doing so having lost more than $1.3 million. Kelopuro's stack was an incredible $1,403,932.15 - a profit of 65 buy-ins!
Kelopuro did some investigating to see if he could figure out who his mystery opponent was. He said he has a pretty good idea of who sustained the staggering loss, but will keep the name private out of respect to them.
Kelopuro was worried at once stage because partypoker froze his account as a security precaution for a couple of days while they investigated the monster-session. This is standard procedure in the online poker world when someone has won a considerable amount and has been making many large deposits. Everything was cleared, and Kelopuro received his funds.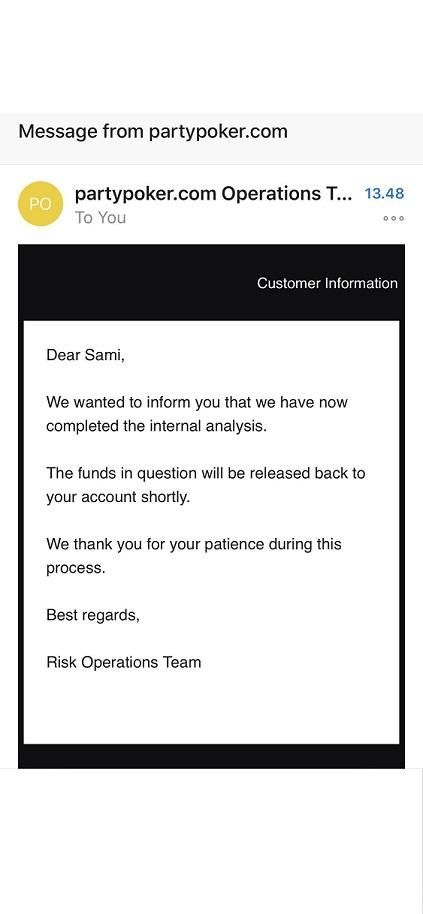 Incredible Run in High Stakes Tournaments
Aug. 11 proved to be another huge day for the Finn, although this was in the tournament arena. Kelopuro entered five $5,000 events, three $10,000 events, and a $25,000 tournament. He won five of them and finished second in three events for more than $400,000 combined.
These recent antics have put Kelopuro into the green to the tune of $2.5 million, and we are only in August. With partypoker's $30 million KO Series, and many other big tournaments on the horizon, we wouldn't bet against Kelopuro adding to his already impressive profit.
All images courtesy of the original blog on pokeritieto.com.