Former WPT Champ Ema Zajmovic Talks Poker, Life, and a Bluff to Remember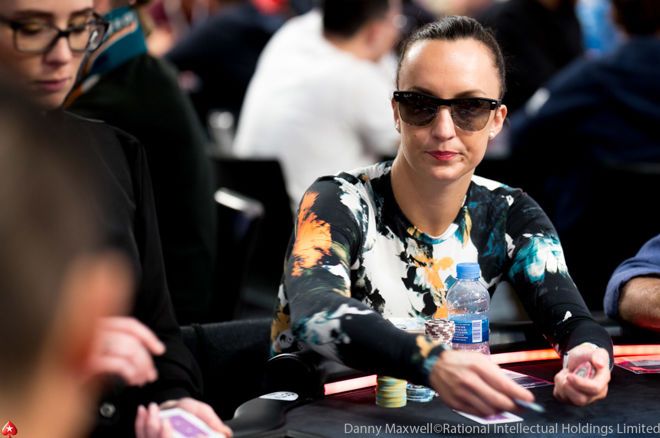 Ema Zajmovic has had considerable success in tournament poker over the last few years, with her fair share of final tables on the World Poker Tour. Still, despite playing in over 10 EPT Main Events, the 2017 WPT Playground Montreal (Kahnawake) champ is yet to cash in a single one of them.
She's looking to change that here in Barcelona.
Compared with playing in her home Canada, Zajmovic sees the competition as being a bit tougher in Europe, mostly due to the elite players that come in from some surrounding countries. Apart from that, it's the same game and Zajmovic has grown accustomed to being one of a minority number of women competing at the stakes she plays. Asked whether she sees this situation evolving, Zajmovic pointed out a difference between cash games and tournaments.
"In poker, there's so much psychology and timing – it's perfect. I love this game."
"I'm with my mom here in Barcelona — I brought her here for vacation," Zajmovic said. "I took her to the cash game area and she saw the room and she was like 'Where are the women?'"
Sure enough, apart from a couple female massage therapists and dealers, it was nearly all men seated at the tables. Zajmovic is used to this scenario as primarily a cash game player, but she thinks tournaments draw more of a mix.
"Now in the tournaments though I think it's more accessible," she said. "There's more and more women. I saw them all around at nearby tables. So I think it's improving somehow and it's getting more easy for women, with more satellites and things."
For Zajmovic, the availability of nice poker destinations are helpful to draw women as well, like Barcelona where you can combine some poker with vacation and sightseeing and so forth.
At Your Own Risk
While it's all well and good that women who are interested have more opportunities to participate in the game, Zajmovic doesn't see a particular need to act as an ambassador to bring more ladies into the game, the way that she thinks might be important for some other fields.
While she personally loves the game and enjoys the poker lifestyle, Zajmovic also knows the negative aspects of the game can prove detrimental to certain individuals.
"Everyone sees the upside to it," she said, referring to the idea of cashing in on a big score. But Zajmovic has played long enough to know the reality. "It's swingy. It's emotionally really hard, and it's not always the healthiest environment."
"I think it's improving somehow and it's getting more easy for women, with more satellites and things."
Many can attest to the challenges and personal strains — both physical and mental — that the traveling poker life can present, but Zajmovic has found helpful ways to make the stops feel like less of a grind. It helps that the EPT is held in places like sunny Barcelona that double as a vacation spot.
Her other secret is the company she keeps. Besides bringing her mother along with her to Barca this trip to enjoy the city alongside her, she also travels with a core group of friends, all players from her hometown area of Montreal and Quebec City.
"We try to travel and to enjoy our time," she said. "[Poker] is a game so you have to take it as it is and do your best when you compete but it's like a sport — you just try to do your best. You try not to drink the night before and that's pretty much it – but it's hard in Barcelona where you can just enjoy and have fun."
Path to Poker
Zajmovic has called Quebec City, Canada home since the age of six when she moved from her war-torn native country of Bosnia following the war there in the mid-1990s.
Like many who are attracted to playing poker, Zajmovic was always competitive and enjoyed games and sports. Poker provided and continues to present all the right kind of challenges for her, complete with competition, math and psychology.
"In poker, there's so much psychology and timing – it's perfect. I love this game."
She discovered poker through an ex-boyfriend who insisted that she not pursue the game, but being around it piqued her interest and would turn out to jive well with her strengths. She went against his request and was determined to play and improve. Once he was no longer in the picture, the puzzle pieces came together for Zajmovic.
"I kept trying for a long time. And then we weren't together - that's when everything happened for me. And I'm like 'I told you,'" she said with a laugh.
Close Calls
When Zajmovic became the first woman to win an open WPT Main Event in 2017, it was a back-to-back final table for her as she had finished fifth in the same event the previous November.
Since then, Zajmovic has come close to adding a second title, making two final tables on the WPT Main Tour last year, both resulting in runner-up finishes. She has mixed feelings about getting those close calls, especially considering that she's not one to enjoy the spotlight.
"It's weird to say I want a win because it's a lot of attention and I'm not sure I want that much attention to be honest. When you compete you want to win for sure but there's another side of it – I'm not sure that I want all of it."
"It's just not all positive like what you see when somebody wins a lot of money. You have to live a lot of things before that."
In her two second-place finishes at WPT Amsterdam and WPT Montreal, Zajmovic was happier with her play compared with her first two WPT final tables, including the one she won.
Her most recent runner-up result garnered the most attention in the poker world due to the exciting and technically interesting final hand. Heads up with a familiar opponent in Patrick Serda and back in her home court, Zajmovic ran a double-barrel all-in bluff that did not get through.
But if you ask her, that didn't make it a bad play by any means.
A Hand to Remember
In that hand, which Doug Polk broke down in one of his hand analysis videos, Zajmovic raised button and four-bet with


. Serda had three-bet with five-seven of diamonds and called the four-bet. After both checked the



flop, Serda check-called a bet on the

turn and checked the

river. Zajmovic moved all in for around 60 percent pot and Serda tanked before calling off with third pair.
In Polk's decidedly professional opinion, Zajmovic's line was quite credible and reasonable. Zajmovic herself had no regrets about the way she played the hand.
There was also a bit of insider information that could have contributed to the call, including an agreement against limping the button and the fact that they had already made a financial deal – so there was less on the line than what appeared.
"It's an interesting hand. It's a nice final hand for a tournament – it has everything you want in it."
"That's the kind of hand that if you don't pull [the trigger] on the river, everybody would say 'You have to, it's the best hand [to bluff with].' And the other side, if you do it like I did, everybody is like, 'Oh, he was calling you.'"
She continued: "We played together for two or three days and I knew he was calling light – I didn't know that light but whatever. Of course, we made a deal so it was more relaxed and everything was just like, OK let's play but...we had just ordered a bottle of champagne.
"But I'm happy with the hand - like the technical part of it. It's an interesting hand. It's a nice final hand for a tournament – it has everything you want in it."
Searching for a Road Win
Zajmovic's poker record at her home field is something of a conversation piece as she's run so hot there, especially when the WPT comes through. She joked that she already took so much money out of the poker economy there, she shouldn't bother playing back home again.
While her success in Canada and in the WPT has yet to translate to the European stops on the EPT, Zajmovic is hopeful that she can turn that around this trip and bring some of her Montreal rungood to the EPT Barcelona stop. At least she has backup plans, with cash games to sustain her, and friends and family around to enjoy the place with.
Follow Zajmovic's progress at EPT Barcelona right here as the PokerNews live reporting team provides updates from Casino Barcelona throughout the week. Zajmovic wound up busting the €5,300 Main Event late on Day 1a, but could still possibly reenter in 1b. She also mentioned plans of playing in the upcoming €10K High Roller, so keep a lookout for updates.