Mental Game Series: Trevor Savage Shares Tips for Battling Anxiety Deep in WSOP Main Event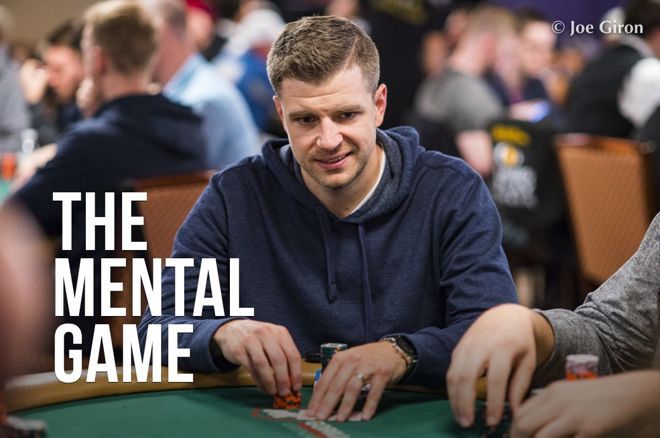 As in many other professions, mental health issues are a common occurrence and an important topic to address in the world of poker. In PokerNews' Mental Game Series, we bring these issues to light, as players open up about their personal experiences with mental health and mental game topics.
Playing deep in the World Series of Poker Main Event can take a toll on any player but for someone with recurring anxiety issues, it can be all the more amplified. Add to that losing a friend to suicide the week before the event, not getting sufficient sleep, and an earthquake striking while you're playing Day 1 and you can only imagine the stress added to every decision you make in the biggest tournament of the year.
Anxiety issues are nothing new to professional poker player and vlogger Trevor Savage, who has battled mental health issues including depression for more than five years. He's shared his story and his struggles in many formats, including in blog posts and vlogs on his YouTube channel "Raising the Nuts" which has prompted a lot of response from others experiencing similar struggles.
His most recent blog post on the death of his friend was no exception. The following is a passage from that entry, where he broached the topic of suicide before remembering his late friend.
The first step is certainly breaking the walls down of the stigma of depression/anxiety/mental health and I'm confident that there is progress being made there. I'm confident that the more we talk about this openly, the more likely people are to share their experiences and reach out for help. I have made it a priority to be available to anyone who feels like they have no one to talk to. Luke doing this hurts a lot because I know that he knew that I was always there for him to talk to but sometimes that still isn't enough. You can't help but feel like there was more that you could have done.
Platform for Helping Others
The response Savage has gotten from his posts on mental health issues have fueled his passion for helping others.
"Basically, for me and wife Jody, it's our goal to reach as many people as we possibly can to help them. I've been working at this for five and a half years now, so I know what I need to do to help people. Every time I write something like [this last blog post], I get so many Instagram messages and people talk to me, so I can tell them what they need to do, this is what you can do, and you can always reach out to me. So that's my goal with the platform that I've created with the YouTube channel, I have the ability to reach a lot of people and I want to help as many people as possible."
For those out there struggling with anxiety, depression or suicidal thoughts, Savage has some tips that include awareness and reaching out, as hard as that can be.
"For me and wife Jody, it's our goal to reach as many people as we possibly can to help them."
"The first part is just awareness - so being aware that you need to work on mental health," Savage explained. "Mental health isn't just something that comes to you naturally; everybody needs to work on it. So figuring out what it is you need to do personally is the first step...The first step honestly is figuring out your 'why?' Why do you need to do this? Who are you doing this for? Are you doing it for yourself? Are you doing it for your kids, what? And then, take the steps."
The necessary steps or ways of dealing are different for everyone but for Savage, meditation is primary. "It allows me to figure out how to compartmentalize my thoughts so that when that panic starts to arise, I can say, 'oh, these are just thoughts,' and then go from there. So I always recommend mediation to people, but just being aware of it is the first step. And then having someone to talk to - even if it's just a stranger - just knowing that somebody cares."
The recent loss of a friend was yet another reminder of the importance of people finding someone to reach out to.
"For my buddy Luke, he had those people there, but when you deal with something like schizophrenia, it can overwhelm you and it's just hard to deal with."
Anxiety in Time for the Main Event
After flying down to Florida for funeral services before heading off to Vegas for the Main Event, Savage was understandably exhausted, which was compounded by the time change and his young kids waking up early. The lack of sleep led to a resurgence of anxiety just as he was getting ready to play in his tenth Main Event.
"Anything that's trying to break you down - if you don't have sleep, if you're focused a lot - it's going to try to break you down."
While he was planning on playing Day 1 on July 4, that plan was derailed as the sleep deprivation and anxiety cocktail set in.
"I was unable to get out of bed, my anxiety was just awful."
"I was unable to get out of bed, my anxiety was just awful," Savage recalled. "I just felt terrible the whole day. So I just decided not to play that day and go into the things that I knew I need to do so the anxiety doesn't bother me - which is taking my supplements, doing yoga, meditating - following the process to do those things."
After taking care of himself, the way he's learned to do, Savage got in the final flight of the Main, which ended up being the largest single-day starting flight in Main Event history. It was not the calm kind of day to soften anxiety.
"So I ended up playing Day 1 on Friday and the earthquake happened that day. As soon as it started shaking, I ran out of the room and my anxiety just went through the roof. I kind of had to go back to the same things I know that I need to do so that I can calm myself down."
But the anxiety didn't end there.
"Unless you have the ability to organize those thoughts, then it can overwhelm you."
"The same thing happened on Day 2. In the middle of the day, I started losing some chips and you know, when you're playing a poker tournament, a lot of the time it's just quiet and you're in your head the whole time. So unless you have the ability to organize those thoughts, then it can overwhelm you. Fortunately, because of the last five years of work that I've done, I've been able to do those things to compartmentalize my thoughts."
Everyone who has played a tournament, especially a long one like the Main Event, knows there are ups and downs and if you let the swings affect your emotional state, it can be a real rollercoaster. The valleys in particular affect everyone differently. For Savage, the downswings can have a spiraling effect if he doesn't consciously stop the anxious thoughts.
"When you're playing a tournament and things start to go badly, you get the self-doubt creeping in and then you visualize bad things happening and then the anxiety can overwhelm you."
Tools to Overcome
An element that has helped Savage overcome anxiety in the event has been the fact he's been lucky enough to be at mostly friendly and talkative tables. "When I'm talking with people and socializing, I'm not in my own head and so I can just play my game and be comfortable."
He's also been lucky enough to have a wife, Jody Savage, who is a nutrition expert that has helped him overcome health obstacles and specifically in figuring out "what works best for my mental game." All of the support and tools have helped Savage overcome the anxiety, as he continues in his deepest run ever in the Main Event on Day 5. Now, his goal is to just play his best and let the cards fall as they may.
"Mental health isn't just something that comes to you naturally; everybody needs to work on it."
"The best thing for me is to let go of the attachment," Savage said. "It's very easy to get attached to the thought of doing well in this tournament and I'm just going to play my best and whatever happens, happens. If I win, it won't change my life at all."
Savage's deepest ever Main Event run unfortunately came to an end in 255th place out of 8,569 total runners. He shared with PokerNews the details of his final hand, in which he raised in early position with pocket kings, got three-bet by Brady Bullard, and moved all in for 620,000 total. His opponent called with king-queen and turned Broadway to send Savage out the door. As tough as busting the Main can be, Savage is well aware of what matters most.
"I have a happy family - that is the most important thing in my life."
Trevor welcomes anyone struggling with any mental health issues to reach out to him on Twitter @TreMomey, on Instagram @tremomey or by email at [email protected] Read more about his YouTube channel in this article.
Keep up with the action of the World Series of Poker as the Main Event continues on here at the Rio in Las Vegas. Get all the PokerNews live updates here.