The Muck: Two Players DQ'd from WSOP Main Event in Less Than Two Hours
Chad Holloway
Yori Epskamp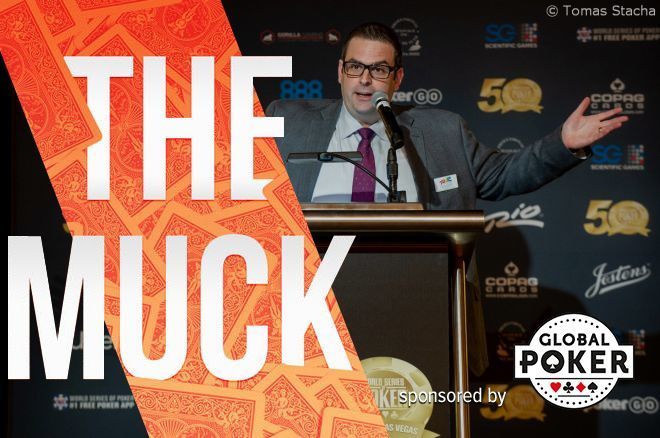 Yesterday's fireworks on the 4th of July were bright, but they didn't have quite the bang as three big developments within the first level of play on Day 1c of the 2019 World Series of Poker Main Event.
The first was the quick elimination of 10-time gold bracelet winner Phil Ivey. The other two involved a pair of disqualifications.
Georgii Belianin DQ'd from Main Event
The first incident happened in the Brasilia Red section at the same table as 2015 World Champion Joe McKeehen. According to several players at the table, after winning a small pot, Georgii Belianin reached out to his left-hand neighbor's unattended stack as well and scooped up his entire stack in the process to add it to his. Allegedly, the player did so with a smile on his face leading some to believe it was a poor attempt at humor.
"You shouldn't be touching chips that don't belong to you. Plain and simple."
Whatever the case, the player subsequently got disqualified for stealing another person's chips at the table. It was Jack Effel who came over and escorted the player out of the tournament area. PokerNews can confirm that his chips were removed from the tournament while his $10,000 buy-in stays in the tournament.
Effel Weighs In; Tom Peterson Gives Firsthand Account
PokerNews caught up with Effel after the incident to get his thoughts.
"Here's the thing, you're playing the Main Event you can't touch other player's chips. The chips that you have in front of you are the ones that belong to you, you shouldn't be touching chips that don't belong to you. Plain and simple. Discussing beyond what was seen at the table, everybody saw the exact same thing – he took the chips that were next to him, they didn't belong to him and you can't do that when you're playing the Main Event."
When asked if Belianin was also 86ed from all Caesars properties Effel added the following: "I'm not going to speak on security concerns, but obviously if you break the rules and take chips you're not going to be allowed to play in the tournament and you can face all consequences as a result of being disqualified from the tournament per our rules."
PokerNews also had the opportunity to speak with Tom Peterson, who was not only at the table as it happened but sat in Seat 4 directly next to Belianin.
"The guy came in and sat down at Seat 6. The dealer told him to get in Seat 5. He didn't speak a lot of English, he was from another country because he had a passport," Peterson explained when asked to recount what happened. "He said, 'I want to play. Deal.' The dealer said, 'No you need to move.' …He finally moves, plays a couple of hands, plays them well, loses both of them. Then like in the seventh hand he wins the pot: 1,600 in the pot - one black chip, one pink chip, one yellow chip. The dealer pushes it to him and he just grabs the other pile and puts it right into his without hesitation. The floor came over and they DQed him."
"He was drunk. I could smell him. I owned a bar for 17 years and I know he was drunk."
Peterson wasn't sure of the motivation or whether or not it was a joke, but he believed Belianin was impaired.
"He was drunk. I could smell him. I owned a bar for 17 years and I know he was drunk. He was drinking Jack and Cokes. While he was standing where they told him to stand the waiter brought him another drink. I asked the waiter, 'What'd you give that guy?' and he said Jack and Coke."
Peterson continued: "He took the guy's chips and put them in his stack. He didn't set them next to him, he threw them in. He had a pile, he had a mess. Was it a joke? He's drunk, I don't know. He was upset, yelling 'Help me, help me, they're taking me out.' I heard he got arrested outside too."
UPDATE: Belianin posted an apology on Twitter:
Hello I really want to apologize to all players, staff, mr. Effel and the whole poker community for my unprofession… https://t.co/8t0QLgfAyP

— BelianinG (@GBelianin)
I was up all night playing and drinking in cash games in Rio. By the time I realized what time it is, I decided to… https://t.co/Fh2Znt25zg

— BelianinG (@GBelianin)
I hope that you all will understand and believe me if I say that it's first time in my life that I involved in such… https://t.co/Swqpc605Kq

— BelianinG (@GBelianin)
I really care about my reputation and life values and I promise you all that this will never ever happen again. Georgii Belianin

— BelianinG (@GBelianin)
Not the Only DQ of the Day
Not long after Belianin was escorted off the premises another player was disqualified from the Main Event, and this one was even more outrageous.
Over at Table #317 in the Pavilion Yellow section, a massive incident occurred just before the first break. According to players at the table, Ken Staruss went all-in blind before flipping over his hand, revealing the


.
Patrick Eskander was contemplating his decision holding


, a favorite with information about the exposed hand, but he still had a limper to contend with.
"I'm all-in blind! Look, I'm blind everybody," Strauss yelled while he covered his eyes and turned around. He then lowered his pants and mooned the table, yelling "I'm all-in blind!" again. Then, while Eskander was still considering his decision, Strauss took off his shoes and threw them around, with one of them actually hitting Eskandar as he was in the tank. The floor stepped in at that point.
Eskandar said he decided to fold, and the limper mucked as well despite holding


, according to a story on PocketFives.
Strauss was escorted off the premises and his stack removed from the tournament.